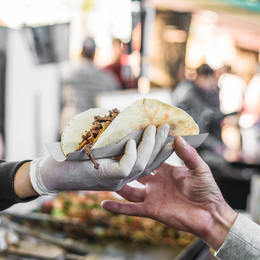 Eating Up Summer
From now until autumn, grub lovers have a full menu of food-themed festivals and special events from which to choose.
The Philadelphia area has a number of summertime traditions that go hand in hand with food. Think Sunday dinners on the deck featuring corn on the cob sold at neighborhood farmers' markets, or trips to the shore to enjoy seafood harvested from local fishermen, or Wawa's Hoagiefest.
There's still a lot of summer left, with several food-themed events on deck through August, September, and into October. Besides night markets, farmers' markets, and other regularly occurring events, consider adding some (or all) of the following festivals to your calendar.
Phoenixville VegFest
Aug. 13 at Reeves Park in Phoenixville
phoenixvillevegfest.com
What to expect: a street festival with an abundance of plant-based food, chill vibes, and live music.
Port Richmond Pierogi Fest
Aug. 20 at Gaul & Co. Malt House in Philadelphia
gaulandco.com
What to expect: lots of vendors peddling their take on dumplings stuffed with cheese, potato, and other fine fillings.
Normandy Farm Crab Fest
Sept. 22 at Normandy Farm in Blue Bell
normandyfarm.com
What to expect: an endless feast of crustacean-themed foods, bottomless wine pours, and unlimited craft beers, plus music by Tube Top Mama.
Philly Reggae Wine Food & Music Festival
Sept. 3 at The Range in Philadelphia
Phillyreggaewine.eventbrite.com
What to expect: a day of free-flowing wine, eclectic food, and reggae and soca.
37th Annual Mushroom Festival
Sept. 10 and 11 in Kennett Square
mushroomfestival.org
What to expect: two days celebrating the pride of Kennett Square—mushrooms—featuring vendors, amateur cook-offs, and much more.
Souderton Main Street Food Crawl
Sept. 13 at Main and Broad streets in Souderton
beanbagfoodprogram.org
What to expect: the best food and drink Souderton has to offer, art from local craftspeople, and deals from local shops, all to benefit the Bean Bag Food Program.
Delaware Taco Festival
Sept. 24 at Tubman-Garrett Riverfront Park in Wilmington, Delaware
tacofests.com/delaware-taco-festival
What to expect: more than 60 varieties of taco (plus Mexican corn, tamales, churros, etc.) from 25-plus of the area's finest restaurants, food trucks, and other eateries.
Beast of a Feast
Oct. 6 at Elmwood Park Zoo in Norristown
What to expect: culinary creations from dozens of Montgomery County's most popular restaurants, animal encounters, and live music for a good cause.
OctoberFeast
Oct. 15 and 16 at Peddler's Village in Lahaska
peddlersvillage.com
What to expect: food trucks peddling Bavarian treats, a beer garden, and live entertainment from the likes of the Philly German Brass.
Philadelphia 2022 TASTE! Festival
Oct. 21 and 22 at Valley Forge Casino & Resort in King of Prussia
phillytastefest.com
What to expect: a celebration of wines, spirits, restaurants, chefs, and entertainment—plus, an appearance by Big Trouble in Little China star Kurt Russell, signing bottles under his GoGi Wines label.
Published (and copyrighted) in Suburban Life magazine, July 2022.