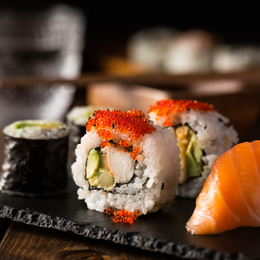 Eastern Exposure
Fine Asian cuisine boasts vibrant flavors that are both comfortably familiar and refreshingly novel.
Asian cuisine is as American as apple pie. It's certainly an integral link in the chain in the local dining scene. Whether you prefer sushi or pad Thai, General Tso's chicken or vegetarian pho, the Philadelphia suburbs have more than their fair share of excellent restaurants that serve what could be broadly described as "Asian cuisine." If you have not already added the following 10 hotspots to your dance card, it's time to start exploring.
August Moon
Pre-COVID, the editors of a certain lifestyle magazine would reliably either have lunch in the dining room or belly up to the bar at the end of the workday at Norristown's August Moon. Serving contemporary Korean-Japanese cuisine, August Moon always satisfies. Our recommendation: Try the stone bowl bibimbap—veggies, rice, your choice of protein, and a fried egg, served up in a sizzling stone chalice—paired with a flight of sake. augustmoonpa.com
Chabaa Thai Bistro
Chef Moon Krapugthong began her career as an artist, and it shows in the cuisine she serves up at this Manayunk stalwart. Chef Moon prepares several excellent curries and some terrific pad Thai, as well as a roster of excellent "recommendations"; the crispy pineapple mango shrimp is just one example. If you prefer sushi and other tastes of Japan, check out Chabaa Thai's sister restaurant, Yanako (theyanako.com), right next door. chabaathai.com
Kooma
If we had to boil Kooma down to one word, it would be elegance. This West Chester restaurant delivers an elevated experience, from the presentation of the food to the atmosphere to the service. The near-endless sushi menu is beyond words, while signatures such as the bulgogi and miso salmon are evidence of Kooma's belief that "food is art." koomafusion.com
Mizu Sushi & Hibachi Steakhouse
One regular describes Mizu's sushi as "probably the best I've ever had." High praise indeed for this Warrington newcomer, which recently celebrated its grand re-opening. The menu is exhaustive (dozens of rolls, for example), the presentation exquisite, and the service attentive to say the least. It's one of those places where you could go there every night for a month, always order something different, and never come away with a meal that was less than spectacular. mizusushihibachionline.com
Nectar
Berwyn's Nectar has been winning awards and making headlines for years. It was in the news again earlier this year because of the death of its longtime chef, Patrick Feury. Now being led by Kenny Huang, who worked side by side with Feury as the restaurant's chef de cuisine, Nectar continues to shine with its creative, diverse menu that blends Asian cuisine with contemporary French and western influences. Its menu of specialty rolls does not disappoint; the King Kong roll sounds amazing, for reasons apart from its titanic name. tastenectar.com
Omiza
A beautiful addition to Doylestown's vibrant dining scene, Omiza is one of our new favorite places in Bucks County. Doling out Korean barbecue and "modern Asian cuisine," Omiza delivers a memorable experience. We recommend going the small-plates route, starting with the dok bok ki and bao buns. One recent diner described the gopdol bibimbap as "the best meal I've had in a while." omizarestaurant.com
Ooka
Over the past two decades, ask someone to name the area's top sushi places, and chances are Ooka would have had made the cut. It remains among the best of the best, with locations in Doylestown, Montgomeryville, and Willow Grove. Each location is exquisitely designed, with an atmosphere to match, and the menu features more than a few surprises—the Wagyu ishiyaki (Japanese beef cooked tableside on a hot stone) among them. ookasushi.com
Osushi Japanese Restaurant
This Ardmore stunner serves some of the most beautifully plated dishes you will ever see, but these dishes aim to satisfy all of the senses. It's not only an extension of sorts for restaurateur Sam Li (he opened the first Osushi in Marlton about six years ago), but also a worthy addition to the Main Line dining scene. osushipa.com
Pho Thai Nam
As the name suggests, this East Norriton pleaser specializes in Thai and Vietnamese cuisine. We are partial to the Massaman curry, but you'll never have to twist our arm to try something from the pho menu. If, somehow, you have not yet experienced the pleasures of this restaurant's pho, you don't know what you're missing. phothainam.com
Veekoo
Veekoo has locations in Berwyn, Royersford, and, most recently, Bryn Mawr, each serving the same class of pan-Asian cuisine—Chinese, Japanese, and hints of Thai. Whether you're in the mood for an intriguing specialty roll, something from the raw bar, or a bowl of truly elevated ramen, Veekoo has you covered. veekoorestaurants.com
Published (and copyrighted) in Suburban Life magazine, August 2022.