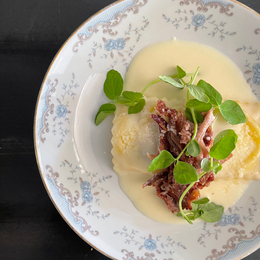 Game On
Autumn ushers in a time for game meats to shine on local menus.
Chef Alex Hardy and wife Tara Buzan-Hardy, who co-own and serve as executive chefs of At the Table BYOB in Wayne, share a love of seasonal, locally sourced proteins. Though Chef Alex says the restaurant's tasting menu items change as often as every two weeks, at this time of year, duck and pheasant from York County's Keiser's Pheasentry shine as menu staples.
"We like to make it so that every time someone comes back, they get to try something different," he says. "It gets to the point where people know you and trust your food."

The preparation for At the Table's duck and pheasant is quite involved. A batch of 20 or so birds will come in whole and hang in the restaurant's refrigerator for 15 to 18 days to ensure proper drying for crispy skin, when prepared. After, birds are broken down and the chefs pipe a layer of farce, "basically a moussed-up sausage," as Chef Alex describes it, under the skin. Then, breasts are put in vacuum-sealed bags and sous vide at roughly 130 degrees for about three hours.

From there, a current preparation flavors the meat with spices including Szechuan peppercorn, coriander, cumin, and dried lavender seeds before chefs render the fat left on the duck. The result, Chef Alex says, is reliably a medium rare to medium temperature—"exactly what you want for duck."

Chef Alex and his team work to use all parts of the duck or pheasant, utilizing bones to make financière, a sauce reduced for 72 hours.

"The cool thing is we cross-utilize animals," he says. "You get a certain amount of portions out of each animal, but we save the wings and do a duck confit kind of chicken wing, or use duck sauce with a little butter for basting. We turn livers into foie gras, a pâté style. It's really good to use every aspect of the animal."

Another dish that showcase's At the Table's commitment to helping diners expand their culinary horizons: a pheasant preparation featuring red wine-braised endive, figs, and orange juniper powder and orange puree.

"If you look at menus, a lot of items are very mainstream," he says. "We refrain from doing that. We think it's important to educate our guests. There's more hospitality when something is different. Our restaurant has this mentality that you shouldn't be afraid to try."

For winter, Chef Alex says to expect venison to make an appearance on the menu. "We'll roll it in a mix of decaf coffee and juniper berries, wrap it, Cryovac it, and sous vide it at about 110 degrees overnight," he says. "The process will remove all the 'gaminess' from the meat."

At Spring Mill Café in Conshohocken, braised rabbit harkens back to family roots for owner Ezra Haines. "Rabbit has been on our menu since '78 or '79," Haines says. "It's one of those dishes that if we took it off the menu, we'd have some very angry customers."

The Lapin à la Moutarde preparation features a mustard cream base over pappardelle pasta.

"My great grandparents' family was partly Swiss, so I assume that's where the Alsatian influence came from," Haines says of the dish, which features rabbit braised in white wine with onions or shallots and herbs. "The other way we serve rabbit, in winter, is braised in red wine, served with a prune reduction, potatoes, and mushrooms.

"Rabbit is tasty," he continues. "Like most historically French dishes people think are fancy, they're not; they're just innovative home cooks making something delicious out of something cheap."

As for game meats themselves, Haines credits the "turkey halo effect" brought on by Thanksgiving for inspiring diners to seek out game dishes at this time of year.

"I think there's also a lot of movement towards things that are not factory foods," he adds. "The nice thing about a lot of game things is that they are hard to do as factory food, so you end up getting something more flavorful and more sustainable and that comes from local vendors."

Like Haines and Hardy, Chef Lo of Villa Barolo in Warrington utilizes less widely seen proteins on his menu: wild boar, elk, kangaroo, antelope, pheasant, quail, rabbit, etc. The restaurant serves two different types of game meat each week.

"Duck has been on our menu for decades," he says. "It's a signature dish. We pan sear it first, then oven roast it to finish it to the temperature people wish—we recommend medium rare to medium. Then, we serve it with a pinot noir reduction, balsamic glaze and wild mushrooms with mashed sweet potatoes."

As for why he enjoys working with game meats, Chef Lo concurs with Chef Hardy in wanting to expose people to new flavors.

"There are a lot of different meats available on the market besides steak and lamb," Chef Lo says. "Game meats are something not everybody is able to cook at home because game meats require good technique. Everybody can put a steak on the grill, but not everyone can do game meat correctly. People come here from 20 miles away just for game meat."

He adds, "We want to give people a chance to explore."
Photo courtesy of At the Table BYOB
Published (and copyrighted) in Suburban Life, September 2022.