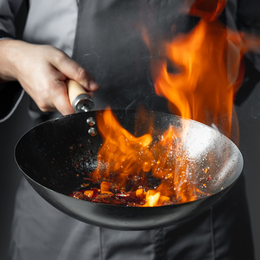 Heating Up
The chefs behind some of the area's most ambitious kitchens raise the bar for restaurants near and far.
When world events turned everything upside down in March 2020, absence definitely made the heart grow fonder. We missed spending face-to-face time (rather than FaceTime) with our friends and loved ones. We missed going to concerts, shows, and other special events. And, perhaps most of all, we missed bellying up to the bar of our favorite watering holes and visiting the dining rooms of our favorite restaurants.
Most of us have largely returned to our pre-pandemic routines, including dining out. In our return to our favorite bars and restaurants, as well as finding new favorites, we came to realize (or remember) our good fortune. Philadelphia and its suburbs lay claim to some of the country's finest restaurants, with kitchens run by teams of skilled and adventurous chefs. Many of them have traveled the world for new experiences, in pursuit of new flavors, which, in turn, have influenced their approach to cooking. Given Philadelphia's reputation as a culinary hotspot, many chefs have honed their skills in some of the area's finest restaurants before branching out on their own.

We raise a glass to the men and women who lead some of the area's most ambitious and accomplished kitchens. Their culinary creations give all of us so many good reasons to dine out—or, based on how our culture has changed over the past few years, the resources to have a more elevated experience when we choose to dine at home.
Having cut his teeth in kitchens throughout the Philadelphia, Matt Brakonieki is now leading the charge at Bowman's in New Hope. He serves up an eclectic menu of "modern American" favorites, each with its own distinctive twist. Whenever possible, dishes are made with seasonally inspired, locally sourced ingredients, and they are always served in an elegant yet casual environment that makes every guest feel right at home; no matter what a guest orders, the live music provides the perfect accompaniment. bowmanstavernrestaurant.com
Souderton has not always been known as a culinary destination, but that trend has started to shift. Family-run Caruso's Brick Oven Trattoria, on Souderton's ascendant Main Street, has been well ahead of the curve. Caruso's menu of Neapolitan favorites—a well-curated antipasto board, inventive pasta dishes, and perfectly blistered brick-oven pizza, to name a few—is the doing of Gaetano Chiaro, the Italian-born chef who cut his teeth in kitchens around the world before coming to Montgomery County. Chef Chiaro and his family have created something truly special at Caruso's, for the food it serves, for the atmosphere it provides, and for the overall experience that turns first-time customers into impassioned regulars. carusobrickoven.com
Guests of At the Table BYOB in Wayne can expect to find a new American/French-inspired menu with fresh, locally sourced ingredients and more than a few surprises. Thank Alex Hardy and Tara Buzan-Hardy, the restaurant's husband-and-wife culinary team, each of whom came into the enterprise with a well-seasoned background. Whether customers opt extraordinary six-course tasting menu or go the a la carte route, the Hardys' restaurant offers an inspired experience from start to finish. It's no wonder the restaurant has been known as one of the finest BYOBs on the Main Line for six years and counting. atthetablebyob.com
Some people eat with the assumption that food can be healthy or it can taste good, and never the twain shall meet. Those people have yet to dine at Ron's Original Bar & Grille in Exton, the restaurant brought to life by chef/owner Ron Inverso. Ron's has become a dining destination known for serving "Real Food for the Health of It." In addition to its low-key casual vibe and service-minded staff, Inverso attributes the restaurant's success to its commitment to using as-pure-as-possible ingredients (organic eggs, hormone- and antibiotic-free chicken, imported Italian flour, etc.). The menu aims to offer "something for everyone," and Inverso promises to deliver. ronsoriginal.com
Warrington's Villa Barolo has been going strong for years, and for good reason. Among them is the man who leads the kitchen, known simply as Chef Lo. Villa Barolo serves up regional Italian specialties (lobster ravioli, manicotti, risotto fra diavolo, etc.) and an array of seafood preparations, but it's perhaps best known for its selection of game meats: wild boar, elk, kangaroo, antelope, pheasant, duck, rabbit, etc. Chef Lo's prepared game meats have become a huge draw, with adventurous customers coming from near and far to partake in menu items not often found among the offerings of less adventurous restaurants. villabarolo.com
Kelly Unger thought she would one day be a nurse. She chose culinary school instead, followed by business school. She blended all three disciplines in the creation of The Rooster and The Carrot, a Bucks County-based enterprise that teaches farm-to-table cooking classes to folks who are interested in living (and cooking) more healthfully and supporting local farms. Her interest in other cultures and cuisines is reflected in the classes she teaches; past iterations have included those centered on the cuisines of France, Israel, Spain, and Thailand, for example. Her interest in connecting people more intimately with their food extends beyond her cooking classes; she's also the director of the Doylestown Farmers Market and the voice behind "The Farm to Table Report" on WDVR-FM. theroosterandthecarrot.com
Published (and copyrighted) in Suburban Life, November 2022.