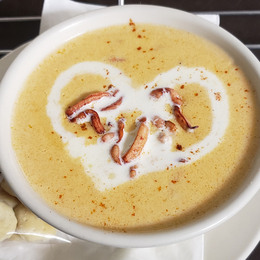 Soup and Soul
Local chefs put their hearts into crafting rich, warming, flavorful soups.
Any chefs worth their stock value the respect, tradition, and hours it takes to make a quality soup—and mommas and grammys the world over know even better than them. This might be why every country and culture across the world has some iteration of what some would call the world's favorite dish. Soup is the ultimate food for the soul, especially in cold-weather climates such as ours.
"You know, it's just the perfect food," says Tim Baker, executive chef at The Whip Tavern in Coatesville. "It hydrates you when the weather is cold and dry. It warms you up. It's pretty much the ultimate comfort food. That's why moms and grandmoms make soup when you're sick, to make you feel better."

Every chef interviewed for this article agrees that the love of soup is primal in nature; it goes back to the warmth a person feels when being cared for as a child.

Chef Benjamin Salazar, who co-owns Geronimo's in Ambler with his brother, Daniel, says, "Peru has a very rich tradition of family cooking. Recipes and dishes are passed down generation after generation. … Our own parents gave us a good, complete meal with soup. For myself, it reminds me of my grandmother, eating at her house with her making amazing soups and broths. Soups are also accessible and affordable."

"I think it takes you back to a younger childhood, and it's very comforting," adds Chef Scott Wilder of Harleysville's Bella Fiona Ristorante. "You know, you just eat a good soup and it warms the soul."
Philip Abruzzese, general manager of Pineville Tavern in Bucks County and son of owner Andrew Abruzzese, says much the same.

"I think for a lot of people, myself included, that soups are something that as a child, for some reason or another, that we count on, whether we're sick or not," he says. "That, and the endless taste combinations and how much we can do with soup."

At the Pineville Tavern, one such combination comes in the restaurant's famous snapper soup, a recipe devised by former chef and partner Roger Bonner.

"The soup is made with snapping turtles, which come in whole," Abruzzese says. "This soup comes from a time where you ate anything that you could get your hands on, including turtles."

Preparation is labor intensive. It involves not just breaking down and cleaning whole snapping turtles, but also layering flavors via an infused "tea" made by boiling a cheesecloth satchel of spices, then adding that strained liquid to a mirepoix and roux.

Chef Salazar's house-favorite chupe de camarones, a hearty Peruvian shrimp chowder, also benefits from the laborious layering of flavors.

"We do everything for our soup here from the start," he says. "We buy the shrimp with tails and heads on, so it's me taking apart the entire shrimp and getting the meat out of it. The carcasses and the heads I boil to make a nice stock. All that richness is the base of my soup."

From there, Chef Salazar incorporates Peruvian elements including fava beans imported directly from Peru, choclo, which is a large-kernel Peruvian corn, and huacatay, a richly flavored black mint. For the element of starch, used to thicken, Chef Salazar adds Peruvian native potatoes.

"I honestly believe soup doesn't get enough credit," Chef Salazar says. "A lot of people go into a restaurant and see soups and just pass on. They don't believe the importance or the relevance that goes into making the soup itself. There are very limited places anymore that make soups from the start. I believe soups are one of the most complete meals we can purchase. I think they are very overlooked."

English onion soup, a favorite at The Whip Tavern, features house-made stock as well.

"You can control the flavor better that way and get a deeper flavor out of it," Chef Baker says. "You can't really rush a good soup. It takes time and it takes skill. You need to know the right order to put the ingredients in, how long to sweat the vegetables, how much caramelization to put on the onion. Nothing can be faked."

At Bella Fiona, broth from poached clams enriches the beloved New England clam chowder. The recipe is close to the heart of Maine native Chef Wilder.

"We use our own broth so that we don't have to enhance it with cans," he says. "We use bacon, onion, and celery, and that really brings out the taste."

Chef Wilder says guests appreciate the effort that goes into his chowder.

"People love that you take the time to make it," he says. "A lot of chefs just throw a clam base in water and cream and call it a day. Here, we take the extra time and people appreciate that extra richness. The flavor is more natural, not chemically enhanced. Knowing someone takes the time to make something from scratch really makes a difference."
Photo by Sabrina Wilder/Bella Fiona
Published (and copyrighted) in Suburban Life, December 2022.