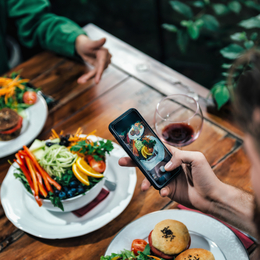 Sprouting Up
Local purveyors of plant-based cuisine produce inspired dishes to satisfy any appetite.
Vegetarians and vegans—or, really, anyone looking to limit the amount of meat they consume—used to have it tough when dining out. Just 10 or 15 years ago, they would often sit down at a table of an unfamiliar restaurant, scan the menu, and groan at the limited "friendly" options. Times have since changed. Most restaurants now offer at least one or two plant-based options that are a step above the unimaginative portobello-heavy options of yesteryear.
At the same time, many Philadelphia-area folks who follow a non-meat lifestyle cannot help but feel disheartened, even a little crushed, by the number of reputable vegetarian or vegan restaurants that have closed their doors of late. Blue Sage in Southampton, Clean Roots Vegan in Telford, and Nelli Bird Café in Revere are among the most recent to fall.
That said, several providers of plant-based fare remain firmly in place. Even better, new ones continue to sprout up in the city and suburbs alike. Following are some of the best and brightest.
Cabbage Vegetarian Café
Cabbage packs a big punch in a small footprint. This diminutive Skippack breakfast and lunch spot dishes out a medley of vegetarian, vegan, and gluten-free options, with everything made in house. For lunch, we prefer a menu item known simply as "The Sandwich" (hummus, radish, greens, and more, between two slices of house-baked bread), paired with one of the many hot teas available. We can't wait for kinder weather, so we can sip and nosh on the outdoor patio overlooking the main drag through Skippack Village. cabbageluv.com
Gangster Vegan Organics
This popular Norristown takeout destination serves up an all-star cast of organic vegan offerings, all of which are made without gluten, soy, and refined sugar. From smoothies, juices, and "wellness shots" to salads, bowls, and burgers, Gangster Vegan sees its food-and-drink offerings as a way to help customers "detoxify your body" and "revitalize the mind." Its fare is also quite delicious. gangstervegan.com
Greyhound Café
This cozy Malvern restaurant offers creative yet familiar dishes designed to please any palate. Examples include chicken alfredo, baked bacon mac and cheese, fried fish tacos, cheesesteak chimichangas, but in this case all are 100 percent vegan, made with plant-based meat, cheese, and seafood substitutes. Just about everything on the surprisingly wide-ranging menu looks like a winner. thegreyhoundcafe.com
Nourish By Mama
Every Doylestown resident knows all about Empanada Mama, the dynamic takeout-only empanada joint founded by Kendall Bajek. Likely far fewer know about Nourish By Mama, Bajek's plant-based restaurant around the corner from Empanada Mama. The dishes are thoughtful, flavorful, and inventive—we're looking at you, cauliflower Tinga wrap—and appealing to anyone open to a meatless or reduced-meat diet. Just be sure to get there on a weekday, from 10 a.m. to 4 p.m., because it's lights out on nights and weekends. nourishbymama.com
Pietramala
Philly has a cornucopia of first-rate vegan and vegetarian restaurants—Vedge, Charlie was a sinner, Bar Bombon, etc. Pietramala, a BYOB in Northern Liberties, has gained a lot of attention of late; it recently earned a far-forward spot (No. 13) in Philadelphia magazine's recent rankings of the city's top 100 restaurants. It's easy to see why; the Italian-inspired menu appeals to the most adventurous plant-based diner, with more than enough to entice even the most skeptical novice. pietramalaphl.com
Sprig & Vine
The plant-based fare at this elegant New Hope BYOB blends casual and fine dining. The entrées are fun and creative, and even the casual options—the cauliflower banh mi tacos and barbecue seitan sandwich, for example—are several steps above standard. Sophisticated fare aside, the service and atmosphere combine to offer a dining experience best described as elevated. sprigandvine.com
Twin Goats Café
A certain Suburban Life editor and other regulars of Nelli Bird Café were despondent when the Ottsville-area restaurant closed its doors last April. The spirit behind Nelli Bird lives on, however, through its successor, across the river in Lebanon, New Jersey, northwest of Frenchtown. While Twin Goats Café may not be as conveniently located as its predecessor, Twin Goats' casual fare is worth traveling for. The menu features a rotating lineup soups, tacos, baked goods, sandwiches, and smoothies, among other goodies (note the daily "special guest"), all of the plant-based variety. instagram.com/twingoatscafe
V-Spot
A relatively recent addition to New Hope's dining scene, V-Spot takes up residence in the home of the former Blue Tortilla. The BYOB's menu of plant-based offerings includes the likes of organic perogies, butternut squash ravioli, and an inspired take on the Reuben sandwich (with vegan corned beef). The dining room is small but charming; a window seat provides a perfect roost for watching passersby. v-spotfood.com
Published (and copyrighted) in Suburban Life magazine, January 2023.