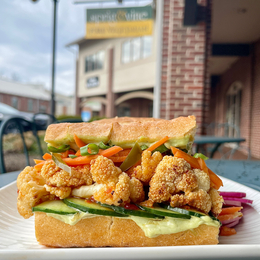 Bánh Voyage
Travel the area in search of southeast Asia's iconic sandwich, the Bánh mì.
Nathan Badenoch, Ph.D., is an associate professor of Japanese and Asian studies at Villanova University. He's also a longtime Bánh mì aficionado.
Badenoch's love for Asian studies started with his grandfather, who lived in Shanghai for a time during the 1930s. His interest in the topic only grew during his time as a student at Philadelphia's Central High School, where he learned to love the languages spoken by his friends from Cambodia and Laos.

"The word Bánh mì is pretty old," he says. "It basically comes from Chinese words that have to do with baked goods made of wheat. The Bánh mì as most people know it now is the Vietnamese version of a French baguette.

"I know Bánh mì from Laos because it came with the French colonial experience," he continues. "People know it being from Vietnam, but it is also a big part of Lao and Cambodian culture as well. I first learned of Bánh mì from my Lao friends in Philadelphia, where people would have them at home before they had them at restaurants."

Having studied all over the globe, Badenoch has enjoyed Bánh mì in a number of different places. He says each has its own unique take on the southeast Asian sandwich.

"It's one of those things that people would often buy from a street vendor or cart or food shop along the road," he adds. "People will offer a couple of standards, a couple of sweet ones—everyone has their own take, and usually the pâté is made by each person individually. What's interesting are the layers of crunchy, soft, crunchy, soft. There are a lot of different textures."

Badenoch fondly recalls a favorite Bánh mì vendor from his time in Laos doing his master's research.

"One woman at the local morning market always had the best Bánh mì," he recalls. "She had the softest pork ham, and the pâté was always wonderful. The best thing was the freshly sliced green papaya on top that gives it a nice crunch.

"In Laos, something the Bánh mì will always have is pork floss," he continues. "It's dried meat that looks like cotton candy. It's light, savory, and of course tastes nothing like cotton candy."

Badenoch's description of the quintessential version: "Open up the Bánh mì and slice it down the middle. The inside should of course be very soft, while the outside is perfectly crispy. Then you put a buttery mayonnaise type spread, pâté—hopefully a generous amount—then cucumber. Pork ham goes on top of that, then you top it with green papaya sliced really thinly, cilantro, then hot sauce, and you're good to go."

While most know the sandwich's savory iterations, Badenoch shares that sweet versions are very popular as well, and pair perfectly with a slow-drip Vietnamese coffee. One, for example, features a condensed-milk filling.

Unique Bánh mì iterations abound in the Philadelphia area, too. At Mi 'N Tea in Manayunk, sibling owners Troy and Kim Dieu's restaurant offers Bánh mì that feature influences from both near and far.

"The essential ingredient in the Bánh mì is the bread itself," shares Trish Nguyen, a barista at Mi 'N Tea. "Traditionally a baguette is used. I consider ours modern because the Bánh mì I grew up eating were all on baguettes. Here we use a softer bread that is more like a hoagie roll. This makes our Bánh mì even more popular with people in the community."

In addition to the crucial aspect of freshly baked bread, the suite of Bánh mì at Mi 'N Tea includes a variety of fillings, with everything from Vietnamese pork roll and crispy fried shrimp, to tofu and mushroom, to crispy chicken and Korean Bulgogi beef. Many options include lovingly prepared pâté made from chicken liver or pork liver.

"Pâté, which we make in-house, is another crucial element," Nguyen adds. "That and the Vietnamese mayo, which the owners' mom makes fresh in the store. Our Vietnamese mayo is made just purely with egg yolks and oil for emulsifying. It's a yellow mayo that gives a very creamy essence to the Bánh mì."

Cilantro and pickled vegetables such as carrots, daikon, and cucumber add an element of brightness to finish off each sandwich.

Ross Olchvary, chef/owner of Sprig & Vine in New Hope, is just as passionate about bright, fresh herbs and vegetables, though you won't find any meat or pâté in his Bánh mì iterations.

"We're an all-vegan restaurant, so we use no animal products," Olchvary shares. "We definitely use a baguette for the sandwich, and usually some vegan mayo, pickled vegetables like cucumbers, and fresh herbs. We use all those Vietnamese flavors, combined with some kind of focal ingredient that is not meat.

"We serve a roasted cauliflower Bánh mì," he continues. "We've made versions using eggplant, kohlrabi, tofu, and a vegan protein called tempeh. We admit we use the term Bánh mì kind of loosely, because the vegan version definitely deviates from the traditional, but it is Vietnamese flavors."

Olchvary says he added Bánh mì to his menu precisely because of its exciting flavor profile.

"A lot of people who are not used to vegan cuisine might see vegetables as kind of boring," he says. "We use chili peppers, fresh cilantro and mint, and pickled carrots and jalapeno. The acidic vinegar of the pickles, the spice of the chili peppers, the aromatic flavor of the herbs, and the richness of the mayo all combine to create a bold flavor profile that really stands out, and is a great way to showcase a humble, common vegetable. It's a way of taking bread and cauliflower, two very simple ingredients, and turning them into something that really pops with vibrant colors and flavors."

Olchvary too believes a good Bánh mì starts with quality bread. Spring & Vine prefers Merzbacher's bread, made with Pennsylvania-grown grains.

"Even though the baguette is a French creation, we're very familiar with it in this country," he shares, "so I think the Bánh mì starts with something very comforting to the American palate, but that puts some exotic flavors inside."

Considering Philadelphia's well-documented love affair with the hoagie, Bánh mì seems to fit perfectly within the region's rich culinary culture.

"When I was little, we called Bánh mì 'Vietnamese hoagies,'" recalls Badenoch, the Villanova professor. "Other places have their grinder or sub or zep, but in Philadelphia, we call them hoagies and we love them. … We're serious about this. For us to have been able to take in the Bánh mì as a hoagie-type sandwich I think is a nice testament to how Philadelphia's food culture is open, welcoming, and very diverse. I personally think it's a wonderful thing."
Photo courtesy of Sprig & Vine
Published (and copyrighted) in Suburban Life magazine, March 2023.