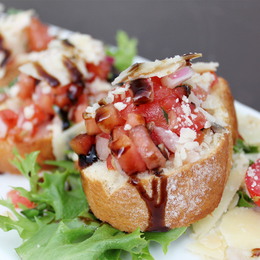 Sow What?
Restaurants and home gardeners freshen up their dishes with homegrown produce.
There is no equal to the flavor and quality of locally grown herbs, fruits, and vegetables.
Just ask Irene Moretti, bar chef at Tavola Restaurant + Bar in Springfield, who loves to use the fresh herbs and produce she grows for an eclectic roster of signature cocktails including cucumber lemonade, spicy cucumber margaritas, jalapeno margaritas, watermelon martinis, and mojitos.

"I love to talk garden!" says Moretti, who has been growing produce at Tavola since 2015. "My grandmother always had a huge garden. Some of the first memories I have are of her garden. Our family ate from that garden—tomatoes, escarole, eggplant, squash, even artichokes.

"Almost as soon as the restaurant opened, I started growing herbs for the drinks I made for the bar," she continues. "What followed from that was Mr. Burns [Patrick J. Burns, president and CEO of Springfield Country Club and Tavola] allowing me to garden on site, and we use the herbs and some of the vegetables for the drinks for the bar. … The rest of the vegetables—zucchini, tomatoes, cucumbers, eggplant—go to the kitchen. Our chefs are excellent."

Among other crops Moretti grows for Tavola are a variety of herbs, including parsley, cilantro, mint, tarragon, "tons of basil, sage, rosemary, lemon verbena," as well as green squash, jalapeño, Italian hot peppers, watermelon, and acorn squash.

Aimee Olexy, proprietor in partnership with Stephen Starr of Talula's Table, Talula's Garden, and most recently, The Love in Rittenhouse Square, also believes strongly in the value of carefully tended produce.

"We have a fig tree in front of the restaurant [Talula's Garden] that we planted very intentionally when we opened," Olexy says. "I wanted a symbol that said to the community that we are going to be here for a long time. Now, that tree produces hundreds of figs for us each season. It's a symbol that we care about what grows.

"A big passion of mine is cheese plates," Olexy continues. "Figs are a really great pairing with cheeses because they are sweet and creamy, so our figs appear on our cheese plates. We start seeing a pretty good crop around September 1."

Like many who love to keep connected with the soil, Olexy grew up with an appreciation for the land.

"I was born and raised in Chester County, in the West Chester area, where it's not uncommon to see people with big gardens," she shares. "My mom had a humongous garden. She did something similar to what I did with the fig tree—she grew lots of blueberry bushes. We also grew lots of tomatoes, corn, and zucchini, but I think what was special about the blueberry bushes was that we had enough that we got kind of into this pattern when I was young that we'd expect the crops coming and we'd harvest as a family."

"When you garden, you learn," Olexy continues. "You watch the stages of something as it grows. You learn to watch for ripeness and to protect plants from the environment—rain, hail, bugs—and as a result, I became keenly aware of the value of good ingredients and what it takes to produce a quart of blueberries and how much work that is."

The great joy of reaping homegrown crops matches the inherently better flavor, according to Olexy.

"At the very core, it tastes better," she says. "I can certainly line up corn that's been aging in a warehouse for weeks versus the fresh corn that you pick up at a farmer's market that's juicy, sweet, delicious, and perky. To me, there's a huge difference when you walk into a room between cantaloupe that you can smell versus cantaloupe that doesn't smell like anything."

For Moretti, it's not just taste but also the connection with the guest that makes gardening for Tavola a special affair.

"I like the fact that when a customer gets a drink, a cucumber lemonade, they can look out at the garden and see the cucumbers and know those are the same cucumbers they are getting," she says. "It's personal. It's a lot, having a garden, but not a lot of restaurants have one; we're lucky to have ours."
In With the Old
Many folks, from farmers to foodies, will be familiar with the term "heirloom," but not all know the rich history hidden in that single word.

"An heirloom seed first of all needs to have been around in its current form for 50 generations or more," explains Diane Diffenderfer, Master Gardener coordinator for Penn State Extension in Wayne County. "A hybrid plant, if you save the seeds, is not going to 'breed true.' Because heirlooms are open-pollinated, they will always breed true. Some growers or seed aficionados want to make sure they get that summer tomato flavor ever year and don't want any variation, so they'll start with an heirloom they like, save the seeds, then continue that process year after year."

Now a resident of the northeastern part of the state, Diffenderfer is quite familiar with growing crops in the Philadelphia area, too. She served as education director for Pennypack Farm & Education Center in Horsham for nearly half a decade.

At present, she is involved in a project with partnership between the Penn State Extension Master Gardener program and Sarah Dohle, Ph.D., of Delaware Valley University called "Grow-Save-Repeat." The educational initiative is aimed at showing gardeners of all levels how to save seeds and breed their own fruits and vegetables.

"This will be our third year," Diffenderfer says of Grow-Save-Repeat. "We grow plants, taste them, then from the taste test decide what flavors and other characteristics we want. For example, does the plant need to be staked, or is it strong enough to stand on its own? Does it seem less appetizing to certain insects? You can pick and choose to grow seeds, crossing them to see what you get."

Annie Milionis is a gardener at The Yardley Inn and a volunteer in both the Penn State Master Gardener and Master Watershed Steward programs. She grows a medley of plants for the restaurant, including many heirloom varieties.

"Heirloom means an open-pollinated old strain from a reliable seed source that has been grown for generations," shares Milionis, who grew up on a farm in Pike County that has been in her family since 1851. "Some varieties date back to the 1800s. Some heirloom squash available in this area date back to the early Native American times.

"We grow predominately herbs in the garden, plus some heirloom tomatoes, heirloom peppers, and heirloom eggplants," Milionis continues. "If the chef has anything specific that he'd like, I certainly grow that too."

As to why she likes to plant such heirloom varieties, Milionis cites factors including taste, first and foremost.

"Heirlooms tend to have a very good flavor, and they tend to have softer skins," she says. "A lot of hybrids and crosses that have been developed over the years have tougher skins because they were bred to store and ship well and last longer on the shelves. What you lose is flavor and some of the really good qualities of different vegetables and fruits. Heirlooms are not as tough and they're just really luscious, delicious, and very flavorful."

One local heirloom variety from this part of the world is the Brandywine tomato. Guests will find this variety in The Yardley Inn garden, along with varieties such as Sun Sugar, a yellow cherry tomato, and herbs including English and lemon thyme, mint, oregano, dill, wintergreen, lavender, chives, sage, and garlic.

"One of the things we've been doing also is adding native plants that are beneficial to the birds and insects that coevolved with these plants," Milionis adds. "We need to start looking at food not just for us but the other organisms with which we share the planet.

"Our location is such that it's right on the Delaware River," she continues. "Our parking lot is surrounded on two sides by a tributary, so things like stormwater runoff and soil erosion can be an issue; it is important to add native plants to help hold the soil and reduce runoff. We are also on the Atlantic Flyway for migratory birds and insects, so we are trying to look at our land use and do good things for the environment."

Another bonus to such native plants is that they have natural defenses against certain local insects and have adapted to grow in local soil. Certain plants can even discourage unwanted visitors from nibbling.

"Deer don't like daffodils," Diffenderfer says. "You can also put aromatic herbs or vegetables such as garlic and chives, which reseeds itself. Pollinators love it and moles and voles rarely go near it because they don't like the smell. Horseradish is like that, too. A lot of people also plant marigolds because they have a strong fragrance that is not necessarily pleasing to critters.

"It's pretty cool now because we're seeing a lot of edible landscaping going on," she continues. "Borage is a wonderful annual for the garden because it reseeds itself. Its flowers are a beautiful purple-pink that you can freeze in ice cubes and add to punch. It's also great for plant pollinators. It's helpful for gardeners to think about blending vegetables with certain flowering plants together in the garden."
Growth Opportunities
Resources abound in our state for those looking to expand their agricultural knowhow.

"I just adore the region we live in, the Mid-Atlantic, and the regions surrounding the Main Line, Chester County, and Philadelphia," Olexy says. "One of the reasons is that we have such a great network of farm markets. Farm markets are a great place for people to learn what's in season, and what high-quality vegetables should look like."

For Milionis, well-established universities are a treasure trove of knowledge as well.

"I would say absolutely one of the very best places for anyone who is a gardener is their County Extension Office," she says. "There are Master Gardener programs in each of the 67 counties in Pennsylvania. Extension offices provide very well-researched, science-based information on how to grow any berry, nut, fruit, vegetable, or native plant.

"In our state, Penn State University is our land-grant institution, something that dates back to President Abraham Lincoln," Milionis continues. "By signing the Morrill Land Grant [College] Act of 1862, Lincoln established land-grant institutions in every state in the nation to provide sound, well-researched education and information on a number of topics, predominantly in agriculture and mechanical arts. That's why I say with confidence that one of the best places to get good gardening information is Penn State Extension."

In terms of when to plant, Milionis says typically peas and onions can go in the ground in late March. Brassicas such as kale, Brussels sprouts, cauliflower, and broccoli can follow, with tomatoes, peppers, squash, melons, and the like following those no earlier than May 15.

"We recommend people check their growing zone because the old adage is, 'right plant, wrong place,'" Diffenderfer says. "You want to make sure the seeds you're buying, or transplants or trees, have the best conditions for the growth of the plant.

"Our last frost date in this area is typically May 15," she continues. "You can push that by a little bit sometimes, but you really have to watch the weather forecast to make sure the air and soil temperatures are up to par."

Cool weather crops can also be planted again in August and will grow "right through to the first heavy, killing frost," according to Milionis.

"Farm eating isn't just for summer or spring," Olexy says. "All winter long we serve fresh mushrooms, cauliflower, sweet potatoes, potatoes, and turnips. You will see in my restaurants—you can be a locavore all year round."
Photo courtesy of Tavola
Published (and copyrighted) in Suburban Life magazine, April 2023.