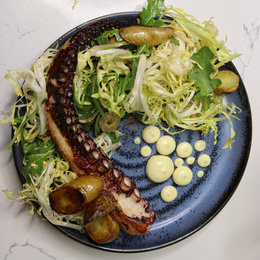 Grill Interrupted
Savor summertime foods beyond burgers and hot dogs.
Not to knock the classic summertime staples—burgers, hot dogs, potato salad, etc.—but lighter, brighter, and more interesting dining options abound.
Ceviche, for example, can be an excellent option for a satisfying but not too heavy dish. For Silvia Egoavil, owner/manager at Quinoa in Doylestown, the dish is particularly iconic for summer.

"We sell so much ceviche starting as soon as the weather gets hot, we say, 'It's ceviche weather,'" says Egoavil. "Peruvian ceviche is basically known worldwide. … At home, we're always doing ceviche as a dish for summertime get-togethers. We're big seafood eaters."

The ceviche at Quinoa features a sauce called "tiger's milk," a puree of fish, vegetables, hot peppers, and lime juice. Items such as calamari, shrimp, and octopus are blanched first, but for raw fish such as the corvina, the acid in the lime juice serves as a catalyst to "cook" the meat.

"Ceviche pertains to when it's finally hot and people need a refreshing food," Egoavil shares. "Summer I would say is fresh, light, citrus, and colorful, and that's what we're known for—our dishes are so colorful."

Other "lighter" dishes at Quinoa include tacos, grain bowls, salads, and street corn featuring lime juice, chili powder, and Mexican cotija cheese.

Quinoa's culinary experts include Peruvian chef and Silvia's mom Carmen Egoavil, as well as Silvia's brother-in-law, Said Anguiano, who is highly skilled with Mexican flavors.

"All our family is involved, at El Tule [Restaurant] in Lambertville [New Jersey], and at Quinoa in Doylestown," she says. "All of the ceviches are my mom's trademark. These are the dishes she has prepared for us since we were little, little. We've been eating them since I don't remember when."
The Joy of Simplicity
Mike Christou, a chef by trade, says simplicity and careful composition are at the heart of the dishes at Àrdana Food & Drink. Named after the village in Cyprus from which Christou's grandmother hails, Àrdana has a flagship location in Warrington and a second location in Newtown that opened in March.

"Our concept is born from the Mediterranean," says Christou, who helms Àrdana with his brother Antoni. "Mediterranean food in general, especially on the Greek side, is just very simple. The idea is to let good ingredients combine in thoughtful ways. That lends itself to summer."

Christou's commitment to simple ingredients treated respectfully shines in the char-grilled octopus dish, which is seared to order and served with potatoes and a salad with lemon vinaigrette, as well as skewers featuring four varieties of protein—chicken, shrimp, spiced lamb, and scallops. This love of freshness extends to Àrdana's produce, about 80 percent of which comes from providers in Pennsylvania and New Jersey from the beginning of spring through the fall.

"If you come to my house in the summer, if we're having the neighbors over, sometimes we do burgers and dogs, but most times we're doing lamb or octopus," Christou says. "I think it's good for people to step out of their comfort zone, and new foods give people something to talk about."

Light and fresh grilled fish dishes star on the menu at Opa Taverna in West Chester, as do octopus and two guest-favorite cheese preparations.

"I personally like the saganaki fried cheese," says George Zoubroulis, manager at Opa Taverna. "The halloumi comes from Cyprus. We serve that with scallions and diced tomatoes and dress it with a little bit of extra virgin olive oil. It is semi-hard cheese, mild, pasteurized, and from sheep or cow milk. Saganaki is almost the same, but it comes from the mainland. It's going to be a little bit more flavorful than halloumi."

While the halloumi is grilled, the saganaki is dusted with flour, pan fried, and then finished with a bit of ouzo that is set aflame to give the cheese an even crispier exterior.

For Zoubroulis, the restaurant's uncomplicated yet thoughtful preparation of tsipoura, also called dorada or gilt-head bream, is a menu highlight. Special for the summer is a white snapper—faggri in Greek—prepared whole, which he encourages guests to share as it is a roughly three-pound fish.

"Our preparation is very simple," he shares. "We serve the whole fish. First, we descale and cut the fish; then, once it's good and clean, we grill it, then filet it in the kitchen."

This step allows the kitchen to de-bone the fish before it reaches the table.

"Then, we dress it with a sauce we make in-house from extra virgin olive oil, lemon, a little bit of dry mustard to bind the sauce, then a little bit of saffron as well," he adds. "Then we put a little bit of Greek oregano and some capers as well, and serve with extra lemon."

On the side, guests enjoy dandelion greens, which are first boiled and strained, then sauteed with onions and diced tomatoes.

"Years ago, Mediterranean cuisine would most likely be Italian and pasta-based, but I think in the last 10 years people have been eating more Greek food, and Spanish and Portuguese, and I love to see that," Zoubroulis says. "I definitely encourage people to eat the Mediterranean diet because I believe it's one of the healthiest out there, in general."

For those who don't want to venture too far from the classic American summertime favorites, he recommends the gyro or platters featuring pork or chicken.
Up in Smoke
While the grill may get the lion's share of the glory when it comes to summertime eats, its friend the smoker also deserves its place in the sun. So is the philosophy at La Cabra Brewing Smokehouse in Bryn Mawr. La Cabra smokes meats all year round, but Manager Tyler Ashley believes there is something special about summertime dining.

"Summertime comes back to barbeque and that's what our specialty is," Ashley shares. "For us, a classic brisket sandwich or a Caesar salad with brisket is perfect on a hot day if you have a big appetite."

La Cabra smokes its ribs for five hours to achieve fall-off-the-bone goodness, and the brisket and pulled pork cook overnight to achieve much the same. The menu also features an airline chicken dish featuring a breast and wing cut, baked and smoked, atop couscous and accented by a chili lime sauce with a hint of spice and served beside a cucumber salad.

"I love our couscous," Ashley says. "And when you smoke the chicken breast for a little bit, it comes out really tender."

Those with a sweet tooth have reason to smile as well, thanks in large part to dessert specials by Chef Fredy Tuez-Chumpitaz, a native of Peru whose culinary journey started in baking.

"Fredy is one of my favorite chefs I've worked for," Ashley says of the chef, whose recent creations have included lemon blueberry cake, peach cobbler, and blueberry mousse cake. "His desserts are off the chart. Friday through Sunday, we do weekend specials, and we usually sell out of the entrées and desserts by Sunday night."

While many in the area head down the shore for the summer, Ashley appreciates the
opportunity to bring in new clientele: "In summertime, people are open to trying new things."
Photo of char-grilled octopus courtesy Àrdana Food & Drink
Published (and copyrighted) in Suburban Life magazine, June 2023.