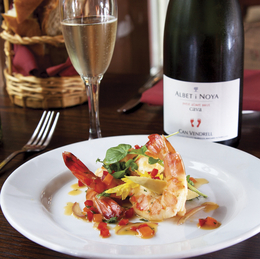 Perfect Pairings
The wine-dinner series at Georges' charms with its relaxed ambiance and deftly crafted pairings
The foods of Spain, perhaps more than those of any other country in the last decade, have seriously changed the way Americans eat. Trends come and go, of course, and it's always an interesting exercise to trace our national "food ways" through the various fads and fashions that arrive and, often, leave just as quickly as they appeared.
Still, there are some trends that have a staying power that most don't, even if they linger on merely in residual influences. We're still benefiting from the craze for so-called fusion cuisine that arrived on these shores sometime in the late 1990s. And while its more outlandish facets have been filed away, the best flavors and techniques remain, coloring foods all over this country.
Now, it's Spain's turn, and even Georges', the beloved suburban outpost for the region's "Frenchest" of French chefs, is getting in on the action: Less than a month ago, the restaurant hosted, as part of its monthly wine-dinner series, a Spanish wine dinner, proving that no local destination is immune to the charms and flavors of the Iberian Peninsula.
It makes sense, of course. In this era of comfort-food flavors and casual dining, Spanish cuisine is the logical next step. I've traveled to Spain four times, and explored the foods and wines of several different regions around the country, and have always been struck not just by how easy the food there is to love, but also by the honesty of the flavors. Even with the so-called molecular gastronomy practiced by its most forward-thinking chefs, the flavors themselves are often as pure and ingredient-driven as you'll find in Europe.
Chris Siropaides, executive chef at Georges' and also a serious young talent to watch, understood this perfectly, and the menu he created and executed didn't just mimic the classic flavors of Spain, but also embodied the ethos behind them, which is a much trickier task to pull off.
The scallop ceviche amuse bouche was a great introduction to what he was aiming for. It was, as classic Spanish cuisine typically is, a study in the benefits of using just a few carefully considered components to drive and define a dish. In this case, the gently acidic combination of lime, chili, frisee, cilantro and tomato were all used to buttress and highlight silky scallop coins, themselves possessed of a deep buttery richness that provided the bass-note heft to the dish. The interplay of high and low tones here was beguiling, and even more so when contextualized by the Albet i Noya Petit Cava, an organic sparkler that, like the rest of the wines on the list that night, was smartly paired by general manager Abraham Abisaleh.
Prawn escabeche played in the more vivid end of the spectrum too, but here, of course, with a less pronounced acid component. Like the scallop ceviche, however, this, too, relied on the expression of just a few well-chosen and expertly sourced ingredients for its success. Alongside it, guests had the chance to taste a wine that was likely unfamiliar to most: a white Rioja from Dinastia Vivanco, whose citrus notes seemed to be natural partners for the orange mojo accompanying the prawns.
Lamb meatballs, a standard at tapas bars and restaurants in Spain, included a bright, unexpected hit of mint that was thrown into ever sharper prominence by the Casa de la Ermita Roble, a monastrell and petit verdot blend whose sweet vanilla notes, from the oak barrels, worked wonderfully with the richness of the foie gras component.
There was more: braised and seared skirt steak with a black-bean broth, coconut lemongrass rice pudding, more wines—exactly the sort of evening I've enjoyed in Spain so many times. Lots of great food, wines whose unpretentious character belie their astounding food-pairability, and an ambiance as laid back and comfortable as it is worthy of the occasion.
The next monthly wine dinner here will feature pairings from Sicily. I'll be back, only this time as a "civilian," with no notebook and no story in mind—just an appetite and a sense of anticipation.
Georges'
503 W. Lancaster Ave., Wayne
610-964-2588
GeorgesontheMainLine.com
Brian Freedman is a food and wine writer based in Philadelphia.
Felicia Perretti is a freelance photographer based in Philadelphia.