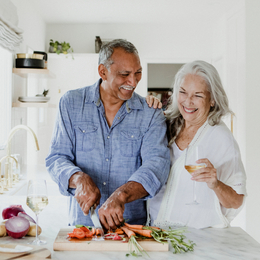 Zest for Life
How to hone your culinary skills and enjoy time in the kitchen.
Humans are creatures of habit, including in the kitchen. Many of us tend to cook the same things over and over, returning to dishes that are easy to prepare, provide decent nutrition, and satisfy the palate. By limiting ourselves to the "same old," however, we could be missing out.
"Be open-minded," says Derek Brewington, executive chef at Dunwoody Village in Newtown Square. "I think going out to eat and trying different foods from different cultures helps a lot. You can watch someone prepare an Indian or Middle Eastern dish on the Food Network, but it's not the same as going out to the restaurant, tasting different flavors and smelling different smells. Also, if people go out into groups and eat, it makes people feel more comfortable trying something new."

Such experiences, he believes, can kindle the adoption of new kitchen habits—and realize the many benefits that follow. Brewington is a classically trained chef, having graduated from the culinary program at Johnson & Wales University in Rhode Island, but he also sees himself as an educator. The key to helping people enjoy spending time in the kitchen, at any age, is to not get intimidated.

"At a previous [retirement] community where I worked, I would do cooking classes with residents, and each class had some type of theme," he says. "Having them see me bread a piece of chicken, cook it in front of them, and also taste it, takes away a lot of the fear. … Just being able to see it live, you realize that it's not that hard.

"Good food comes from good technique," he continues. "You can take the best ingredients, like a wagyu steak, and season it with whatever you want, but if you don't cook it properly, it's not going to be as good as it should be. If you sear the meat, sealing in the juices, it's not going to be dry when it's finished cooking. It's the same with any type of food, from any nationality. You want to learn that proper technique."

A well-executed dish should do more than please the palate. Considering his primary audience—older adults residing at Dunwoody Village—Brewington has worked with dieticians to amend some recipes and modes of preparation. Two examples: adding turmeric to rice to reduce inflammation, and roasting asparagus rather than steaming it to preserve antioxidants.

Of course, not everyone has the luxury of one-on-one interactions with a classically trained chef. Cookbooks such as the forthcoming The Secret of Cooking: Recipes for an Easier Life in the Kitchen, authored by British food writer Bee Wilson, may provide helpful guidance.

Brewington suggests good culinary habits begin with apt planning, which helps to prevent disorganization or unnecessary messes. He also recommends cooking with others.

"When you're cooking with other people, you can break up the preparation where everyone has a specific job," he says. "It makes the process go more quickly and also helps with the cleanup."

Which speaks to what he considers another essential ingredient: fun.

"In my kitchen, we have a good time," he says. "When you're having fun, it makes things more enjoyable. … For me as a chef, food brings people together—all cultures, ages, races. It's the glue that binds us together."
Published (and copyrighted) in Suburban Life magazine, July 2023.