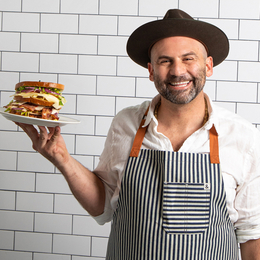 Soup's On
Celebrity chef Nick Liberato serves up nostalgia and authenticity at The Borscht Belt in Newtown.
Walking into The Borscht Belt, Nick Liberato's "love letter to the Jewish delicatessen" in Newtown, one quickly feels wrapped up in the nostalgia of childhood.
From the old-fashioned Brooklyn-style egg creams and Coney Island square potato knishes to the Reuben or Rachel (hot corned beef, pastrami, or turkey), the gourmet food cannot help but evoke fond memories of yesteryear. There's the chopped chicken liver appetizer with sweet caramelized onions on Rockland Bakery rye bread, as well as Bubbe Belle's homemade matzo ball soup. There's a variety of lox and other hot and cold smoked fish on bagels from Ess-A-Bagel in New York, or bialys from Shelsky's in Brooklyn. Signature sandwiches are named for icons such as Joan Rivers, Jackie Mason, and Mrs. Maisel. There are crispy latkes with sour cream and homemade applesauce made from apples picked at Styer Orchard. Dessert favorites include black-and-white cookies and a mouthwatering chocolate Babka.

Since Liberato opened The Borscht Belt on May 30, it has become a favorite gathering place for local family and friends seeking a walk down memory lane or just some seriously good deli fare. The Borscht Belt offers both take-out and eat-in, and a party room is available.

The restaurant's namesake in upstate New York's Catskill Mountains was known for its high-quality food, family-friendly environment, and plenty of good times. Recently brought back to life in the Amazon Prime series The Marvelous Mrs. Maisel, the Borscht Belt—the region, not the restaurant—made the careers of now iconic standup comics including Milton Berle, Sid Caesar, Buddy Hackett, and Henny Youngman, among others.

Liberato previously owned four restaurants in Venice Beach, California, and an outpost of The Borscht Belt in Stockton, New Jersey. He left the restaurant world behind for nearly a year in 2018 to travel the world. His resulting adventures are cataloged in Restaurants on the Edge, which debuted on Netflix series in 2020.

Liberato was born in Doylestown and raised in Yardley. He graduated from Pennsbury High School in 1996, where he was prom king. Now living in Newtown, he appreciates the opportunity to return to his Bucks County roots.
Q&A
Nick, what are you going for at The Borscht Belt?
I wanted it to be about the old-fashioned Jewish food and all the memorabilia from the Borscht Belt; it's telling a story. We wanted to show what the Borscht Belt was with the music, the lighting, the textures, the floors, and the feel here, all giving a generous bow to the beloved delis in New York City.
When did you first discover your passion for cooking?
Growing up in an Italian family, I've been cooking with my family since I was three years old. I was always at the dinner table. I was constantly eating food and trying new things; my palate was always elevated. … I was raised on cooking from scratch, peasant cuisine just like a lot of other cultures have been raised. While certain subjects in school became a little harder for me, food was always very easy. So, as I started getting a little older, food was something I could get really create with. I could watch something be cooked, memorize it, and then elaborate on it in a lot of different ways between the aromatics, plating, and the aesthetics of it. I got my first job in the kitchen of an Italian restaurant when I was 14, and I was doing local catering.
How did you become a celebrity chef?
I started out with the catering business and became a private chef for Barbra Streisand, Cher, Tom Hanks, Hank Azaria, Arnold Schwarzenegger and Maria Shriver, and several others who I can't mention because I signed NDAs with them.
What are the upsides of being a celebrity chef?
A very big part of my career has been helping others, and I couldn't think of a better way than working on numerous TV shows and being able to reach a much bigger audience, both in the United States and globally. I've had so many unbelievable opportunities that came from my hard work and accomplishments. I always focus on not crossing any finish lines in my career so that way I'm pushing that much harder, but I also have to remember to give myself a pat on the back every now and then.
And the downside?
The downside is how much time my career consumes, which affects me and who I can spend my time with. My wife and little girls are the world to me, and sometimes with so much going on it pulls me away from the people I love most. I put my energy into my family, business, my team, and keeping as much positivity as possible around me at all times.
Did you spend time in the iconic resorts in the Catskills, also affectionately known as The Borscht Belt?
I went snowboarding at Hunter Mountain [in New York], but my business partner Mike Dalewitz, who was crazy enough to invest in me in 2020, has deep roots in the Borscht Belt and the Jewish community.
Where does the confidence to do Top Chef Masters and Restaurants on the Edge come from?
Nothing's ever been given to me; I don't expect anything. A lot of people expect a lot really quickly and they don't want to put the hard work in to achieve that. I come from a very old-school type of mentality, the same way my grandparents pushed themselves every day in Philadelphia's Italian Market. Whether it was rain, snow, or sunshine, no matter how hot or how hard it was raining, people were showing up and so were they.
What did your grandparents sell?
They owned three stands in the Italian market in South Philadelphia, so that was a big inspiration to me growing up. They sold produce, and I spent a lot of my time in Atlantic City with them as a kid, whereas my business partner spent his time as a young kid in the Borscht Belt. Mike's family owned the Red Apple Rest and worked at other hotels, but he was one of the last of the Borscht Belt kids.

When I moved back here after shooting my show, Mike and I were introduced by Rabbi Eric Goldberg of Shir Ami [in Newtown], so it feels like it was fated for us to be in business together. Mike and I started thinking about 1918 when the last [influenza] pandemic hit, and trying to understand what was the food that stands the test of time. Mike and I start talking about Jewish delicatessens and going to some of the favorites in and around New York, like Katz's and Barney Greengrass, all these beautiful places.
What do you love about this business?
I love that food brings people together. There was a moment in my life that I'll never forget. It was the afternoon I was in Doylestown at my grandparents' house, and I remember everyone sitting together laughing. The house was filled with my aunts, uncles, and grandparents, everyone was young, and everyone was laughing and it was summertime, and there was all this food. There couldn't be enough tables in the house for everyone, but it didn't matter. I'm just watching and I'm looking around. I had to be seven years old, but I remembered I said, "Wow, this is a really special moment. Look at all these people together, enjoying themselves, laughing, and having an amazing time." This is the same feeling that we are creating here.
Photo courtesy of The Borscht Belt
Published (and copyrighted) in Suburban Life magazine, July 2023.