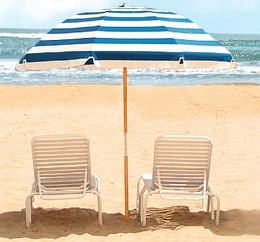 Best of the Shore 2011
Our guide to the best summer ever
It's not officially summer until you've walked the boards in Wildwood, danced the night away in Avalon, gone antiquing in Cape May or snacked on the (arguably!) best Boardwalk pizza in Ocean City. So check out our all-you-can-eat, -dance, -shop and -play guide to the Shore done right. It just might be the best summer ever.
BEACH BITES
We scoured the Boardwalk and beyond for classic snacks, casual eats and white-tablecloth dinners to bring you the very best food the Jersey Shore has to offer.
CURLEY'S FRIES
The fact that this Wildwood institution is located across from Sam's Pizza Palace on Morey's Piers makes for one of the best one-two punches on the Boardwalk. The fresh crinkle-cut potatoes are as wide as your thumb, with just the right amount of grease and salt—perfect with a mix of ketchup and vinegar. 25th Street and the Boardwalk, Wildwood
DOUGLASS FUDGE
Vying with saltwater taffy for the most popular Boardwalk confection, fudge is a timeless treat. That might be why, since 1925, folks have been satisfying their cravings at Douglass Fudge on Wildwood's Boardwalk. The use of fresh cream and butter helps elevate the milky texture and taste of this Shore staple. Wildwood Avenue and the Boardwalk, Wildwood, (609) 522-3875
FUDGY WUDGY MAN
You know it's summer when you first hear the sounds of the Shore in high season: Wiffle ball games, chatty shoobies, shrieking seagulls and calls of "FUDDDDDGY WUDDDDDGY, CHOCO TAAAAACO."
The military veterans who spend their summers wheeling ice cream carts through the sand offer beachgoers the ideal way to cool down in the hot sun.
SALT WATER TAFFY
There's debate as to whether it was Joseph Fralinger or Enoch James who invented salt water taffy, but there's no denying both helped popularize the iconic sweet that's still a favorite more than 125 years later. James (25 96th St., Stone Harbor) and Fralinger's (1100 Boardwalk, Ocean City) both serve up classic flavors like molasses, licorice and lemon in vintage-style boxes.
MALLON'S STICKY BUNS
Ger and Jody Mallon have been baking up cakes, hand-rolled bagels and more since 1988, but there's a reason the sticky buns get marquee billing: they are ridiculously delicious. They come loaded with cinnamon and drizzled with Mallon's secret-recipe topping. With five locations in Ocean City, Avalon and Sea Isle City, they're also convenient no matter where your Shore destination. 1340 Bay Ave., Ocean City, (609) 399-5531
PIZZA
This summer, expect the debate to rage on: Mack & Manco's in Ocean City (Boardwalk at Ninth Street, 609-399-2548) vs. Sam's Pizza Palace in Wildwood (2600 Boardwalk, 609-522-6017). Fans of both will argue until their slices get cold about who makes the better pie. For our money, we'll take ... BOTH!
SPRINGER'S HOMEMADE ICE CREAM
Is there anything more perfect than a hand-scooped ice cream cone on a breezy summer evening? We think not. Which is why we head to Stone Harbor for a taste of Springer's, worth battling the daily throngs for the variety of homemade flavors on tap. 9420 Third Ave., Stone Harbor, (609) 368-4631
JAGIELKY'S CHOCOLATES
Those who know flock to this candy shop for all things chocolate-dipped. Their 70 percent cocoa blend is drizzled over everything from almonds to cranberries, but true fans go for the specialty items like the Double Dip Mints: homemade mint patties dipped in dark chocolate, and coated in milk chocolate for good measure. 5115 Ventnor Ave., Ventnor, (609) 823-6501; 8018 Ventnor Ave., Margate, (609) 822-2204
JUNIOR'S DONUTS AND DOGS
Technically, they serve more than just doughnuts at this Margate mainstay perched over the bay: for example, they're well known for the frozen yogurt and hot dogs also on offer. But, it's the spongy, sweet, deep-fried dough delicacies, an old-fashioned classic that comes either straight up or doused with sugar, that keep the hordes of locals coming back week after week. 9315 Amherst Ave., Margate City, (609) 823-8790
T&M MONKEY BREAD
After selling off the two in-town locations last year, T&M owner Mary Bromhead sold her Boardwalk branch to Rowan grad and O.C. native Laura Idell. Now, fans can line up for these gooey delights for many summers to come. 972 Boardwalk, Ocean City, (609) 391-0113
T.J.'S FUNNEL CAKE
Fried dough + powdered sugar = calorie overload. Who cares? You're down the Shore. The pillows of goodness originated with the Pennsylvania Dutch and perfected at this Ocean City outpost are seriously addictive, even before adding toppings like cherries or chocolate. 908 Boardwalk, Ocean City, (609) 601-9710
JOHNSON'S POPCORN
More than seven decades ago, Johnson's popped onto the scene on Ocean City's Boardwalk and loyal followers have been filling buckets (piled high and without a lid) with the signature caramel corn ever since. For locals, a bucket of Johnson's is as essential to a summer day as SPF30 and beach tags. 1368 Boardwalk, Ocean City, (800) 842-2676
BEYOND THE BOARDWALK
THE MAD BATTER'S FRENCH TOAST
The dining room is always packed, especially for breakfast. The French toast—thick-sliced brioche dipped in heavy cream, eggs and fresh orange juice and topped with almonds and powdered sugar—is our preferred way to start the day. 19 Jackson St., Cape May, (609) 884-5970
CIRCLE TAVERN'S GROUPER REUBEN
This particular wing of The Princeton in Avalon is known for upscale pub grub and quality cocktails. One of our favorite menu items is this clever take best of the SHORE on the traditional reuben, in which the filet of fish is topped with sauerkraut, Swiss cheese and Thousand Island dressing and served between two pieces of grilled rye bread. 2008 Dune Drive, Avalon, (609) 967-3456
BACK BAY BBQ AND GRILL RIBS
This baby back ribs at this Somers Point spot are given the royal treatment. Hand-selected for quality and cooked slow and low, this competition-worthy barbecue is charred and crisp on the outside, but tender and juicy in the middle. Grab some napkins and dig in. 135 Somers Point-Longport Blvd., Somers Point, (609) 788-4853
BRITTON'S GOURMET BAKERY APPLE FRITTERS
The baked goods at this Wildwood shop are so tasty that their legend extends far beyond the 609 area code. We love Britton's other offerings, like the crumb cake, but the apple fritters are our hands down favorite. And we're not alone: former President Ronald Reagan once wrote the bakery a letter saying the same. 5600 Pacific Ave., Wildwood Crest, (609) 522-5600
BAGELEDDI'S BAGELS
There's two things you can count on at Bageleddi's in Ship Bottom: long lines and quality bagels. Luckily, they're well staffed, so those lines move at a tolerable pace. Despite being a bit on the pricy side, these
bagels sell out fast, so be sure to arrive early. 1714 E. 18th St., Ship Bottom, (609) 494-4761
SYLVESTER'S FISH MARKET AND RESTAURANT'S CRAB CAKE WRAP
Philadelphia Inquirer food critic Craig LaBan once lauded the crab cakes at this Avalon BYOB as some of the best he's tasted. It's no wonder that the signature dish is available as an entrée or for takeout from the seafood counter. For those on the go, the wrap is a perfect way to enjoy this little taste of heaven in the palm of your hand. 503 21st St., Avalon, (609) 967-7553
VOLTACO'S MEATBALL SUB
Since 1954, Voltaco's has been pleasing Ocean City residents and visitors alike with an array of Italian specialties (don't miss their lasagna) and sandwiches. But special care goes into their homemade meatball sandwich and you can taste the tradition with every savory bite. 957 West Ave., Ocean City, (609) 399-0743
CONCORD CAFE'S LONDON BROIL SANDWICH
The sister restaurant of Marie Nicole's in Wildwood Crest elevates the cheesesteak concept to a new level with this sandwich of thinly sliced beef served au jus on a brick oven-baked roll with sautéed broccoli rabe and roasted red
HOT DOG TOMMY'S
If you've ever seen the line snaking down Jackson Street and around Beach Avenue, you can bet it's for one of the hot dogs on the menu at this Cape May walkup. You can get your standard-issue beef frank here—but why would you? One-of-a-kind choices include the Tornado Dog, an all-beef Black Angus dog with mashed potatoes, chili, shredded cheddar, salsa, banana peppers and sour cream. 319 Beach Drive, Cape May, (609) 884-8388
THE CHICKEN OR THE EGG'S GOSHDARNWICH
Sometimes the only thing that can shake off an eventful night out down the Shore is a hearty, alcohol-absorbing breakfast. That's when we turn to the Chegg. This one-of-a-kind egg sandwich takes your typical egg, cheese and bacon combo and places it smack dab in the middle of two slices of French toast. 'Nuff said. 207 N. Bay Ave., Beach Haven, (609) 492-3695
GREEN CUISINE'S SALADS
Green Cuisine in Stone Harbor has given vegetarians a place to call their own, but even carnivores enjoy their stellar list of salads. You'll find better-than-average Cobb and Caesar salads here, but we suggest going for the Middle Eastern sampler with hummus, tabouli and feta, or the mixed greens salad with French goat cheese. 302 96th St., Stone Harbor, (609) 368-1616
McGOWAN'S DELI'S THANKSGIVING SANDWICH
Who says you have to wait until November to relish an old-fashioned Thanksgiving dinner? At this Sea Isle City deli, you can dine Pilgrim-style anytime with this turkey sandwich stacked with homemade stuffing and generous amounts of gravy. 3900 Landis Ave., Sea Isle City, (609) 263-5500
MUSTACHE BILL'S CYCLOPS
Sure, you've had eggs and pancakes for breakfast before, but not like this. The Cyclops combines the best of both worlds by placing a fried egg in the center of a pancake. It blew away The Food Network's Guy Fieri, and it will change the way you look at breakfast, too. There's a reason this Barnegat Light go-to has garnered attention from the James Beard Foundation. Broadway at West Eighth Street, Barnegat Light, (609) 494-0155
QUAHOG'S SEAFOOD SHACK'S LOBSTER ROLL
The lobster roll is a New England staple, but Quahog's version is making plenty of fans among Stone Harbor locals. Their buttery hot dog bun comes packed tight with lobster salad. The best place to enjoy this dish? Outside in the back garden. 206 97th St., Stone Harbor, (609) 368-6300
SMITTY'S CLAM BAR CLAM CHOWDER
A short ride from Ocean City to Somers Point affords the chance to order up a bowl of clam chowder (both the Manhattan and New England versions hold their own) from Smitty's. If you're not a fan of soup in the summertime—well, good, that's more for us. 910 Bay Ave., Somers Point, (609) 927-8783
THE WHITEBRIER'S CRAB FRIES
A certain sports bar chain out of Philly may attempt to claim primacy, but this wildly popular menu item at The Whitebrier in Avalon has something undeniable going for it: actual crab meat. Here, steak fries are covered in jumbo lump morsels and drizzles of Imperial sauce. 260 20th St., Avalon, (609) 967-5225
Dinner
CAFÉ LOREN'S PAN-ROASTED HALIBUT
Chef/owner Stephen Serano, a West Deptford native, spent three years cooking in New York City for celebrity chef Gordon Ramsay. And though Avalon may be a long way from Hell's Kitchen, you can taste the sophistication in Sera no's dishes at this quaint BYOB. This particular fish dish is served with a sweet pea and pancetta risotto, tomato chutney and a bright ginger carrot emulsion. 2288 Dune Drive, Avalon, (609) 967-8228
RED ROOM CAFÉ'S VITELLO CON GRAND MARNIER
This Ventnor eatery promises "Italian with a twist," and backs up that claim with dishes like this one. Here, veal medallions are sautéed with Grand Marnier and oranges and topped with velvety Fontina cheese. 141 N. Dorset Ave., Ventnor, (609) 822-1067
CLAUDE'S STRAWBERRY JAPONAIS
Husband-and-wife team Claude and Mary Pottier have a good thing going on in North Wildwood. Claude brings his mastery of French technique to the dinner menu, while Mary handles the breathtaking desserts like this piece of pie overflowing with fresh cut strawberries, sinful amounts of cream and an unforgettable sweetened crust. 100 New Jersey Ave., Wildwood, (609) 522-0400
DOGTOOTH BAR AND GRILL'S KOBE SLIDERS
These grilled mini burgers are made up of Kobe-style beef, producing some of the most tender, juicy and flavorful patties in Wildwood. Topped with caramelized onions, shredded lettuce and tomato, the burgers are truly made complete with a dollop of chipotle ketchup. 101 E. Taylor Ave., Wildwood, (609) 522-8383
YAMA'S SUSHI
In this tiny, unassuming corner restaurant in Ventnor, you'll find some of the most ethereal sushi at the Shore—or anywhere, for that matter. The creative, caviar-topped rolls and perfect cuts of toro sashimi resting on a banana leaf, make this a spot worthy of repeat visits. It's high-end food without the stuffy pretense. What more could you ask for? 5305 Atlantic Ave., Ventnor, (609) 822-8007
BUSCH'S SEAFOOD'S SHE CRAB SOUP
Only a handful of people have ever known the century-old recipe to this soup. Even the special cooking spoon used to prepare it is kept in a safe, in a level of unprecedented security. Thankfully, you don't need any special clearance to eat it, but it is only available on Sundays and Tuesdays, so plan accordingly. 8700 Landis Ave., Sea Isle City, (609) 263-8626
THE EBBITT ROOM'S RASPBERRY VANILLA BOMBE
One of Cape May's most highly regarded restaurants, The Virginia Hotel's Ebbitt Room has an especially notable dessert menu. This chocolate lava cake with raspberry beet sauce is a nice way to end an extravagant meal—or perhaps to kick-start an evening of romance. 25 Jackson St., Cape May, (609) 884-5700
JAY'S ON THIRD'S PULLED DUCK PIZZA
What do you get when you combine a flour tortilla, duck confit and jicama slaw? One of the most inventive first courses around. The flavorful duck is complemented by a jalapeño jam that has the consistency of relish and just the right amount of heat. And just to make sure nothing's wasted; cracklings of duck skin are sprinkled throughout, allowing for varying textures. 9836 Third Ave., Stone Harbor, (609) 368-1000
THE BLACK DUCK ON SUNSET'S LOBSTER DUMPLINGS
Chef Chris Hubert's charmingly atmospheric Cape May eatery has walls lined with pictures of the town's history, but his menu is extremely current. A perfect illustration is this plate of delicate pockets stuffed with lobster meat served alongside a citrus salad and a sesame soy dipping sauce. 1 Sunset Blvd., Cape May, (609) 898-0100
LA VERANDAH'S SCALLOPS FLAMBE
Located at Cape May's Hotel Alcott, La Verandah has a reputation for unique takes on fine-dining classics. That's the case with this dish, a theatrical take on seafood, pan-seared in brandy with a touch of chive cream. It's like tasting your favorite dish for the first time all over again. 107 Grant St., Cape May, (609) 884-5868
MUD CITY CRAB HOUSE'S MARYLAND-STYLE CRABS
Who says you need to go to Baltimore to get good crabs? In Manahawkin, you'll find all the taste and authenticity of the Charm City with a much more pleasing ambience. Strap on your plastic bib and get cracking: it's going to get messy, just the way it should be. 1185 E. Bay Ave., Manahawkin, (609) 978-3660
LA SPIAGGIA'S MARE CON SALSA BIANCA
The New York Times raved about the fine Northern Italian fare here. We can't help but agree, especially when it comes to this pièce de résistance. Lobster, shrimp, calamari, clams and snails poached in garlic broth are served with jalapeños and sun-dried tomatoes over a bed of squid ink tagliatelle. 357 W. Eighth St., Ship Bottom, (609) 494-4343
THE RAW BAR AT THE LOBSTER HOUSE'S CLAM BAKE
Getting a table here can be a challenge—but when we do, we go for the clam bake. A one-pound lobster, steamed clams, shrimp, mussels, red skin potato and corn on the cob make up this seafood lover's dream. 906 Schellengers Landing Road, Cape May, (609) 884-8296
MARIE NICOLE'S PENNE GORGONZOLA
Marie Nicole's is popular with locals for its stellar New American menu and credible wine list. Grab a bottle and dive into a dish of pasta tubes mingling with jumbo lump crabmeat and asparagus in gorgonzola cream sauce, finished with a touch of crispy prosciutto. 9510 Pacific Ave., Wildwood Crest, (609) 522-5425
STEVE AND COOKIE'S CAPE MAY SALTS
With such a refined menu, you may be tempted to skip the offerings from the oyster bar at Steve and Cookie's. But, trust us, nothing speaks to summer more than a dozen of these local oysters on the half shell. It's the perfect way to start your meal or snack while sitting at the slick bar area. 9700 Amherst Ave., Margate City, (609) 823-1163
TOMATOE'S CUBAN PORK CHOP
Tomatoe's is known for offering a little bit of everything, from pasta to sushi, but it's this spice-rubbed prime chop cooked to perfection that really sings. Served alongside gnocchi in cinnamon-browned butter sauce and sliced mango, it's a meal as memorable as it is delicious. 9300 Amherst Ave., Margate, (609) 822-7535
Drinks
BANANA WHIP
When venturing to the Bashful Banana Bakery on the Ocean City Boardwalk, be sure to order up one of these cold, creamy favorites made entirely of pureed frozen bananas. With an ice cream-like consistency, it's one of the more unique Shore foods. 946 Boardwalk, Ocean City, (609) 398-9677
MARTINI BEACH'S DARK AND STORMY MARTINIP
Martini Beach's patio overlooking the ocean is one of the best vantage points in Cape May to enjoy a cocktail. We're partial to the Dark and Stormy, an original recipe mixing Domaine de Canton ginger liqueur, Gosling's Black Seal rum, fresh lemon and ginger soda. 429 Beach Ave., Cape May, (609) 884-1925
LIME RICKY
For more than 40 years, "Wildwood's favorite summertime drink" has been enjoyed by scores of Shore visitors. The concoction of fresh-squeezed lime and seltzer comes in six varieties including cherry and grape. We prefer to quench our thirst with the original flavor. 3409 Boardwalk, Wildwood, (609) 231-6039
GOOD NIGHT IRENE'S CRAFT BEER
Trying to find good beer amid the oceans of Miller Lite down the Shore was nearly impossible not that long ago. Thankfully, Wildwood's Good Night Irene's came along and brought the craft beer revolution to the coastline. Nearly 40 taps pour the likes of Victory, Flying Fish, Stone and Terrapin. Belly up to the wraparound bar where the very knowledgeable Charles will pour you a perfect pint or serve up a flight for the indecisive. 2708 Pacific Ave., Wildwood, (609) 729-3861
LEMON TREE'S LEMONADE
This casual hangout is a go-to spot for many Cape May residents because of its family-friendly atmosphere and solid light fare. But the lemonade is, of course, the standout. Fresh-squeezed daily, it's crisp, refreshing and an essential summertime beverage. 101 Liberty Way, Cape May, (609) 884-2704
A DAY AT THE BEACH
Sure, weekends at the Shore are about eating, drinking, sand and surf, but don't forget about shopping and playing. Here's where to do it in high style.
Shopping
Some go down the Shore for the sand, others for the sun. And some just go for the swag. From hand-made soaps in Cape May to preppy-chic styles in Stone Harbor, to Ocean City souvenirs so kitschy they're cool again, there are plenty of one-of-a-kind goodies to be had. Here's our short-list of seaside shopping stops.
FOR HIGH FASHION: For designer looks, start at the Margate satellite of Philly's uber-high-end women's store Knit Wit (8001 Ventnor Ave., 609-822-9442), or head to Stone Harbor for stylish clothing and accessories at Skirt (272 96th St., 609-948-4912). Other fashion-forward destinations include Global Pursuit (262 96th St., Stone Harbor, 609-368-5556), which presents lines "with a conscience" from Toms to Vineyard Vines to Trina Turk swimwear. For gents, Hassis Men's Shop (28th Street and Dune Drive, Avalon, 609-967-3234) promises Tommy Bahama wares, along with custom attire and suiting. Also in Avalon, Boutique Bellissima (264 21st St., 609-967-4343) is well stocked with Tory Burch sandals and other irresistible extras. Pick up Brighton accessories at Marcellina Boutique (5316 Boardwalk, Wildwood, 609-729-7528), or try on a party dress at Ideal Fashions, (4110 Landis Ave., Sea Isle, 609-486-6328). In Long Beach Island, Talk of the Walk (11101 Long Beach Blvd., Haven Beach, 609-492-6500) offers high-style day and evening wear. Or head to Ocean City, where Colette (900 Asbury Ave., 609-525-0911) deals in easygoing designer wares from the likes of Betsey Johnson.
FOR SOUVENIRS: Swing by The Bag Room, (700 Asbury Ave., Ocean City, 609-938-0691) for a "local" or "shoobie" sweatshirt, or try Coconuts (Schooner's Wharf, Beach Haven, 609-492-3711) for essential LBI apparel and blankets. For marine-inspired trinkets, books and more, the Whale's Tale (312 Washington Street, Cape May, 609-884-4808) is a standby; their upscale offshoot, Splash, (513 Carpenters Lane, 609-846-7100), offers jewelry and other items.
FOR SHORE-HOUSE WARES: Whether you're seeking hostess gifts or looking to update your own beach house, start at Armadillo Ltd., (2761 Dune Drive, Avalon, 609-368-3000), which carries tableware from Chilewich, Mary Jurek and others. If shabby chic is your bag, try the Gingham Whale (636 Asbury Ave., Ocean City, 609-391-0996) for cottage-style antiques, baskets and ceramics. In Cape May, Wanderlust (609 Jefferson St., 609-884-0488) captivates devotees with rattan chairs, area rugs and all things beachy, while SOMA NewArt Gallery (31 Perry St., 609-898-7488) brings sophistication in the form of works by regional artists. For kitchen wares—and gourmet groceries to boot—stop by the Cook's Shoppe (2910 Boardwalk, Wildwood, 609-522-9001). Or, if you're in Long Beach Island, let DreamMakers concierge drop off linens, groceries, beach chairs and anything else you may need (908-731-1174). In Margate, swing by Giovanni's (7 S. Granville Ave., 609-487-0064), which has been selling fine linens and handkerchiefs since 1927. Or, in Stone Harbor, pick up hanging plants and container gardens, at the Wayward Gardener (9712 Third Ave., 609-368-2010), or furniture and folk art at Frog and Toad
(9500 Third Ave., 609-368-2800).
Nightlife
Back home, the chances you'd find yourself bopping along to Bob Marley with a foot-long piña colada in hand range from slim to, well, none. But that's the beauty of nightlife down the Shore. So forget your normal and check out these ocean-side happy hours stocked with live blues bands, as well as rocking dance parties and outstanding cocktails.
FOR HAPPY HOUR: We're pretty sure the term "happy hour" originated on the Shore, with a frozen drink in hand after a hot summer day on the beach—after all, what could be happier than that? Get in the festive mood at Flip Flopz Beach Bar and Grill in North Wildwood (300 New Jersey Ave., 609-522-3350), which offers drink specials Mon day through Thursday, 4 to 7 p.m., and a Friday happy hour with half-price appetizers. For a cocktail overlooking the ocean, The Windrift in Avalon (80th Street and the Beach, 609-368-5175), also hosts a great happy hour Monday, Wednesday and Thursday, 4 to 6 p.m., with discounted appetizers and $3 domestic pints. Stop by Joe Pop's Shore Bar and Restaurant in Long Beach Island (2002 Long Beach Blvd., Ship Bottom, 609494-0558), where happy hour lasts for a whole afternoon. Specials run every day from 3 to 7 p.m., including $5 personal pitchers and $5 appetizers. For an all-around good time, Ventura's Greenhouse in Margate (106 S. Benson Ave., 609-822-0140) offers half-price appetizers every day from 3 to 6 p.m. (3 to 5 p.m. on weekends) and after 9 p.m., with different drink specials each night. And Fred's Tavern in Stone Harbor (314 96th St., 609-368-5591) features half-price appetizers and $3 beers, 3 to 6 p.m., seven days a week.
FOR LIVE ENTERTAINMENT: There is no shortage of live entertainment down the Shore. Kick back at Avalon's Windrift (105 80th St., 609-3686-5175), where you can hear jazz in the Blue Wave Lounge, check out the piano bar in the Signature Lounge, and sing and dance to party bands and DJs performing all summer at the Beach Bar and Deck. Not far away is the town's other nightlife megaplex, The Princeton (2008 Dune Drive, 609-967-3456), where you can check out live bands in the Rock Room and DJs in the main room and Circle Tavern. If you're in Cape May, start your evening at the Brown Room at Congress Hall (251 Beach Drive, 609-884-8421), an elegant cocktail lounge that features acoustic live music. Then, move the party downstairs to The Boiler Room, Congress Hall's sleek nightclub, which regularly hosts live bands for raucous dance parties. If you'd rather go brogue, head on over to O'Donnell's Pour House in Sea Isle City (3907 Landis Ave., 609-263-5600), where there's live Irish music every Tuesday and live bands every Friday, Saturday and Sunday. Also in town, Ocean Drive (3915 Landis Ave., 609-263-1000) turns into Sea Isle's biggest dance party with loads of live bands. Although Ocean City is a dry town, just over the bridge is the newly opened restaurant Baia (998 Bay Ave., Somers Point, 609-9269611), which features live bands on Friday and Saturday nights and reggae on Sunday nights, all playing on the outside deck overlooking the bay.