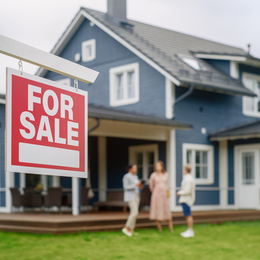 Moving Up
Capable, confident, and creative Realtors lead buyers and sellers to the promised land.
Getting married. Getting divorced. Starting a family. Each is among the most stressful experiences someone can go through in life. Add another to the mix: buying or selling a home.
At least, it can be stressful without the right team behind you. A capable, confident, and creative Realtor can help buyers and sellers achieve their real estate goals, all while "lowering the temperature" so the experience becomes less stressful, and maybe even fun.

Do you have a crackerjack Realtor in your corner? If not, our readers have some ideas. Their "votes" for the area's finest Realtors are included on the following pages, along with some our own suggestions, based on individuals that have been featured in this magazine before.

Several of the Realtors featured here advertise in Suburban Life, but their inclusion on this list was not based on their willingness to advertise. Also, we acknowledge that many excellent Realtors ply their trade in Philadelphia and its suburbs, and not all of them have been recognized here.

Meet our Top Realtors, Class of 2023, a follow-up from earlier this year.
TOP REALTORS 2023
Lisie Abrams
COMPASS RE
Ardmore
(610) 822-3356

Manny Adames
NextHome Elite Choice
Philadelphia
(267) 250-0557

Sean Adams
The Adams Group | COMPASS RE
Philadelphia
(267) 435-8015

Jamie Adler
The Jamie Adler Team at COMPASS RE
Ambler
(215) 313-6618

Jack Aezen
COMPASS RE
Philadelphia and surrounding areas
(610) 822-3356

Reda Akbil
Reda & Co. Real Estate | COMPASS RE
Philadelphia and surrounding areas
(267) 205-1369

Leigh Anne Ambrose
COMPASS RE
Ardmore
(610) 822-3356
Beth Ann Angelos
Berkshire Hathaway HomeServices Fox & Roach Realtors
West Chester
(610) 368-7836

Kit Anstey
Erinn Hazley
Brynn Kennedy
Brian Nelson
Debbie West
The Kit Anstey Real Estate Team | Berkshire Hathaway HomeServices Fox & Roach Realtors
West Chester
(610) 430-3000

Matt Aragona
COMPASS RE
Philadelphia
(267) 435-8015

Jordan Arnold
COMPASS RE
Ardmore
(215) 479-5800

Aldeshawn Atkins
Elite Level Realty
Philadelphia
(215) 904-5400

Paul Augustine
The Paul Augustine Team | RE/MAX
Jamison
(215) 343-8200

Liz Alexander
Chris Beadling
Jennifer Churches
Carol Gillespie
Carol Godfrey
Leann Hill
Henry Jacquelin
Diane Malnati
Renee Meister
Neal O'Rourke
Leslie Razzi
Pam Rue-Sheehan
Susan Troemel
Buzz Wilson
Quinn & Wilson REALTORS
Jenkintown
(215) 885-7600

Stephanie Barbera
COMPASS RE
Ardmore
(484) 614-5000

Linda Baron
Berkshire Hathaway HomeServices Fox & Roach Realtors
Blue Bell
(215) 850-0158

Lei Barry
Keller Williams Real Estate
Blue Bell
(215) 605-7024

Mike Becker
Keller Williams
Philadelphia and Voorhees, New Jersey
(610) 888-3035

John Berk
COMPASS RE
Greater Philadelphia Area
(610) 613-7253

Angela Berke
Danielle Barry
Allie Hughes Shannon
Keller Williams Main Line
Ardmore
(610) 520-0100

Binnie Bianco
Binnie Bianco Team | Keller Williams Real Estate
Conshohocken
(484) 576-7219

Katherine Binnion
COMPASS RE
Philadelphia and surrounding areas
(267) 435-8015

Caryn Black
The Black Group
New Hope
(267) 614-6484

Jeff "City" Block
COMPASS RE
Philadelphia
(215) 833-7088

Donna May Bond
Long & Foster Real Estate
Media
(610) 892-8300

Tandra and Jeremy Bowers
Keller Williams Main Line
Ardmore
suburbliving.com

Karen Boyd
Long & Foster Real Estate
Exton
(610) 696-1100

Terese Brittingham
Brittingham-McCouch Sales Team | Keller Williams Realty Group
Collegeville
(610) 574-9271

Janice Brown
Janice Brown Team | COMPASS RE
Havertown
(610) 812-5947

Marisa Bruder
Berkshire Hathaway HomeServices Fox & Roach Realtors
Devon
(610) 716-5635

Diane Bukta
Weidel Real Estate
Doylestown
(267) 934-9955

Paula Campbell
The Paula Campbell Team at COMPASS RE
Doylestown
(610) 308-7003

Barbara A. Capozzi
Selling in Philly Team at Keller Williams
Philadelphia
(215) 551-5100

Diane Cardano-Casacio
Cardano Team
Abington
(215) 576-8666

Lynise Caruso
Graeme Baumstein
Anita Robbins
Lynise Caruso Team at KW Main Line
Ardmore
(610) 564-2102

Maria Castellucci
Long & Foster Real Estate
Blue Bell
(215) 654-5900

Mike Ciunci
Keller Williams West Chester
West Chester
(610) 256-1609

Bill Cochrane
James A. Cochrane Inc.
Phoenixville
(610) 469-6100

Mike Coleman
The Mike Coleman Team | Keller Williams Realty
Wayne
(610) 688-4310

Jane Colletti
Legacy Realty Properties
Newtown
(215) 669-7720

Mary Genovese Colvin
On the Square Real Estate | COMPASS RE
Philadelphia
(267) 435-8015

Michele Cooley
Berkshire Hathaway HomeServices Fox & Roach Realtors
Philadelphia
(267) 571-5511

Juliet Cordeiro
COMPASS RE
Main Line and Philadelphia
(610) 256-5288

Deana Corrigan
COMPASS RE
Doylestown
(215) 850-8792

Cynthia Cortes
Berkshire Hathaway HomeServices Fox & Roach Realtors
New Hope
(215) 801-9315

Janique Craig
Keller Williams Real Estate
Doylestown
(267) 221-6968

Natalie Curry
The Natalie Curry Team | COMPASS RE
Ardmore
(610) 680-5138

Kristin Daly
The Daly Group
Philadelphia
(215) 607-6007
Trish Dantis
Trish Dantis Real Estate Team | COMPASS RE
Ardmore
(610) 220-5070

Steve Darlington
Berkshire Hathaway HomeServices Fox & Roach Realtors
New Hope
(215) 862-3385

Laurie Dau
Laurie Dau Team | eXp Realty
Doylestown
(215) 782-6087

Gay Davidson
The Davidson Group
Skippack
(610) 584-0100

Danielle Davis
Long & Foster
Blue Bell
(215) 272-8326

Frank L. DeFazio
Center City Team | Berkshire Hathaway HomeServices
Philadelphia
(215) 521-1623
Mary Delozier
Mary Delozier Real Estate
Philadelphia
(484) 326-6294

Danielle DeLuca
COMPASS RE
Doylestown
(215) 378-0010

Tom Dilsheimer
COMPASS RE
Philadelphia and surrounding areas
(610) 822-3356

Derek Donatelli
Donatelli Real Estate | eXp Realty
West Chester
(484) 535-2000

Matt Donnelly
Keller Williams Main Line
HomeExpertsForYou.com
Conshohocken
(267) 551-6775

Deborah E. Dorsey
Berkshire Hathaway HomeServices Fox & Roach Realtors
Rosemont
(610) 724-2880

Branka Doych
COMPASS RE
Chester, Delaware, and Montgomery counties
(610) 420-0498
Christina Drake
COMPASS RE
Philadelphia and surrounding areas
(610) 822-3356

Greg Dwornikowski
Addison Wolfe Real Estate
New Hope
(215) 534-7347

Adam Dyer
Jeffrey Nixon
Dyer/Nixon Team | COMPASS RE
West Chester
(610) 947-0408

Stephanie Ellis
Steph Ellis Real Estate | COMPASS RE
Ardmore
(610) 316-4798
Kenneth Enochs Jr.
COMPASS RE
Ardmore
(610) 453-7300

Esther Cohen Eskin
Jessa Eskin
COMPASS RE
Ardmore
(484) 571-7350

Nicole Erickson
Keller Williams Main Line
Ardmore
(610) 329-8154

Mary Lou Erk
Coldwell Banker Hearthside
Doylestown
(215) 870-4101

Mike Fabrizio
RE/MAX ACCESS
Philadelphia
(609) 221-7123

Liz Facenda
RE/MAX Preferred Realtors
Newtown Square
(610) 719-1700

Gina Farruggio
Keller Williams Real Estate
Newtown
(215) 668-7471

Doug Fero
Joshua Ellis
Melissa Klock
Main Line Houses | COMPASS RE
Devon
(610) 715-1594

Adam Ferst
COMPASS RE
Main Line
(610) 822-3356

Sue Fitzgerald
Michele Loose
Linda Quereau
The Susan Fitzgerald Team | COMPASS RE
Devon
(610) 209-9238

Jim Fizzano
Fizzano Family of Associates, Realtors
Media
(610) 565-1100

Heidi Foggo
COMPASS RE
Ardmore
(610) 822-3356

Steffi Freedman
COMPASS RE
(610) 574-2749
Ardmore

Sean Furber
COMPASS RE
Ardmore
(610) 822-3356

Marrijo Gallagher
COMPASS RE
Berwyn
(484) 354-7219
Gail Kardon
COMPASS RE
Ardmore
(610) 716-2115

Linda Gedney
Gedney Group | COMPASS RE
Philadelphia
(215) 205-0181

Andon George
Elfant Wissahickon
Philadelphia
(215) 247-3600
Lisa Getson
Keller Williams Main Line
Ardmore
(215) 260-5839

Marie Gordon
COMPASS RE
Ardmore
(610) 947-0408

Debra A. Granite
Keller Williams Real Estate
Doylestown
(215) 340-5700

Holly Gross
Holly Gross Group | Berkshire Hathaway HomeServices Fox & Roach Realtors
West Chester
(610) 430-3030

Jean Gross
The Jean Gross Team | Keller Williams
Exton
(610) 363-4300

Jennifer Grosskopf
The Grosskopf Group | KW Philadelphia
Philadelphia
(215) 498-4010

Jennifer Gubernick
COMPASS RE
Ardmore
(610) 822-3356

Tina A. Guerrieri
RE/MAX Central
Blue Bell
(215) 643-3200

Robin Halpern
Robin Halpern Real Estate | COMPASS RE
Ardmore
(610) 331-1455

Tammy Harrison
COMPASS RE
Ardmore
(610) 520-2500

Pat Harvey
RE/MAX & Country
West Chester
(610) 563-8311

Angie Haug
Keller Williams Luxury International
New Hope
(215) 534-9368

Tabitha S. Heit
Berkshire Hathaway HomeServices Fox & Roach Realtors
Spring House
(215) 260-5144

Fern Hellinger
Berkshire Hathaway HomeServices Fox & Roach Realtors
Southampton
(215) 429-6153

Lora Hemphill
Berkshire Hathaway HomeServices Fox & Roach Realtors
Philadelphia
(267) 324-8051

Dana Hospodar
Ed Hospodar
The Hospodar Team of Berkshire Hathaway HomeServices Fox & Roach Realtors
Devon
(610) 651-2700

Tina House
COMPASS RE
Bucks County
(215) 348-4848

Rob Howard
COMPASS RE
Ardmore
(484) 832-1667

Rachel Iannotti
Center City Team | Berkshire Hathaway HomeServices Fox & Roach Realtors
Philadelphia
(215) 275-1351

Hala Imms
Berkshire Hathaway Home Services Fox & Roach Realtors
Rosemont
(610) 937-2154

Scott F. Irvin
RE/MAX Centre Realtors
Jamison
(215) 918-1920

Gwen Janicki
COMPASS RE
Ardmore
(610) 207-3995

Shailu Jaswal
COMPASS RE
Ardmore
(215) 680-5486

Sherry W. Jones
Coldwell Banker Hearthside
Doylestown
(215) 340-3500

Rima Kapel
Vanguard Realty Associates
Plymouth Meeting
(484) 645-3656

Sean Kaplan
COMPASS RE
Philadelphia
(267) 435-8015

Lynne Kelleher
Berkshire Hathaway HomeServices Fox & Roach Realtors
Newtown
(215) 860-9300

Katie Kincade
COMPASS RE
Ardmore
(610) 822-3356

Anne E. Koons
Berkshire Hathaway HomeServices Fox & Roach Realtors
Cherry Hill, New Jersey
(856) 795-4709

Jody Kotler
Keller Williams Main Line
Ardmore
(610) 937-1111

Heidi Kulp-Heckler
COMPASS RE
Doylestown
(215) 801-1294

Rob Lamb
COMPASS RE
Philadelphia
(267) 435-8015

Marianne Lang
Berkshire Hathaway HomeServices Fox & Roach Realtors
Newtown
(215) 962-7844
Susan C. Langenstein
RE/MAX 440
Doylestown
(267) 446-6201

Isela Lares
The How Group | COMPASS RE
Philadelphia
(215) 779-7017

Dustin Laricks
Laricks Real Estate | COMPASS RE
Sea Isle City, New Jersey
(609) 263-8300

Scott Laughlin
Berkshire Hathaway HomeServices Fox & Roach Realtors
Devon
(215) 275-1685

Jennifer LeBow
COMPASS RE
Ardmore
(610) 308-5973

Jenna Leggette
COMPASS RE
Ardmore
(610) 822-3356

Lauren Leithead
COMPASS RE
Philadelphia and surrounding areas
(610) 822-3356

Joan H. Lewis
Berkshire Hathaway HomeServices Fox & Roach Realtors
Devon
(610) 633-8111

Lisa Liacouras
COMPASS RE
Ardmore
(610) 822-3356

Erica Lundmark
The Erica Lundmark Team
Berkshire Hathaway HomeServices Fox & Roach Realtors
Exton
(610) 363-6006

Robin Mack-Ward
Holly Mack-Ward & Co. | Elfant Wissahickon
Philadelphia
(215) 866-0037

Jay Mallon
Berkshire Hathaway HomeServices Fox & Roach Realtors
Blue Bell
(215) 450-1113
Fred Manfred
COMPASS RE
Philadelphia
(215) 687-8687

Joanne McBride
Berkshire Hathaway HomeServices Fox & Roach Realtors
Rosemont
(610) 547-6001

Mike McCann
Kerry Ann Maginnis
Alexis McBride
Jim Onesti
Main Line McCann | KW Main Line
Ardmore
(610) 726-0267

Todd McCarty
Heather Walton
Class-Harlan Real Estate
Doylestown
(215) 348-8111
Stephanie MacDonald
The MacDonald Team at COMPASS RE
Ardmore
(610) 246-1048

Ady McGowan
Megan McGowan
Berkshire Hathaway HomeServices Fox & Roach Realtors
Devon
(610) 688-4310

Kathy McGuriman
COMPASS RE
Ardmore
(610) 822-3356

LuAnn McHugh
McHugh Realty Services
Coatesville
(484) 889-1051

Pauline McNamee
Realty One Group Supreme
Quakertown
(267) 481-1428

John Menno
Ruth Menno
Berkshire Hathaway HomeServices Fox & Roach Realtors
Newtown
(215) 860-9300

Gary Mercer Sr.
Gary Mercer Team | Keller Williams Realty
West Chester
(484) 678-6435

Cheryl Miller
COMPASS RE
Ardmore
(215) 776-0217
Carol Muredda
RE/MAX Centre Realtors
Jamison
(215) 669-3388

Randy Myer
Berkshire Hathaway HomeServices Fox & Roach Realtors
Devon
(610) 896-7400

Karen Nader
Sotheby's International Realty
Wilmington, Delaware
(484) 888-5597

Janis Nadler
Arielle Prichard
Nadler Prichard Associates | COMPASS RE
Ardmore
(610) 822-3356

Brooke Nelson-Grohol
COMPASS RE
Ardmore
(610) 357-6939

Lisa Nicholson
Long & Foster Doylestown
Doylestown
(215) 348-0000

Chris Nisbet
J Carroll Molloy
Doylestown
(215) 348-3558

Amber Noble
Keller Williams Main Line Realty
Ardmore
(732) 991-9426

Suzanne Norris
Century 21 Norris – Valley Forge
Phoenixville
(610) 933-8600

Maryellen O'Brien
Keller Williams Real Estate
Doylestown
(215) 340-5700

Carie Ann Ochsenreither
Keller Williams Doylestown & New Hope
Doylestown
(215) 340-5700
Marilyn O'Donoghue
COMPASS RE
Avalon, New Jersey
(609) 967-0466

J.P. O'Keeffe
Mary Ann O'Keeffe
Keller Williams Real Estate
Newtown
(215) 493-0457

Sara Friel Olender
Keller Williams Main Line
Ardmore
(610) 806-6145

Jeffrey S. Parkins
The Parkins-Yablonovitz Team
Keller Williams Real Estate Blue Bell
Blue Bell
(215) 646-2900
Debbie Particelli
COMPASS RE
Wayne
(610) 506-9548

Jeff Pendergast
COMPASS RE
Ardmore
(610) 822-3356

Gabriella Peracchia
Berkshire Hathaway HomeServices Fox & Roach Realtors
Devon
(610) 246-2128

Gary Pett
On the Square | COMPASS RE
Philadelphia
(267) 435-8015

Clinton Polchan
COMPASS RE
Doylestown
(215) 348-4848

Geniene Polukord
COMPASS RE
Princeton, New Jersey
(609) 710-2021

Mark Pulos
Tracy Pulos
Berkshire Hathaway HomeServices Fox & Roach Realtors
Devon
(610) 329-7399

Ilya Rabovetsky
Redblock Realty
Feasterville
(215) 331-5252

Michael Richardson
Kurfiss Sotheby's International Realty
New Hope
(215) 794-3227

Nicole Marcum Rife
The Rife Group | COMPASS RE
(267) 435-8015
Ambler

Amy Roach
COMPASS RE
Main Line
(610) 947-0408

Mary Robins
The Mary Robins Team of Keller Williams
Wayne
(610) 220-7145

Brett Rosenthal
COMPASS RE
Philadelphia
(267) 435-8015
Rhonda Rosenthal
Berkshire Hathaway HomeServices Fox & Roach Realtors
Blue Bell
(215) 432-5610

Rebecca Rynkiewicz
Rebecca Leigh Group
Newtown
(215) 313-1930

Sam Sabir
RE/MAX Preferred Realtors
Malvern
(610) 902-6100

Amanda Saunders
COMPASS RE
Philadelphia and Montgomery counties
(215) 514-9597

Missy Schwartz
Berkshire Hathaway HomeServices Fox & Roach Realtors
Devon
(610) 651-2700

Georgi Sensing
COMPASS RE
Doylestown
(267) 980-1083

Lori Shoemaker
Coldwell Banker Realtor
Exton
(610) 574-6487

Alison Simon
Simon Sells Philly | Keller Williams
Philadelphia
(215) 607-6007

Cary Simons
Kurfiss Sotheby's International Realty
New Hope
(484) 431-9019

Thomas E. Skiffington
RE/MAX 440
Perkasie
(215) 453-7883

Tracy Slowick
COMPASS RE
Philadelphia and surrounding areas
(484) 571-7938

Lavinia Smerconish
COMPASS RE
Haverford
(610) 615-5400

Hazel Smith
Keller Williams Real Estate
Newtown
(215) 696-2018

Randy Snyder
COMPASS RE
Princeton, New Jersey
(609) 658-3193

Jason Solovitz
COMPASS RE
Ardmore
(610) 822-3356

Lottie Spinelli
Matt Spinelli
Long & Foster Real Estate
Blue Bell
(215) 356-0591

Loretta Starck
RE/MAX Elite
Huntingdon Valley
(267) 788-1358

Anthony J. Stipa Jr.
Keller Williams Real Estate
Blue Bell
(215) 646-2900

Karen Strid
Berkshire Hathaway HomeServices Fox & Roach Realtors
Rosemont
(610) 724-6840

Kimberly Swanson
Berkshire Hathaway HomeServices Fox & Roach Realtors
Malvern
(484) 614-1231

Missy Tewksbury
COMPASS RE
Philadelphia
(267) 435-8015

Abe Thomson
Abe Thomson Group
Philadelphia
(215) 805-7711

Graceann Tinney
Graceann Tinney Team | Keller Williams Real Estate
Newtown
(267) 373-8244

Kathy Ford Tomson
Berkshire Hathaway HomeServices Fox & Roach Realtors
Devon
(610) 651-2700

Rob Van Alen
Berkshire Hathaway HomeServices Fox & Roach Realtors
Unionville
(610) 347-2065

Megan Van Arkel
COMPASS RE
Ardmore
(610) 329-7504

Heather Waters
Coldwell Banker Hearthside
Newtown
(215) 499-9666

Sarah West
COMPASS RE
Greater Philadelphia Area
(415) 205-9773

Jordan Wiener
COMPASS RE
Ardmore
(610) 996-6000

Galit Winokur
COMPASS RE
Philadelphia
(267) 304-7714

Christine Worstall
Berkshire Hathaway HomeServices Fox & Roach
Blue Bell
(215) 290-7219

Craig Worton
COMPASS RE
Avalon, New Jersey
(609) 967-9600
Published (and copyrighted) in Suburban Life, September 2023