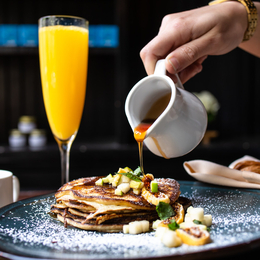 Spanish Class
Jose Garces' Amada Radnor expands access to its brand of authentic Spanish cuisine by adding brunch and lunch.
In July, James Beard Award-winning "Iron Chef" Jose Garces launched weekend brunch at Amada Radnor. Garces is also excited to be serving lunch at the Main Line restaurant.
The 7,000-square-foot restaurant offers a two-level dining room and bar, with seating for 250 guests. Amada Radnor features rustic chic tradition with design elements such as stacked wood, leather, and a palette of browns, gray, and blues, with key architectural details shared at Amada locations in Philadelphia's Old City neighborhood and inside Ocean Casino Resort in Atlantic City, New Jersey.

"We do brunch in Old City, and we like the idea of brunching," says Garces. "Having a nice midday meal or late-morning meal is conducive to the suburban lifestyle. People like hanging out and enjoying themselves. The meal lends itself to celebrating, relaxing, and letting us take care of you in our own Amada Spanish way."

Garces mentions some brunch standouts: the sangria pancakes, which are buttermilk pancakes with macerated fruit and sangria syrup; and the crab benedict with paprika hollandaise.

The tortilla Espanola is popular during all dayparts, including brunch. The classic Spanish dish is consumed in every region of Spain, and Garces has seen different iterations of the potato-and-egg omelet in his travels. He has been serving his version of the tortilla Espanola since 2005. At Amada Radnor, the dish is cooked in a wood-fired oven for a bit of smokiness.

Likewise, Garces says many of the dishes in Amada Radnor's lunch offerings will benefit from the restaurant's use of wood fire.

"I'm doing a program where you can pick your protein," he says. "So, we have marinated chicken, lamb chops, shrimp, Wagyu beef, and Iberico pork as well. All those can be selected with a base of a healthier, lighter compound salad—a quinoa salad or a green bean salad."

Amada Radnor has two executive chefs: Mark McClain was Garces' chef at Ocean Casino Resort and also at Amada in Philadelphia; and Alberto Hernandez, who worked with Garces at Volver. "So, I have folks that know the product and brand and the expectations that I have," Garces says. "It makes it easier to execute on what can be a somewhat unique cooking style."

Amada's Spanish influence comes from Andalusia in southern Spain. The menu abounds with Moroccan influences, too, such as dates, almonds, and artichokes, as well as grilled seafood.

Garces was in the region this past spring, traveling in northern Spain. He did a few stages of the Camino de Santiago, a long hike with more than 30 stages, each stage consisting of anywhere from 13 to 17 miles. He traveled throughout San Sebastián, Barcelona, and Pamplona.

Garces' Spanish brand and concept itself is unique, which he considers "a great advantage."

"The fact that I've been cooking in this area for over 18 years also helps because I've gotten to know what our guests and clients like," he says. "I really love bringing the culture, the food, the music, all things that are special to Spain in our environment, and sharing it with our guests."

In his spare time, Garces has been filming competitive cooking episodes for the Food Network. He also spent some time with his family in Maine, which he characterizes as "our respite place to go and relax."

As he looks ahead, he is bullish about the prospect of expanding his company's footprint on the Main Line.

"I'm really pleased with the outpouring of gratitude that people have for what we do," he says. "And I'm really appreciative of a parking lot," he adds with a laugh. "You can just pull in and park. I would love to continue to expand out in the suburbs and collar counties."
Photo courtesy of Garces Group
Published (and copyrighted) in Suburban Life, September 2023