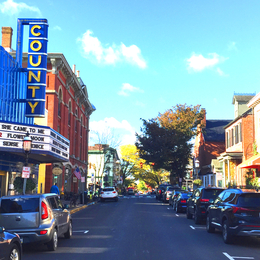 Best of Doylestown
Where to eat, shop, play, and more.
World-class museums and other cultural outposts, including a beloved arthouse theater. An in-town healthcare system that has been caring for residents for 100 years and counting. Strikingly beautiful real estate in desirable neighborhoods. A rich literary and artistic heritage. A historically enviable school district. Some of the Philadelphia area's finest restaurants, shops, and other attractions designed to improve the quality of life for residents.
Doylestown, the beating heart of Bucks County, has all this and more. Despite its continued ascendance, D-town remains a community with a small-town feel, the kind of place where people never want to leave. If they do step away for school or work, many eventually return to set down roots.

We celebrate Doylestown's many charms, including some of the brightest cultural, culinary, retail, and community spots that help make it so special. This is the Best of Doylestown.
You know you've found a reliably good bagel shop when there's almost always a bit of a line. You might find a customer or two ahead of you at the Bagel Barrel, but the staff ensures that the line moves quickly. Even if it didn't, its dense and chewy bagels are worth waiting for. "Waking and baking since 1993," the Bagel Barrel does a lot more than just great bagels, including coffee, specialty sandwiches, and more. But if we're in the mood for an everything bagel with a schmear of cream cheese, we know exactly where to go. facebook.com/bestbagelshopinbucks
Comic books and graphic novels, collectibles, role-playing games—you'll find quite the collection at Cyborg One. If you love superheroes (or antiheroes), monsters, mutants, or anything in the fantasy realm, prepare to "geek out" at this spot on State Street. From Deadpool to D&D, and from Captain Marvel to Magic: The Gathering, Cyborg One can help you scratch the itch. cyborgone.com
Every Main Street needs a decent bookstore, and Doylestown has one of the best. Guided by longtime owner Glenda Childs, The Doylestown Bookshop has become a Bucks County institution (along with its sister store in Lahaska), not only peddling the finest literature one might need, but also supporting literacy and enlightenment through in-store readings, signings, and events such as Bucks County Book Festival. Childs will soon be stepping away from the business, but regulars have high hopes and expectations for the new owners, Lauren and Damian Ford, who also own Hendrixson's Furniture in Furlong. doylestownbookshop.com
Devoted to "preserving and celebrating the creative and historical significance" of Doylestown and its neighboring towns, the Doylestown Historical Society maintains its headquarters and a tidy public park right along Main Street. The DHS utilizes its vast historical archives to enhance residents' quality of life through a range of educational services and other programming. Its publishing arm includes Neshaminy, a twice-yearly literary and historical journal that explores the area's rich history and shines a spotlight on the people, places, and things that are helping to shape the area's future. doylestownhistorical.org
Kendall Bajek developed an appetite for Latin American culture during her time in Miami and Argentina. She learned how to make empanadas while in Buenos Aires, and in 2014 brought her expertise back to Bucks County to found Empanada Mama. Her fledgling business caught on quickly, necessitating its own storefront to cater to a huge fan base. Bajek's ever-changing menu of sweet and savory hand-pies—Korean beef, Mexican street corn, loaded baked potato and bacon, etc.—are so good, they're almost addictive. yoemama.com
Few names are more intertwined with Doylestown than local son Henry Chapman Mercer. A man of many talents—tilemaker, archaeologist, writer—Mercer also built castles. Residents and visitors can tour two of them in Doylestown's cultural corridor: Fonthill Castle and the Mercer Museum, the latter situated right across the street from the James A. Michener Art Museum. The six-story Mercer Museum is a Smithsonian affiliate, with a core collection of more than 17,000 pre-Industrial tools. It also hosts permanent and temporary exhibits, such as "The Dusty Road to Doylestown Hospital: The Early Years of the Village Improvement Association," on view through the end of the year. mercermuseum.org
At Heather Bleu Home, owner Tara Klinges has curated a collection of must-have clothing, jewelry, accessories, and gifts. It's a warm and welcoming boutique where shoppers feel as though they can unwind, pamper themselves, and be among friends. When considering new additions to her offerings, Klinges looks for comfortable and unique fashions that can empower and nurture clients' confidence, and one-of-a-kind keepsake pieces that have been made with "care, love, and skill." heatherbleuhome.com
Tucked away in the Main Street Marketplace, Hops/Scotch is unlike any other cocktail bar. Hops/Scotch specializes in cocktails both classic (think Old Fashioned and Hot Toddy) and wholly unique, as well as beers on draught and well-poured wines. A robust events calendar includes trivia, live music, and open-mike storytelling. While Hops/Scotch doesn't have a formal kitchen, it does have good neighbors; if hunger strikes, patrons can order food from the kitchens of fellow vendors within the marketplace. hopsscotch22.com
Doylestown is known for its castles, including Kids Castle playground in Central Park. A collection of slides, swings, climbers, and interactive games, Kids Castle provides a distinctive community space for children of all abilities and the young at heart. Having undergone several renovations and restorations over the years, Kids Castle remains a popular family destination throughout the year, seven days a week, from sunrise to sunset. savekidscastle.org
Family-owned and operated Raymer's Homemade Candies turns out inspired confections made with Belgian chocolate, based on recipes that date back to the nineteenth century. Truffles, caramels, turtles, toffee, peanut brittle, chocolate-covered cherries—Raymer's lineup of handcrafted candies will tempt anyone's taste buds and satisfy any sweet tooth. Highly recommended: the chocolate peanut-butter cups and chocolate-covered marshmallows. raymerscandies.com
Former New York stylist Linda LaRosa has created something special at Shop Sixty Five. The State Street boutique has a curated collection of classic looks and new arrivals from some of the biggest names in women's fashion. Offering tops, sweaters, dresses, shoes, and a whole lot more, Shop Sixty Five provides head-turning fashions for all reasons and all seasons. shopsixtyfive.com
Vinyl has enjoyed a years-long resurgence, but it never really went away. Siren Records is a destination for music new and old—from punk and metal, to country and folk music, to rap and hip-hop, to classical and classic rock. Whether you're looking to supplement your Beatles collection, pick up a Buzzcocks import, or indulge in the latest from the Norwegian symphonic black-metal band Dimmu Borgir, you will likely find what you're looking for here. sirenrecords.com
Everyone has a favorite pizza place. In Doylestown, it's probably Spuntino. Spuntino took the No. 1 spot on a list of restaurants serving Neapolitan-style pizzas in Pennsylvania, according to a recent Washington Post story. Spuntino turns out some truly inspired 10-inch pies, each with a chewy and crispy crust made perfect by a well-tended wood-fired oven. Favorite "rossa" (made with San Marzano tomato sauce) iterations include the Margherita and Fradiavolo, while can't-miss "bianco" (no sauce) varieties include the Crudo and Filetti. spuntinowoodfiredpizzeria.com
Urbanlux specializes in helping clients make their houses into homes, with handcrafted furniture, home décor, and other items of uncompromising quality. The family-owned enterprise specializes in creating furniture from scratch, with customizations for size, color, style, and hardware. Looking for a one-in-a-million farmhouse table or dresser? Bring it to life here. In addition, Urbanlux offers hands-on workshops to help clients improve their DIY skills. urbanluxhome.com
The following Bucks County businesses, artisans, and professionals contribute to the high quality of life enjoyed by Doylestown residents: KW Doylestown Realtor Chad Blankenbiller (buxmontliving.kw.com), Bucks County Orthopedic Specialists (bucksortho.com), Bucks Country Gardens (buckscountrygardens.com), Carr Home (carrhome.com), CG Orthodontics (teethstraight.com), Fulton Bank (fultonbank.com), and The Oral Surgery Group (theoralsurgerygroup.com), led by Michael T. Dachowski, D.M.D.
Published (and copyrighted) in Suburban Life, October 2023.