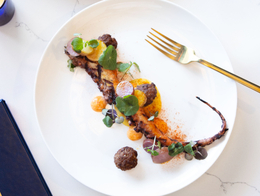 All Consuming
These top restaurants deliver an experience to be savored, celebrated, and remembered.
The culinary scene in the Philadelphia suburbs is like a living, breathing thing. New entrants open. Tired eateries close their doors. The cast of characters changes constantly.
The restaurants featured on the following pages have continued in the tradition of evolution. Some are familiar names that have expanded their reach or otherwise taken notable steps forward, while others are new to the scene entirely. All have at least one commonality: They strive to deliver a memorable experience to be savored, celebrated, and enjoyed more than once.
Amada Radnor
James Beard Award winner Jose Garces has exported his iconic Spanish concept to the Main Line, and suburbanites could not be happier. Long considered a linchpin of Philadelphia's Old City culinary scene, Amada provides an experience that's difficult to duplicate—rustic, relaxed, and rich with the flavors of Andalusia. The menu abounds with memorable tapas dishes, such as the patatas bravas (spiced potatoes with paprika aioli), tortilla Espanola (potato and onion omelet), and croquetas de jamon (serrano ham croquettes). Pro tip: Start with the cheese and charcuterie, and don't skimp on dessert. amadarestaurant.com
Àrdana Food & Drink
With locations in Newtown and Warrington, Àrdana plies its trade in the many tastes of the Mediterranean. The menu bears the influences of Italy to parts of the Middle East; the restaurant takes its name from a small farming village in Cyprus. Brothers Antoni Mike and Antoni Christou designed Àrdana around the "mezze" concept, with plates meant to be shared among friends and family. Favorites included the marinated olives, smooth-as-silk hummus with the zip of za'taar, grilled halloumi, and some of the finest falafel this side of Cairo. ardanafoodanddrink.com
At the Table BYOB
The culinary world will never cease its love for French cuisine, and this is among the many reasons At the Table BYOB has seen success over the years. Having recently moved from its Louella Court address to West Lancaster Avenue in Wayne, the restaurant by chefs Alex Hardy and Tara Buzan-Hardy continues to serve a modern French menu featuring locally sourced, carefully prepared dishes. Guests can opt for a tasting menu or choose to dine a la carte from a selection that rotates often. A favorite from a recent fall menu: squid ink bucatini with lump crab, lemon alfredo cream sauce, and local mushrooms. atthetablebyob.com
The Borscht Belt Delicatessen
Bucks County native and celebrity chef Nick Liberato serves up upscale versions of deli classics with a heaping side of nostalgia at The Borscht Belt, his "love letter to the Jewish delicatessen." Menu standouts include signature sandwiches (the Reuben, the Rachel, Jackie Mason's Cuban), Coney Island square potato knishes, and award-winning potato latkes. If that's not enough, The Borscht Belt also offers Brooklyn-style egg creams, bialys from Shelsky's of Brooklyn, and bagels brought in daily from another Empire State institution, Ess-a-Bagel. theborschtbelt.com
Ferry Market
New Hope's vibrant dining scene has too many excellent culinary gems to mention. Ferry Market is both a fresh-food market and a casual dining area, offering a wide range of handcrafted food and drink from Bucks County purveyors. Whether you have an appetite for artisanal pizza, a perfectly made pulled-pork sandwich, or a farm-fresh salad (we're looking at you, Little Radish), Ferry Market aims to please. Want a craft beer? Check out Neshaminy Creek Brewing Co. Prefer a fine wine? Stop by and see Unionville Vineyards. Looking for something sweet? Try Sciascia Confections. We could keep going, but it's best to see for yourself. theferrymarket.com
Guru's Fine Indian Cuisine
No other cuisine quite compares with that of the Indian subcontinent, and few in the Philadelphia area do it better than Guru's in Newtown. Guests will find many of the same dishes offered by other Indian restaurants—paneer tikka, tandoori chicken, and goat biryani, among others—but also some surprises: Indian poutine, lamb nachos, mahi mahi, etc. Chef Ashni Kumar Guru also changes things up with seasonal additions to the menu; recent autumnal dishes included chicken pumpkin curry, corn bhartha, and naan kissed with cinnamon brown sugar. gurusnewtown.com
Mi España
With two locations across the river in Robbinsville and Princeton, New Jersey, Mi España is Gretalia Hospitality Group's take on the tastes of Spain. With a kitchen helmed by renowned Galician chef and restaurateur Jose Diaz, Mi España serves dishes ranging from small-plate tapas to made-to-order paellas. The menus at the two restaurants differ just a bit, with the Robbinsville location offering a slightly larger selection, but both feature paella del mar, a medley of calamari, clams, mussels, bay scallops, jumbo shrimp, and grouper atop Spanish seasoned rice. For dessert, try a traditional or caramel churro. getforky.com
The Pullman Restaurant and Bar
Bryn Mawr's newest dining spot offers an eclectic mix of spaces within a former freight house that was once part of one of the Main Line's first train stations. Compelling décor ties together The Pullman's unique aesthetic, but the real star of the show is the finely crafted menu of cuisine and cocktails. This passion project by Two Dames Dining Group features a kitchen led by chef and former restaurateur Corey Baver, who offers guests dishes such as tempura-fried lobster bites, chef's special Wagyu meatloaf, and a selection of oysters that changes with the seasons. thepullmanrestaurant.com
Terrain Café
Terrain has long been considered one of the area's premier garden centers and destinations for indoor/outdoor home décor. So it makes senses that its garden cafés would blur the line between indoors and out, with an airy layout, abundant plant life, and ample windows that welcome in the sunlight. The menu at Terrain's trio of garden cafés—Devon, Glen Mills, and newly opened Doylestown—are just as distinctive and thoughtfully designed. Brunch, lunch, and dinner menus change seasonally, featuring items crafted from locally cultivated meats and produce. Standout dishes from a recent visit include the seared scallops with squash puree, Atlantic halibut, and whole-wheat campanelle with butternut squash, sage, and mushrooms. shopterrain.com
Versante
This relatively new addition to Schwenksville, a stone's throw from Spring Mountain, took over the space formerly occupied by the historic Woodside Inn. Like its sister restaurants, Antica in Chadds Ford and Il Granaio in Phoenixville, Versante is beautifully appointed, with multiple fireplaces and spacious outdoor seating. The restaurant has become known for its accommodating service and authentic Italian cuisine. Guest favorites include the whole branzino, sweet pea ravioli, and pappardelle Bolognese, but Versante seems like the kind of place where nothing on the menu would disappoint. versantepa.com
Brews Brothers
Adult libations have a storied history in the Philadelphia area, so it makes perfect sense that so many area restaurateurs would come to be associated with some of the finest locally brewed beers and distilled spirits. Some of our recent favorites include The Butcher & Barkeep in Harleysville (thebutcherandbarkeep.com), The Iron Abbey in Horsham (ironabbey.com), Sterling Pig Public House in West Chester (sterlingpig.com), Troubles End Brewing in Collegeville (troublesendbrewing.com), Root Down Brewery Co. in Phoenixville (rootdownbrewing.com), and Vault Brewing Co. in Yardley (vaultbrewing.com).
Photo (At the Table's Grilled Spanish Octopus) by Gab Bonghi
Published (and copyrighted) in Suburban Life, October 2023.