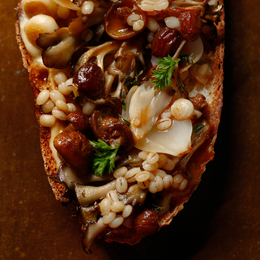 On the Line
Top chefs add vibrancy and flavor to the suburban dining scene
Although the Philadelphia region had gotten used to taking a backseat to the likes of New York and Chicago in terms of reservation-worthy restaurants, the city and its suburbs have stepped up their game considerably, gastronomically speaking. And there's a simple reason why the area now boasts some of the country's finest restaurants: Many of the most skilled and adventurous chefs in the nation have chosen to hone their craft in local kitchens. Suburban Life met with some of the men and women whose culinary creations are giving local food lovers a menu's worth of good reasons to dine out.
Chip Roman
Chef at Blackfish, an award-winning BYOB in Conshohocken with a progressive seafood-centered menu of American cuisine with French influence
His background: I went to Drexel University and trained in Philadelphia under Marc Vetri and Georges Perrier.
Why he became a chef: I've always wanted to be a chef. I never had a "backup plan."
What to expect: We want people to come in and set aside a block of time. We entertain them for a couple of hours, whether they get the tasting menu or a salad. Our philosophy is that [they enjoy] that block of time, not how much they eat.
Signature dish: The applewood-smoked salmon, fried egg, sour cream, crisp potato and mizuna. People come back for this dish. These are recognizable flavors put together in a new way. Salmon, egg and potato are classic; we re-interpret [them]. It is the one thing that has not changed on our menu since we opened.
The menu: It has definitely evolved since we opened, [and] it is still evolving as our customers get more comfortable with us … they dictate the menu. It has become more complicated.
What's next: I have a new restaurant that opened in Chestnut Hill, Mica—it opened in March—and another, Ela, in Center City that will open in the second week of November. They are similar; all offer the same high-quality ingredients and share the philosophy of guests, but will be a little different.
Visit Blackfish at 119 Fayette Street in Conshohocken, or go to BlackfishRestaurant.com for more information.
Julie Waters
Pastry chef at Nectar, an Asian-fusion standout in Berwyn that is routinely ranked among the area's most breathtakingly designed spaces
Her background: I grew up with a grandmother who was a baker, and it always interested me; I read only cookbooks and food magazines, and I never could get into anything else. I wouldn't know what else to do if I weren't doing this. … I grew up locally in Coatesville, and went to school at Johnson & Wales University. Originally I was going for culinary, but it just didn't interest me the way pastry did.
What to expect: I know the food is fantastic, the service is excellent and the ambiance is beautiful. You can expect a nice relaxing evening with good food and good conversation. We do everything with fresh ingredients; we even have a garden in back stocked with fresh herbs.
Signature dish: At Nectar, the torte is my favorite, but I'm someone who prefers chocolate over anything else. It has several different layers of chocolate, so there are a lot of different flavors going on. The mini doughnuts are my second favorite dessert here, and I enjoy changing out the ice cream and sorbet flavors as well; we make all our own ice cream and sorbets.
Favorite ingredient: Mango and ginger. A lot of pastry chefs like vanilla because it's very good for bringing out certain flavors, but it has to be watched where it's used.
What she eats at home: I don't eat a lot of dessert at home, and I'll occasionally cook, but most times when you're working 60 to 65 hours a week, you just don't feel like it. My husband, who is also a chef, does a lot of the cooking when we're together.
Visit Nectar at 1091 Lancaster Ave. in Berwyn, or go to NectarRestaurant.com for more information.
Chris Siropaides
Executive chef at Georges' in Wayne, Georges Perrier's "answer to casual stylishness" on the Main Line
His background: I'm from Norristown and went to the Culinary Institute of America, graduating from there in 1999. I worked in the kitchen at Philadelphia Country Club in Gladwyne till 2003 and then went to work in the city for a couple of months, but the city wasn't my gig. I came here [to Georges'] as a line cook and worked everywhere on the line. I was the banquet chef, did pastry for a year and then the opportunity came up for the executive chef, and that was January 2010.
What to expect: We're classified as an American bistro with French inspiration. Casual elegance is what we've been striving for; we like you to come in and relax. It's definitely an upscale restaurant, but more on the causal side. The dining room is boisterous. We're trying to be out of the way and still give you the service you expect.
Signature dish: I want to get more people to try the braised duck pappardelle pasta. … We just unveiled it on the fall menu, and people have really responded to it. That would be a signature dish right now, although it's not an entrée. I also really like seafood, and we have a nice variation; everybody loves scallops and salmon. We've also got the best steak you're going to get anywhere.
What he eats at home: Whatever I can microwave, or maybe cereal or hot dogs. Or I'll eat here. I do not cook at my house. It's like somebody who cleans houses for a living and doesn't like to clean their own house after a long day. When I'm home I'll have a quick bite to eat before I pass out.
Visit Georges' at 503 W. Lancaster Ave., in the Eagle Village Shops, or go to GeorgesontheMainLine.com for more information.
Josh Homacki
Executive chef at The Freight House in Doylestown, a storied restaurant with a particular emphasis on steaks and seafood
His background: When I was 15 I started as a dishwasher in a restaurant near Lake Nockamixon. I had to pay for car insurance, so I got a job washing dishes and was always watching the people on the line and said, "I want to do that." I already had another degree in computer science when I decided to attend Johnson & Wales in Rhode Island.
What to expect: I would like to evoke some kind of emotion. We're not a straightforward steakhouse—you're not going to get just a steak with potato and veg. We're a lot more progressive. It's not standard cream spinach when you come here. I want someone to experience something they haven't before, from the cheese plate to the entrée. I want people to see what we're doing and say wow.
Signature dish: My favorite thing on the menu now is the bison, with sweet onion and a balsamic brown-sugar glaze. We just put it on for the fall. I don't like to run all the same things constantly. You should change with the season as much as you can.
What he eats at home: I work six days a week, so for my one day off I usually go to my parents' house, so it's whatever Mom makes. Last week it was meatloaf. I don't cook at my house at all.
What's next: We're just trying to create an experience here as soon as you walk in the door, starting with the hostess who makes everyone feel like they're the most important person—from the first person in the door to the last. We're giving them enough attention but not hovering.
Visit The Freight House at 194 West Ashland Street in Doylestown, or go to TheFreightHouse.net for more information.