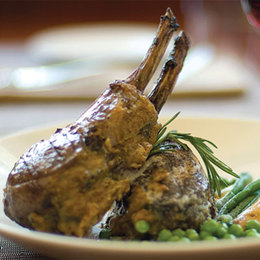 Restaurant Review: Dettera
Wining and dining done right
The whites weren't too cold and the reds weren't too warm. In my book—and even at a wine-centric establishment—this constitutes a minor miracle.
From the beginning of a visit to Dettera, it's abundantly clear that it embodies just what a contemporary wine bar and restaurant should be, as well as the logical next step in the impressive evolution of downtown Ambler dining.
So much about this place is simply done right, from the space itself (carefully illuminated with sexy, flattering lighting) to the service (knowledgeable and efficient) to the wine list (accessible, yet studded with enough unexpected gems to raise the eyebrows of even the oenophiles at the table).
That wine list, under the leadership of Sommelier Jason Brooke, is an ever-expanding work in progress. And despite its admirable heft right now, he has plans to grow it to several hundred selections over the course of the coming months. Even the by-the-glass offerings—usually among the weakest and least thought out at most restaurants—provide ample opportunity for enjoyment both on their own and alongside the food. I particularly enjoyed the Foppiano "Lot 96," a rich, juicy red blend featuring the producer's highly regarded Petit Sirah, in addition to everything from Zinfandel to Sangiovese and a number of other grape varieties in between.
The menu, under the able stewardship of Executive Chef Thomas Groff, shows a respect for the list, and even the dishes that feature ingredients that are typically difficult to pair with wine are crafted in such a way that they work well together. Asparagus, for example, is a notoriously wine-unfriendly ingredient. Here, however, it arrives at the table wrapped in a smoky Black Forest prosciutto, given earthy depth by the addition of Tallegio cheese and a bright note from a fresh green herb vinaigrette. The result is a dish whose flavors are clear, clean and enhanced beautifully by a glass of Murphy-Goode Fumé Blanc.
Diced Ahi tuna, quick-cured with a distinctly Asian sense of sweetness (ginger, mirin, etc.), accompanied by a well-calibrated horseradish crema and lifted by the snap of green apple and cucumber, was perfectly seasoned and remarkably complex. On the heavier side, but still well-balanced, was the "Crabby Tom" pizza, a homemade thin-crust beauty topped with crab meat and mascarpone cheese and brightened up with red onion, scallions and a hit of lemon.
Dettera is a relatively new restaurant—it opened last June—and as such, it still has some tweaking to do, specifically with the seasoning. Porcini-dusted black cod, for example, while cooked perfectly and presented with a careful eye toward its aesthetic appeal, came up a bit underseasoned, both in the fish and the accompanying couscous and lentils. Spaghetti and Wagyu meatballs, a bit of a homestyle anomaly on the menu (minus the pedigree of the meat), was mild in the context of the rest of the offerings.
However, the apple and berry cobbler made for up for it. Sweet and savory rarely play together as nicely as they do here. Chef Groff's use of cinnamon and nutmeg, as well as other aromatic components, lifted this comfort classic.
Dettera, then, is a restaurant not only worth visiting, but also adding to your regular dining-out rotation. It is exactly what the area needs, and is thoroughly emblematic of the vast potential that Ambler possesses. That's something worth raising a perfectly temperate, thoughtfully selected glass of wine to.
129 E. Butler Ave., Ambler
215-643-0111, Dettera.com
Brian Freedman is a food and wine writer based in Philadelphia. (BrianFreedmanPhiladelphia.com)