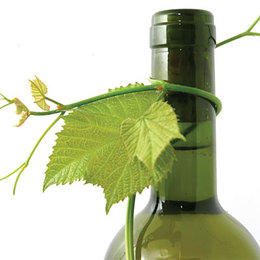 Springtime Whites
The new season calls for a refreshing glass of white wine
The Murphy-Goode Fumé Blanc I enjoyed at Dettera is perfect for this time of year. With the days growing longer and warmer, there's nothing quite as perfect as a nice glass of well-balanced white wine.
Fortunately, restaurants and wine shops are full of great options these days, so if you can't find that specific bottle, there are sure to be plenty of other options that will work beautifully.
When it comes to white wines, the key is to find one with enough acid to remain refreshing. Look for Albariño, the great white grape variety of northwest Spain whose bright acid and gentle peach and floral notes actually taste like springtime. If you want to stay in the Sauvignon Blanc family (which is what Fumé Blanc is), let your personal taste be your guide. Buy a bottle from France's Loire Valley (the label will say either Sancerre or Pouilly-Fumé) for something a touch more austere, or head to New Zealand for a more tropical, typically riper version.
And then there's sparkling wine: Whether you buy French Champagne, Cava from Spain, or Prosecco from Italy, there's nothing more refreshing than bubbly this time of year. And after the winter we just slogged through, isn't the arrival of springtime cause for celebration?—BF