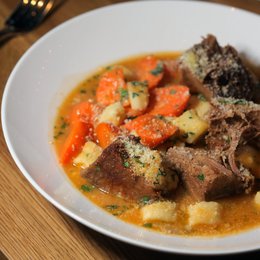 The Saint James
The menu at this charming Ardmore newcomer hits a wide range of flavors and inspirations, from French to American and points in between
Maybe it's a guy thing, or perhaps just my personal aversion to shopping, but every time my wife suggests heading out to somewhere like Suburban Square in Ardmore, my knee-jerk reaction is to come up with some sort of excuse. Over the years, unfortunately, as my why-I-can't-leave-the-apartment tales have become more outlandish, she's caught on to my ploys, and I've found myself trudging out to the stores more often than I would like.
But now, with the arrival of the Saint James, I'm actually looking forward to our next shopping excursion to Ardmore. I have a feeling that, in exchange for my participation in the day's outing, I will be able to negotiate a lunch or dinner at this new project from Rob Wasserman (Rouge and 500 Degrees) and Michael Schulson (Sampan and Izakaya).
It's a spot that's been conceived to allow for any number of experiences, depending on what you order, with a menu that hits a wide range of flavors and inspirations, from Italian to French to American and a number of points in between. Since opening, it has grown a bit more ambitious yet retains its casual nature. And as interpreted by executive chef Matt Moon, and with a staff that's gelling nicely, the Saint James has become a lovely addition to the area.
Nearly everything I've tasted here has been very good, indeed. And while the menu isn't conceived to explore a specific cuisine, as is the fashion right now, the breadth of dishes and styles on offer here provides ample opportunity for enjoyment, no matter what you might be in the mood for.
Flatbread, for example, is built on a base that's perfectly crisp and blistered in all the right places. A recent clam and bacon offering found an exquisite balance between the tender hand-shucked little necks and the smoky Nueske bacon, both of them tied together with a beautiful béchamel. That same dough—cooked longer and brushed with a bit more Sicilian olive oil—is also employed as a cracker-like base for individual scoops of tuna tartare. The kitchen here has cleverly raised the volume on the lime-juice acidity in the avocado purée, which brings an additional spark to the glistening fish.
Acidity was the Achilles' heel, however, in my kale salad, an otherwise lovely congregation of thin, ruffle-edged slices of kale tossed with feta, roasted red peppers and toasted pine nuts. It was just too high toned from an overly tart sherry vinaigrette. It's their bestselling salad, however, so I assume mine was just a one-off hiccup. Either way, it's a great concept for a salad, and a nice break from the far more familiar sautéed kale on menus all over the country.
That, though, was really the only issue I encountered over the procession of dishes; one after the other was well conceived and expertly executed. On the more casual end of things, the South Philly-style pork sandwich could give DiNic's a run for its proverbial money, the meat roasted and moist, the kale gorgeously garlicky, the sharp hit of provolone brightening it all.
But this is a kitchen that also does well with more technically demanding dishes, too. Braised brisket, deeply seasoned and fork tender, accompanied the potato gnocchi and carrots, all of them luxuriating in a veal stock of serious depth and richness. And I'd like to bring home a bucket of the "garlic crumbs" dusted on top, and eat it all in front of the television.
Desserts were just as successful. From the mammoth chocolate-chip cookies (note how the chips streak along the cookie itself, inflecting each bite with a deep chocolatey richness) to the sticky, crisp-edged pecan pie to the white-chocolate brioche bread pudding, with its base of sweet-tart cranberries, was a delight.
Of course, the next time I agree to go shopping in Suburban Square, I may just pull up a seat at the bar, order a beer from the well-considered selection (the wine list is still a work in progress, though newly arrived GM, the excellent Michael Lehane, tells me that it's one of his priorities) and a few items from the raw bar. Both the dining room and the bar are lovely spaces, with flattering lighting and the kind of immediately appealing Pottery Barn elegance that makes spending a long time there all too easy, either alone or with company.
I can see myself slipping away from the shopping, and re-charging my batteries for a while before meeting up at the car … or, better yet, at a table in the dining room after my solitary drinks and apps. My wife may have to drive home, but it's a small price to pay. The Saint James is exactly what I've been waiting for, and considering the crowds that have been justifiably flocking here, I have a feeling I'm not alone in rejoicing at the arrival of this charming newcomer from two of the top restaurant veterans in the region.
The Saint James
30 Parking Plaza
Suburban Square, Ardmore
610-649-6200 | saintjamesphilly.com