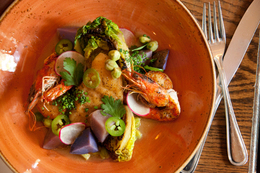 Gold Rush
The 25 best restaurants in the Philadelphia suburbs
Sure, you could say we've got food on the brain. If we're not heading to one of our favorite restaurants, we're working on finding another favorite—someplace new and exciting to call our own.
You're like us, we know. And like us, you love the Philadelphia suburbs because of all the incredible restaurants and talented chefs based here. For our part, when it came time to make our picks for this year's Golden Fork Awards, we were left with a difficult set of decisions to make in choosing the top 25 restaurants in the suburbs, based not only on their food but also the level of service, atmosphere and other intangibles. Some of the restaurants on this year's list were reviewed in the past year (or prior years), while others are those we've been admiring quietly for some time. We also accepted reader suggestions for their top picks.
So read on to find out what could very well become some of your new favorite places to enjoy a meal.
Heirloom Fine American Cookery
8705 Germantown Ave., Chestnut Hill, 215-242-2700
This intimate BYOB has a straightforward formula that has served it well: artfully crafted dishes with clean, bold flavors masterminded by its chef, the inimitable Al Paris.
Cuisine: Unique interpretations of American classics, with an emphasis on local and seasonal ingredients.
Vibe: Casual elegance with an intimate farmhouse/residential interior.
Best Value: Any of the starters, salads or soups (a recent mushroom bisque, for example) to kick off the meal.
Best Table: The head of the communal table that serves as the restaurant's centerpiece.
Can't-Miss Dish: The gorgeously presented, deeply satisfying shrimp and scallop purloo.
Chef Recommends: The menu changes frequently, but right now it's the deepwater halibut persillade with caper chowder.
Insider Tip: Follow your cravings. "I like to try to make it hard for people to make decisions," says Chef Paris. "Know what you're craving when you walk in."
Honey
42 Shewell Ave., Doylestown, 215-489-4200
Honey is a dazzler—a progenitor of "inspired American dining," and inspired it certainly is, from the décor and ambience to the adventurous food coming out of the kitchen. It is at once opulent and humble, and a surprising gem just off Doylestown's main drag.
Cuisine: American, with international influence.
Vibe: Stylish and sexy.
Don't Miss: The boar and escargot skewers and/or the jambalaya.
Best Value: The mixed olive plate. Bursting with flavor, this star of the appetizer menu gets things off on the right foot.
Can't-Miss Dish: The grilled Spanish octopus.
Insider Tip: Try one of the copious numbers of specialty cocktails, something from the impressive wine list or one of the many Pennsylvania craft beers.
Savona
100 Old Gulph Road, Gulph Mills, 610-520-1200
This justifiably lauded mainstay of the Main Line dining scene has long been a remarkably consistent charmer. Led by the talents of executive chef Andrew Masciangelo, Savona has maintained and built upon its reputation as a fine-dining stalwart. It continues to surprise with Chef Masciangelo's inventive takes on Mediterranean and American cuisine, not to mention the flawless tableside service that turns any evening into a special event.
Cuisine: Soulful interpretations of farm-to-table Italian classics, with wood-grilled meats, fish and poultry.
Vibe: Pristine and simple elegance—no gilding of the lily is necessary here—to let the food and service stand on its own.
Don't Miss: Before-dinner drinks at the small but lively bar to partake in a glass or two from Savona's famous wine program.
Best Value: The Margherita pizza, perfectly blistered from the oven and bursting with flavor, best enjoyed at the bar area.
Can't-Miss Dish: The filet mignon, encrusted by rosemary, sage and other herbs, accompanied by crispy maitake mushrooms and caramelized shallots.
Best Table: Take your pick.
Insider Tip: Save room for dessert, such as the recently enjoyed torta a la minuto on a base of warm butter cake and accompanied by a fabulous homemade gelato.
Azie Refreshingly Global
217 W. State Street, Media, 610-566-4750 | 789 E. Lancaster Ave., Villanova, 610-527-5700
The inventive Asian fusion, modern design and New World energy make Azie seem as if it was plucked straight out of Center City. The sushi is incredibly fresh and unique—three words: foie gras roll—and the dining room provides a backdrop designed to evoke stirring memories.
Cuisine: Asian fusion.
Vibe: Energetic.
Best Value: Happy-hour food and drink specials in the vibrant lounge.
Don't Miss: The crab and cream cheese spring rolls, with sweet chili apricot sauce.
Best Table: The stunning design and layout make just about any seat in the house a good one.
Can't-Miss Dish: At lunchtime, any of the pad Thais.
Birchrunville Store Café
1403 Hollow Road, Birchrunville, 610-827-9002
Located within a quaint, historic building, The Birchrunville Store Cafe strives to serve the finest in contemporary French-Italian cuisine. With a handful of tables and an approach to service that wants you to savor the experience, the café provides an experience that chef Francis Trzeciak has made very difficult to duplicate.
Cuisine: Contemporary French and Italian cuisine.
Vibe: Personal, intimate and perfectly moody.
Don't Miss: The goat cheese soufflé.
Best Value: The $75 tasting menu, offered the first Tuesday of the month, presents the finest seasonal items in the chef's repertoire. At $100 per person, the private tastings—held when the restaurant is closed—span four hours, beginning with hors d'oeuvres, as part of a five-course tasting menu that enables Chef Trzeciak to exercise his many talents.
Can't-Miss Dish: If the words "wild boar stuffed with sun-dried blueberries and feta, wrapped in crispy pancetta" don't excite you, check your pulse.
Insider Tip: Reservations are required.
Maize Restaurant
519 W. Walnut Street, Perkasie, 215-257-2264
Maize's locally raised meats, wild-caught fish and house-made pastas, all using locally sourced ingredients, highlight a continuously changing seasonal menu. Thanks to the talents of its seasoned chef, Matthew McPhelin, this BYOB shines from the first bite of the opening course to the last bite of the dessert of your choice.
Cuisine: Contemporary American.
Vibe: Warm, quaint and romantic, depending on one's company.
Don't Miss: The sweet potato pie for dessert is what's known as "a good decision."
Best Value: Any of the first-course dishes—from the inventive salads to small-plate pork and scallop dishes—start the meal off wonderfully.
Can't-Miss Dish: The menu changes regularly, though the goat-cheese ravioli is a clear winner. Readers have wonderful things to say about the crab cakes.
Insider Tip: Consider the three- or five-course chef's tasting menu to see what Chef McPhelin has in store.
Majolica
258 Bridge Street, Phoenixville, 610-917-0962
Held up as one of the region's top BYOBs since its doors cracked open, Majolica is still making new friends and new fans with artfully presented and inventive creations from chef Andrew Deery that continually challenge and amaze guests' palates. Majolica is the kind of place that encourages lingering—especially if you've brought a few bottles of your favorite red along for the ride—and brings guests back for a second (and third) taste.
Cuisine: An outstanding selection of small plates.
Vibe: Unpretentious and comfortable.
Don't Miss: The white corn soup, with poached lobster, to begin the meal.
Best Value: One of the tasting menus—six courses or eight—to get a true idea of how capable Majolica's kitchen is.
Can't-Miss Dish: The braised beef short ribs, with glazed onion.
Insider Tip: For dessert, try a selection of local cheeses and fruits.
Ooka Japanese Sushi and Hibachi Steak House
Visit ookasushi.com for details on locations in Doylestown, Willow Grove and Montgomeryville.
Whether you're in the mood for the clean taste of raw fish from the sushi bar, or you prefer your food cooked and dressed with slightly more presentation, Ooka offers some of the region's most exciting Japanese food.
Cuisine: Sushi and other Japanese delights.
Vibe: Spartan yet stylish and cleanly dressed, perfectly matching the food on the menu.
Don't Miss: Something from the sushi bar; it's tough to make a bad decision here.
Best Value: The sushi tasting, to try a little bit of everything Ooka has to offer.
Can't-Miss Dish: Asian Bouillabaisse, a concoction of salmon, jumbo prawns, sea scallops and fresh vegetables in an aromatic broth.
Insider Tip: Start with the warm edamame—a delightful snack to get the appetite on its edge.
Blackfish
119 Fayette Street, Conshohocken, 610-397-0888
Blackfish makes just about every "best of" list every year, and with very good reason. Chef Chip Roman attacks the menu—heavy on the seafood, American with some international flavor—with boldness and creativity at this barebones BYOB in Conshohocken. Conshy is amid a dining renaissance, and many credit Blackfish for getting the ball rolling.
Cuisine: With a name like Blackfish, it's no surprise that seafood is the star of the show.
Vibe: Spare, simple and somewhat small, allowing the food to take the spotlight.
Can't-Miss Dish: The smoked salmon, a crowd favorite.
Best Value: The Tuesday tasting menu—four courses for less than $50.
Don't Miss: The surprising dessert selections.
Best Table: Away from the door; the entryway can crowd up at peak times.
Insider Tip: It's a BYOB, so don't forget your best bottle of white. Although the servers seem to have confidence in every dish, they can help determine what works best with your palate.
Charlotte's Seafood Restaurant
3207 West Chester Pike, Newtown Square, 610-356-7100
This Victorian-style restaurant has become a mainstay in Delaware County. Although it does offer a number of classic meat, poultry and veal dishes, Charlotte's is known for its ample seafood menu, especially its "famous" crab cakes.
Cuisine: Continental fare with a French je ne sais quoi.
Vibe: A classic seafood restaurant—casually elegant and refined, especially when there's live piano.
Can't-Miss Dish: Charlotte's Famous Crab Cake. It's "famous" for a reason. One reader called it "the best in the state, if not the world."
Best Value: Half-priced wine bottles on Thursday nights.
Don't Miss: Start with the shrimp cocktail or Bang Bang Buffalo shrimp.
Best Table: One of the banquettes near the bar, or a table near the piano.
Insider Tip: Like "all you can eat" crabs? Head to Charlotte's on a Monday.
Cantina Feliz
424 S. Bethlehem Pike, Fort Washington, 215-646-1320
The team behind Cantina Feliz (and its sister location in the city's Fairmount section, La Calaca Feliz)—Tim Spinner and Brian Sirhal, both alums of the wildly successful Jose Garces Group—had a ringside seat for one of the most important food revolutions in Philadelphia's dining history. And the experience seems to have left its imprint on them by letting simple regional preparations speak for themselves.
Cuisine: Straightforward, smartly conceived and well-executed contemporary Mexican fare that would be perfectly at home in Center City.
Vibe: Fun and laidback, with décor inspired by Día de los Muertos (Mexico's Day of the Dead holiday) tossed playfully throughout.
Can't-Miss Dish: The Korean BBQ tacos.
Best Value: The guacamole, nothing fancy—just the fruit of the avocado, brightened by cilantro, jalapeno, onion and a splash of lime.
Don't Miss: The cured salmon ceviche, washed down with a Santana Margarita.
Best Table: Somewhere by the bar.
Insider Tip: If the phrase "whole roasted suckling pig" appeals to you, feel free. Just realize you must order it three days in advance.
Bluefin
2820 Dekalb Pike, East Norriton, 610-277-3917
There's an art to serving and plating sushi, and the sushi chefs at Bluefin are the Picassos of their craft. All the senses are engaged here, none more important than taste, though each dish that finds its way to the table is worthy of the cover of a glossy magazine.
Cuisine: Sushi and other Japanese cuisine.
Vibe: Soothing and minimalistic, from the lighting and the décor to the music trickling through the air.
Don't Miss: The white tuna habanero—simply put, slices of white tuna sashimi served with a healthy dollop of habanero salsa.
Best Value: The gyoza pan-fried vegetable dumplings, filling and delicious.
Can't-Miss Dish: Choose from an exhaustive selection of rolls; there's something to suit every taste.
Insider Tip: The curiously named spicy tuna "sundae" is not something from the dessert menu.
Los Sarapes
17 Moyer Road, Chalfont, 215-822-8858 | 116 Horsham Road, Horsham, 215-654-5002
Chalfont's Los Sarapes has long been a favorite dining destination for those in the know, with good reason. With its second location—this one tucked away inside an unassuming retail strip—Los Sarapes is steadily expanding upon the number of converts. Readers credit Los Sarapes for having the "best margaritas around and all-around awesome Mexican food." And they're right.
Cuisine: Sophisticated Mexican.
Vibe: Festive and familiar, with expert service happy to make recommendations.
Don't Miss: "The three-milk cake dessert will change your life," according to one reader. The flan is certainly worth saving room for, too.
Best Value: The queso fundido, a boat of melted Mexican cheeses—Oaxaca and Chihuahua—served with a side of flour tortillas and garnished with cilantro. Maximize the experience by adding spicy chorizo or sautéed poblano peppers.
Best Table: At either location, the dining rooms are festive and, at times, a bit raucous. Being right in the middle of it is the best place to be.
Can't-Miss Dish: The memela, a soft corn masa dish topped with black beans and a choice of meat—or veggies—with tinga poblano and a blanket of melted Chihuaha cheese. Perfect when paired with a Dos Equis or glass of the house tempranillo.
Insider Tip: Depending on your constitution, nearly every dish can be made better by ordering a side of the house habanero sauce.
Restaurant Alba
7 W. King Street, Malvern, 610-644-4009
This intimate, charming spot is unique in its ability to stay fresh without losing what made it so beloved since opening its doors in 2005: very good food, much of it sourced locally, and an overall experience that does not disappoint. From deceptively satisfying nibbles and cocktails at the bar to entrees as satisfying as one might find anywhere, Alba delivers on its bold ambition.
Cuisine: Locally grown artisan foods with a distinct Italian flair, cooked lovingly over a wood-burning grill.
Vibe: Casually elegant, sexily lit.
Don't Miss: The Milano Perfecto, an Alba-ized Manhattan, the oak in the bourbon magnified by the addition of a splash of vanilla vodka, the amarena cherry liqueur made in house, and the dry vermouth tempering it all with a spicy-savory edge.
Best Value: The bruschetta "flights," with an option to sample all five for $15. The tender and meaty grilled octopus doesn't disappoint either.
Can't-Miss Dish: Wood-grilled trout is an awfully convincing argument for this fish that too often gets passed over on local menus for branzino or Chilean sea bass.
Insider Tip: Try the Agnolotti del plin. Whisper-thin agnolotti encases meltingly delicate rabbit, enhanced with prosciutto, rosemary and other touches. Also, save room for the butterscotch budino or the "Blue Ribbon" chocolate torte for dessert.
Radice
722 W. DeKalb Pike at Village Square, Blue Bell, 610-272-5700
Its location within a shopping center, upscale as it may be, belies the amazing dishes found inside Radice. Gorgeously lit and designed, Radice represents a "back to the roots" approach to simple Italian cooking for business partners Toto Schiavone and chef Donna Ewanciw. Most dishes have five or fewer ingredients so guests can "taste what you're eating," says Ewanciw. A monolithic stucco wood-burning oven provides the main vehicle for cooking most dishes, and it also figures prominently into the design and energy of Radice.
Cuisine: Upscale Italian, with slow-cooked delights whose origins stem from coastal Calabrian villages along the Ionian Sea.
Vibe: Bright, country-style ambiance, with an oversized wood-burning oven as the figurative and literal centerpiece.
Don't Miss: The house-made desserts, especially the sorbet.
Best Value: Any of the assaggi, or shared dishes, particularly the Melanzano, Cannestrelli and Carciofini.
Best Table: Take your pick, whether it's one of the front tables near the oven, the banquettes along the wall or one of the high tops near the bar.
Can't-Miss Dish: The Boscaiola pizzette, with spinach, wild mushroom, Fontina and a generous sampling of garlic.
Chef Recommends: Two pietanzes—the Fegato, starring sautéed calf's liver, with bacon, sage and sautéed onion; and the Costata, a sautéed rack of pork chop, with a rosemary and parmigiano crust.
Insider Tip: Just sit back and enjoy the food, according to Chef Ewanciw. "Try several dishes to explore all the flavors myself and my staff are trying to deliver," she says.
Georges'
503 W. Lancaster Ave., Wayne, 610-964-2588
The anchor of Eagle Valley Shops in Wayne, Georges' offers a wide range of entrees—ranging from Maryland-style crab cakes and double-cut pork chops to lamb chops and spicy Cioppino—made better by one of the Main Line's most comprehensive wine lists.
Cuisine: Global cuisine with French roots, given its namesake.
Vibe: Warm and inviting, perfect for an intimate meal with a paramour or happy hour with friends.
Don't Miss: The escargot, which is Georges Perrier's recipe.
Best Value: Georges' happy hour, with a $7 bar menu of "interesting bites." It also includes $7 Ketel One martinis and $5 wines by the glass.
Best Table: Table 81, positioned so guests can view the restaurant and have the best seat for privacy.
Can't-Miss Dish: Smoked salmon, smoked in house with applewood chips.
Chef Recommends: Georges' "extremely flavorful and tender" steaks.
Insider Tip: Try sharing appetizers, according to GM Michael DiTomassi. "It's a fun way to have interactive dining along with tasting all we have to offer," he says.
El Tule
49 N. Main Street, Lambertville, N.J., 609-773-0007
The fusion BYOB serves up authentic Peruvian and Mexican specialties. Family owned and operated by the Engoavil family, El Tule has mastered the cuisine of the Engoavils' native lands, bringing deliciously exotic flavors to the New Hope-Lambertville area. Known for its ceviche, El Tule offers options for guests of all palates, with plentiful vegan and vegetarian options among classic meat-based favorites.
Cuisine: A mix of traditional Peruvian and Mexican dishes, the menus are inspired by the family's heritage.
Vibe: Cozy, casual and laidback.
Don't Miss: The newly offered brunch options on Saturdays and Sundays.
Best Value: The tacos. At $3 apiece, the varieties are endless for those who prefer to mix and match flavors and fillings.
Best Table: When the weather is nice, it's on the outdoor patio, which is dog friendly.
Can't-Miss Dish: Marinated in lime juice and Peruvian peppers, the ceviche does not disappoint.
Chef Recommends: Anything on the menu. Everything is made fresh to the guests' specifications, so don't be afraid to ask for a particular way of cooking or spiciness.
Insider Tip: Make a reservation, especially in the warmer months if you want to nab one of the coveted outdoor tables.
Buona Via Italian Seafood and Grill
426 Horsham Road, Horsham, 215-672-5595
Open since 2008, Buona Via is perfect for an Italian fine-dining experience heavy on the seafood. The skill of its seasoned chef, David Marques, is evident in the presentation of every dish that comes out of the kitchen, from chicken parmesan to the raw bar and seafood selections.
Cuisine: Upscale Italian, with a Portuguese twist. Daily specials showcase the seasonal inspirations of the chef.
Vibe: A classic Italian trattoria perfect for an enjoyable night out.
Don't Miss: The three-course Sunday Italian dinner, where guests can choose from a selection of traditional appetizers, entrees and desserts—with a children's menu to boot.
Best Value: The $19.95 Sunday brunch has every breakfast dish any guest could want. It's particularly popular among parties of women, according to Chef Marques, for special occasions such as bridal and baby showers.
Best Table: Table 100. Directly in front of the fireplace, this is the ideal spot for a romantic date night.
Can't-Miss Dish: Whole branzino. Fresh daily and filleted tableside, this has become a fan favorite for a very good reason.
Chef Recommends: If you don't see what you are looking for—an unlikelihood—just ask. Servers help each guest put together the perfect meal from drinks through dessert.
Insider Tip: Ask the server for his or her drink recommendation. With a seemingly endless drink menu—including a ridiculously thorough wine list, thanks to owner Salvatore Carratta—there is a perfect pairing for every dish.
Cafette
8136 Ardleigh Street, Chestnut Hill, 215-242-4220
This personable BYOB, tucked away in a neighborhood straddling the border between city and suburbs, has earned its reputation for offering a range of artfully crafted, brilliantly flavored entrees. Known for its excellent seafood options, as well as an increasing number of vegetarian dishes for noncarnivores, Cafette builds each recipe on the simple foundation of a few well-chosen ingredients paired together to let the individual flavors shine.
Cuisine: An eclectic mix that changes seasonally, inspired by Cafette's well-traveled chef, Philadelphia native Bela Durst, who honed his craft in kitchens in California.
Vibe: Casual, relaxed and easygoing, to mirror the food.
Don't Miss: Brunch, available on Saturday and Sunday.
Best Value: As an appetizer, it's the filling and highly flavorful seared poblano pepper, stuffed with cheesy grits and garnished with pumpkin seeds and sour cream.
Best Table: When Chef Durst's family comes in for lunch or dinner, he usually has them seated in the "nice, light and airy" front room—at the covered banquette, when available. The lushly flowered, elegantly lit outdoor patio, which opens in spring as soon as the weather turns its cheek, doesn't have a bad seat.
Can't-Miss Dish: The striped bass, served with a Southern-inspired sauce brimming with lobster and sweet potatoes that Chef Durst describes as "almost bisque-like."
Chef Recommends: Half of a roasted chicken, cider brined and served with a comforting root-vegetable mix of parsnips, turnips and butternut squash.
Insider Tip: Save room for dessert, especially if they're serving gems such as the chocolate chip banana cake with orange caramel sauce.
Ron's Original Bar and Grille
74 Uwchlan Ave., Exton, 610-594-9900
The restaurant's unassuming name belies the copious number of options on this surprising menu. Ron's makes everything as fresh as possible, steering away from processed foods—"real food for the health of it," according to chef/owner Ron Inverso, a former engineer who switched to becoming a restaurateur in 1982. Never before has "health food" tasted so unhealthy (i.e., delicious).
Cuisine: Comfort food with an Italian flair.
Vibe: Old World atmosphere made memorable by so much stone and wood.
Don't Miss: Pre-dinner drinks—choose from a respectable list of reds and whites or a ridiculous assortment of beers by the bottle or on draught—at the luxuriously appointed bar.
Best Value: Monday to Friday, 4 p.m. to 6 p.m., otherwise known as happy hour.
Best Table: Choose one in what Inverso calls "the first room—right behind where the band plays"—though all rooms have European windows with elegant archways, exposed stone and other elemental surfaces.
Can't-Miss Dish: The jumbo lump crab cakes, understandably a crowd favorite.
Chef Recommends: Chicken gorgonzola, a combination of spicy and flavorful featuring blackened hormone-free breast, nitrate-free bacon, fresh vegetables and gorgonzola cheese.
Insider Tip: It takes some time to get through the menu. Although most people stick with a favorite, branch out; there are no disappointments here.
Daddy Mims' Creole BYOB
150-152 Bridge Street, Phoenixville, 610-935-1800
The region's premier destination for fine dining of the Creole sort, Daddy Mims recently added onto its heritage by moving into the space next door, the storied Columbia Bar and Grille. The move increased seating from 60 to 200, according to chef John Mims, and also enhanced its aesthetic appeal, making it akin to "a smaller version of Commander's Palace," which is one of New Orleans' most elegant Creole restaurants.
Cuisine: An authentic Creole kitchen, courtesy of the New Orleans-trained Mims.
Vibe: With Mims taking over management of the adjacent Columbia, like something plucked straight from the Big Easy.
Best Value: With a bottle of your brought-in finest, you're paying solely for the food.
Best Table: Upstairs at the Columbia, or by the window in the original location.
Can't-Miss Dish: Start the meal off right with the appetizer of New Orleans shrimp and grits
Chef Recommends: The seafood court bouillon, with scallops, jumbo lump crab meat, shrimp, crawfish and other bounties of the sea, simmering in a spicy Creole tomato broth.
Insider Tip: Don't miss out on the chef's tasting menu, where Chef Mims gets to "play around" with a lot of different cooking techniques far beyond his Creole roots, from Mediterranean to Middle Eastern.
Ristorante San Marco
504 N. Bethlehem Pike, Ambler, 215-654-5000
The jewel of Ambler, Ristorante San Marco offers a warm and elegant atmosphere while guests dine on fine Italian cuisine, with a focus on exquisite seafood.
Cuisine: Upscale Italian.
Vibe: Lively, close and elegant.
Don't Miss: The homemade desserts.
Best Table: Table 7, otherwise known as the "VIP table," which offers a full view of the restaurant, according to co-owner Josephine Leone.
Can't-Miss Dish: The whole branzino, consistently rated as one of the best fish preparations in Montgomery County.
Chef Recommends: The duck ragu over homemade pappardelle pasta.
Insider Tip: The live music at the piano bar, which starts at 6:30 p.m., can go till late.
Yangming
Haverford and Conestoga Roads, Bryn Mawr, 610-527-3200
Consistently rated among the best Chinese restaurants in the region—and, thanks to its 2011 nod from Chinese Restaurant News, the nation—Yangming has mastered the art of making authentic Chinese dishes approachable and incredibly satisfying. In addition to its Chinese fare, it also specializes in steaks, seafood and a few other surprises.
Cuisine: Authentic Chinese/fusion cuisine, where even the standards find new life.
Vibe: Elegant—the centerpiece of the Bryn Mawr dining scene.
Best Value: "Happiness Hour" at the bar, weekdays from 4:30 p.m. to 6:30 p.m.
Best Table: For big parties, it's the head of the long table in the private room, according to owner Michael Wei; for a small number of people it's a booth in the main dining room.
Can't-Miss Dish: Spicy pad Thai with jumbo shrimp.
Chef Recommends: Peking duck, sliced tableside.
Insider Tip: Order wine with your meal, guided by Yangming's educated servers.
Nectar
1091 Lancaster Ave., Berwyn, 610-725-9000
A beautifully designed gem from restaurateur Michael Wei, Nectar focuses on sustainable and locally produced ingredients. Its endearing menu is known for fresh sushi, organic produce and an experience likely to stay with you—from the first bite of an appetizer to the last bite of its award-worthy desserts.
Cuisine: Authentic Chinese/fusion cuisine, where even the standards find new life.
Vibe: Elemental and soothing, with Asian-themed art throughout and a quarry's worth of wonderfully exposed stone, and an oversized door reminiscent of a bygone era.
Can't-Miss Dish: The lobster and filet, according to owner Michael Wei. Also, save room for the mini doughnuts from the dessert menu.
Best Value: The "express lunch."
Best Table: No. 48, so you can see the whole dining room.
Insider Tip: The sushi is a win-win proposition.
Creed's Seafood & Steaks
499 N. Gulph Road, King of Prussia, 610-265-2550
Its name speaking volumes, Creed's serves up traditional yet inventive takes on classic dishes of the surf-and-turf variety. The dining room is comfortable and familiar, while the alfresco terrace provides an additional venue for once the weather warms. If the ample menu weren't enough, Creed's also boasts a surprising selection of reds and whites, depending on whether your dinner comes from the pasture or the sea.
Cuisine: Steak and seafood, as the name implies.
Vibe: Classically comfortable, with an outdoor lounge area for warmer times.
Don't Miss: The steamed P.E.I. mussels, with chorizo and grilled crostini. If you're at the bar, savor the charcuterie plate.
Best Value: The oyster flight, $6 during happy hour, to sample one of the creations for which Creed's is famous.
Can't-Miss Dish: The jumbo lump crab cake, paired with sweet-potato salad and chipotle coulis.
Insider Tip: Take a seat and settle in for live music every Friday and Saturday night. Just don't sit too close.
Second Servings
More than 200 Suburban Life readers cast their votes for their favorite restaurants in Bucks, Chester, Delaware and Montgomery counties. Here are their favorites, along with some of their reasons why.
A La Maison Bistro
53 W. Lancaster Ave., Ardmore, 484-412-8009
Angelo's Sempre Famiglia
41 York Road, Warminster, 215-957-4777
Augusto's
530 Madison Ave., Warminster, 215-328-0556
"A treasure in an obscure location. Fabulous food and preparation/presentation. … Superb décor, mood lighting and perfect music all combine to create a superb dining experience."
Bacco Bistro
478 N. Main Street, Doylestown, 215-348-9882
Black Bass Hotel
3774 River Road, Lumberville, 215-297-9260
"As many times as I visit, I feel a thrill when I see the beautiful building in front of me and know when I walk through the door I will be in a beautiful world with the delicious food and really warm and friendly service. It's the best upscale British pub this side of the Atlantic."
Blue Bell Inn
601 Skippack Pike, Blue Bell, 215-646-2010
Borghi's Restaurant
4 N. Main Street, Chalfont, 215-997-1188
Cafe Alessio
24 N. Main Street, Doylestown, 215-340-1101
"Nicest family-owned restaurant in the area. Always welcoming and consistently serving the best food. Whether it's steaks, seafood, Italian or sushi, always the best."
Café Con Leche
16 S. State Street, Newtown, 215-497-1020
"The salads are awesome, especially when topped with Daniel's homemade dressings. The soups, such as sweet potato jalapeño, are flavorful and unique. … Overall, a wonderful dining experience." "Daniel's craftsmanship with spices and flavors has no comparison."
Charcoal
11 S. Delaware Ave., Yardley, 215-493-6394
"Awesome food, excellent service, spectacular view. … We don't get out all that often due to the ages of our children, but when we do we always go to Charcoal. Amazing prices for the quality of the food."
Continental Tavern
2 N. Main Street, Yardley, 215-493-9191
Doc Magrogan's Oyster House
117 E. Gay Street, West Chester, 610-429-4046
Domani Star
57 W. State Street, Doylestown, 215-230-9100
Earl's Bucks County Restaurant
2400 Street Road (Peddler's Village), Lahaska, 215-794-4020
Ella's American Bistro
214 Sugartown Road, Wayne, 610-964-3552
Erini Restaurant
1140 River Road, Ewing, N.J., 609-882-0303
Fireside Bar & Grille
1211 S. Bethlehem Pike, Ambler, 215-643-6540
Francisco's on the River
1251 River Road, Washington Crossing, 215-321-8789
From the Boot
Visit fromtheboot.com for details on locations in Ambler, Blue Bell and Lafayette Hill.
"Unfailingly fresh, delicious food, impeccable service. I can always count on them for an exceptional meal and use their establishment regularly as my 'go to' place with out-of-town guests."
The Inn of the Hawke
74 S. Union Street, Lambertville, N.J., 609-397-9555
Jarrettown Hotel
1425 Limekiln Pike, Dresher, 215-654-6880
KC Prime
1580 Easton Road, Warrington, 267-483-8075
Knight House
96 W. State Street, Doylestown, 215-489-9900
Lambertville Station Restaurant
11 Bridge Street, Lambertville, N.J., 609-397-8300
The Landing
22 N. Main Street, New Hope, 215-862-5711
L'Angolo Blue
602 Skippack Pike, Blue Bell, 215-641-6789
La Porta Ristorante and Wine Bar
1192 N. Middletown Road, Media, 610-358-5104
Margaret Kuo's
175 E. Lancaster Ave., Wayne, 610-688-7200
Marsha Brown
15 S. Main Street, New Hope, 215-862-7044
Na'Brasa Brazilian Steakhouse
680 N. Easton Road, Horsham, 215-956-0600
Parxgrill Steakhouse
2999 Street Road, Parx Casino, Bensalem, 888-588-PARX
Piccolo Trattoria Ristorante Italiano
Visit piccolotrattoria.com for details on locations in Newtown, Langhorne and Pennington, N.J.
"Great place, great food, the best Brooklyn pie ever."
The Pineville Tavern
Route 413, Pineville/Wrightstown, 215-598-3890
Piper Tavern
Route 413 and Dark Hollow Road, Pipersville, 215-766-7100
The Plumsteadville Inn
5902 Easton Road, Plumsteadville, 215-766-7500
Ristorante Il Melograno
73 Old Dublin Pike, Doylestown, 215-348-7707
Ryan Christopher's BYOB
245 Woodbine Ave., Narberth, 610-664-9282
"It's a little gem in Narberth—family owed, delicious food, great presentation and social."
Steam
606 Second Street Pike, Southampton, 215-942-6468
Susanna Foo
555 E. Lancaster Ave., Radnor, 610-688-8808
Tango
39 Morris Ave., Bryn Mawr, 610-526-9500
Teikoko Japanese and Thai Cuisine
5492 West Chester Pike, Newtown Square, 610-644-8270
Trattoria Guisseppe
4799 West Chester Pike, Edgemont, 610-353-4871
"A wide selection of authentic, delicious, 'grandma' Italian food."
TreVi
21 E. Glenside Ave., Glenside, 215-884-9100
"Their food is always fresh and very good. I love the rigatoni and crab dish—my favorite."
Villa Barolo Ristorante and Wine Bar
1373 Easton Road, Warrington, 215-491-9370
Washington House Restaurant
136 N. Main Street, Sellersville, 215-257-3000
Xilantro
103 N. Wayne Ave., Wayne, 484-580-8415
"Amazing Mexican food! The best and most authentic on the Main Line."
The Revolution Continues
Three new restaurants in the city to keep an eye on, and why
Every year—every month, even—Philadelphia's dining scene offers something different and exciting. Whether it's a new take on a classic dish (a burger, a barbecued rib) or an entirely unfamiliar concept that the city hasn't seen before, there is constantly—to paraphrase Bob Dylan—revolution in the air.
Right now, among all the restaurants that have opened here in the past few months, a handful of them stand out, each for very different reasons.
Will BYOB (1911 E. Passyunk Ave., Philadelphia, 215-271-7683), on a stretch of East Passyunk that has become one of the city's culinary hotspots, is among the best BYOBs—and, indeed, one the more notable restaurants, period—to open its doors in some time. Chef Chris Kearse's dishes, which mix familiar flavors in occasionally unusual combinations, all plated with an artist's sense of balance, are bracingly delicious.
At The Mildred (824 S. 8th Street Philadelphia, 267-687-1600), chef Michael Santoro and GM Michael Dorris are finding their footing in the deeply comforting end of the spectrum, with foods that, though often rooted in the Europe of their training, are as satisfying and soulful as anywhere in the city right now.
And then there's Fette Sau (1208 Frankford Ave., Philadelphia, 215-391-4888), Stephen Starr and Joe Carroll's entry into Philly's sizzling-hot barbecue scene. The original is from Brooklyn, but this one is right at home here. Is there anything more perfectly tailored to this city's classic dining ethos than impeccably smoked meats, a beautifully curated selection of whisky and beer, and an atmosphere as casual as the food is flavorful? I seriously doubt it. —Brian Freedman