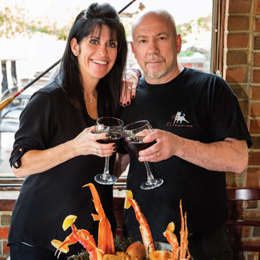 Piece of Paradiso
Escape to Italy at Doylestown's Café Alessio
Have you ever met a colleague at Café Alessio for lunch? Or sat outside with your date in the quaint outdoor seating nestled among the trees overlooking the hustle and bustle of Doylestown? If not, you are missing out on what one customer calls "the gem of Doylestown."

Surprising Sushi
Many people don't expect to find sushi on the menu at an Italian restaurant, but the two different cultures share the same respect for individual flavors and ingredients in their cooking.
Because of this, world-renowned Dutch Chef Brendan Becht invented a new culinary genre, which merges the flavors of Italy and Japan. "I have been to Japan at least 15 times in the last few years, creating Italian food for the Japanese," Becht said in an interview for British grocery chain, Waitrose. "They love it because they find it very similar to Japanese food in its directness. It leaves individual ingredients to stand for itself. In Italian food, you taste individual ingredients, so the approach is the same even if the flavors are different."
Exactly as Becht has done, Café Alessio also offers an array of flavorful sushi both at the restaurant and for its catering services. This includes seared tuna nigiri served over rice and a Philadelphia roll with smoked salmon, avocado and cream cheese. Customers also enjoy snapper or tuna sashimi, as well as cucumber, crab or eel hosomaki, all served wrapped in seaweed.

Creative Italian
For a lighter meal, customers try the specialty sandwiches, like the portabella – a grilled mushroom with marinated tomatoes, roasted pepper, fresh mozzarella and pesto—or the grilled vegetable and brie sandwich, which comes with fresh roasted seasonal veggies and creamy brie.
For a hearty and delicious meal from start to finish, try either the full rack of baby back ribs, to which you can add three grilled barbequed shrimp, or the homemade lobster ravioli served in a fresh plum tomato sauce with lobster meat and fresh peas.
For a taste of true Italian pizza, Café Alesso offers specialty toppings like prosciutto, steak, roasted peppers, sun-dried tomatoes or pesto.
No matter what you choose to eat at Café Alessio's, rest assured you will be treated like family.
"We believe our customers are part of the family and we love to see them again and again," says owner Joe Mannino. Anyone who knows Joe will say that when you are in his restaurant, you feel right at home.
Whether it is a new business client you are taking out for the evening, a group of friends meeting in the front dining room or an intimate evening for two in a back booth surrounded by gorgeous flowers and decorations, you will never be disappointed.

Cafe Alessio 24 North Main St., Doylestown
215-340-1101
CafeAlessio.com
Jeannine Fielding is a freelance writer from Bucks County.