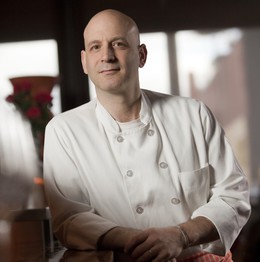 Branching Out
Abington-born chef Marc Vetri ventures boldly into new territory with his unique spin on Italian cuisine
Food courts, sure, but who would have thought a shopping mall would become the region's next great dining destination? Thanks to a big-name chef and some landmark legislation, that's soon to be true.
Marc Vetri, the Abington-born restaurateur behind some of Philadelphia's most storied Italian restaurants, is adding to his collection with an outpost of the popular Osteria, a cornerstone of an extensive renovation project happening across the river at the Moorestown Mall in Moorestown, N.J.
Vetri is the latest in a line of chefs who are crossing the border from their kitchens in the city and heading to South Jersey to open up new eateries or expand on already successful concepts. Chef Rakesh Ramola, formerly of Center City and suburban Indian-food hot spot Tiffin, opened IndeBlue in Collingswood in 2009. Chef David Katz, who recently closed his Rittenhouse Square bistro, Mémé, has moved on to other opportunities—namely, helping to construct the menu curate a specialty wine list that includes more than 50 bottles at the newly opened Tavro 13 in Swedesboro. At the end of October Han Dynasty, an authentic Sichuan Chinese restaurant with locations in Center City and elsewhere, opened an outpost along Route 70 in Cherry Hill.
And now Vetri, winner of a James Beard Award for "Best Chef Mid-Atlantic," is further opening the door for other well-established chefs to try new ventures in South Jersey. The famous chef's name had enticed Moorestown residents for more than a year, as they voted to overturn the historically dry town's ban on liquor last year in order to allow liquor licenses at the mall.
"The issue has always been the liquor licenses," explains Vetri, noting the high cost of obtaining one in New Jersey. "It really makes it hard for a restaurant to make it over there if they're not full every night. The idea is the ones who have made it are the little ones, the 30-seaters who are going to be full every night, or the ones that have the liquor license. We would not be doing this without the liquor license."
A New Twist
His eponymous restaurant, Vetri, opened 14 years ago and quickly earned the highest restaurant rating from the Philadelphia Inquirer, followed by coverage from national publications and numerous awards (plus two cookbooks). Now, the original restaurant operates solely in a chef's tasting menu format, with six courses featuring signature dishes like spinach gnocchi in brown butter. Guests who want to experience Vetri's cuisine in a more freestyle way opt for the area of North Broad Street, where Osteria (Italian for "tavern") and Alla Spina (an Italian gastropub with 20 beers on tap) offer a similar approach in more casual atmospheres.
The New Jersey version of Osteria will debut with some new ideas and throwbacks to crowd favorites from his earlier days. Guests can expect thin-crust pizzas, pastas, wood-fired meats and fish, in a family-friendly atmosphere that's open for lunch and dinner.
"We definitely twist the menu a lot, I imagine [in Moorestown] it will be the favorites from Osteria, but the menu will stay a little bit more constant," Vetri says. "We'll definitely have seasonal specials and all that. All the specialty things that are always on the menu at Osteria will be on the menu there, but we're going to bring back the spaghetti lobster that I opened up Vetri with 14 years ago."
The dish in question is a rich, soulful dish of spaghetti with freshly cooked lobster meat, and San Marzano tomato sauce enriched with lobster stock. "When we opened [the Philadelphia] Osteria we had it on the menu for the first year, so we're going to bring that back," he says.
Though a concrete timeline is not available, Vetri estimates less than a year before the doors open. In the meantime, he stays busy with his own charity foundation, Vetri Foundation for Children, which prepares healthy, family-style school lunches for inner city students and has been transforming cafeterias in Pennsylvania over the past three years. The foundation is also responsible for work with the Alex's Lemonade Stand Foundation and the annual Great Chefs Event, a glitzy, celebrity-studded food event that raises tens of thousands for the charity each June.
With the busy year ahead, is there anything more on the horizon for this ever-active chef?
"There's always irons in the fire," he says, and though nothing is "locked in yet" he's says there are always discussions about the future.
As far as whether other city chefs will branch out to the region's changing culinary landscape—whether in the Philadelphia suburbs, South Jersey or someplace else—Vetri is unsure but hopeful that others will follow.
"For me, the more restaurants that open up, the more it creates a community out there, the more people [enjoy it]," he says. "With one restaurant, you only are going to get a certain amount of people there. With two and three and four, you're not necessarily splitting the same amount of people there; you're sort of creating this vibe so you're going to get more people into the market. I always like that."