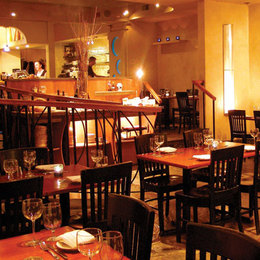 Restaurant Review: Avalon
A true taste of Italy
Let's be honest: "Rustic Italian BYOB" doesn't necessarily send flutters of anticipation down the spines of most well-versed restaurant lovers. We've seen it before, most of us think. A nod to Piedmont here, a Sicilian dish there, nothing new, really.
Unless you're talking about Avalon, a true Italian gem tucked into a quiet block on West Chester's Main Street.
The charmingly, authentically disheveled cheese, charcuterie and bread board off to the left as you walk into the dining room, and its impressive listing on the menu once you sit down, are your first indications that Avalon is different, and utterly devoid of pretense. The service—as casual and unassuming as the overall atmosphere here—is the second.
But it's the food that steals the show. It undermines expectations and preconceptions, and attains a level of beauty through smart, pitch-perfect execution.
Caesar salad retained all the touchstones that you look for in the salad, but every texture and flavor seemed ramped up a notch. The romaine was impeccably fresh.
The anchovies, white and plump, lent a unique savoriness that wove its way throughout the plate. And the perfectly creamy roasted garlic vinaigrette brought a savory, almost nutty sweetness that was both far more interesting and infinitely more satisfying than any recent Caesar I've tasted.
The grilled vegetable platter, too, was a winner by virtue of the kitchen's obvious contentment to allow a few perfectly prepared components to shine, rather than try to appeal to guests' more gluttonous natures by loading the dish down with an overabundance of veggies. Turns out it was the right move: Thin-sliced and grill-marked eggplant and zucchini were marinated in, and drizzled with, a well-balanced balsamic agro dolce, and set opposite (both literally and from a flavor standpoint) a smoky grilled slice of Sarcone's Italian bread spread thickly with truffled ricotta impostata. Perfect.
A middle-course dish of agnolott—filled with a puree of sweet, deeply caramelized onions and Gruyere, tossed in an unexpectedly subtle, complex garlic butter, and interspersed on the plate with tender escargots—showcased a more sophisticated, vaguely French-influenced side of a quintessential Italian pasta dish.
On the other hand, an entree portion of silky house-made pappardelle with lamb bolognese satisfied on a more primal level. This was a heady, layered bolognese, with the gaminess of the lamb set stunningly against the sweeter notes of the tomato flavors and mirepoix. All of it was delicious and intellectually surprising.
Even cioppino, the often-misprepared seafood stew (it typically falls victim to what I like to call the "paella syndrome": overcooked, underseasoned seafood components) was spot on. The mussels plump and sweet, the shrimp practically popping with the slightest touch of the front teeth, the fish moist and tender, and the chorizo lending it all a deeper, more aromatically mysterious note.
Desserts, though likely unnecessary (overindulging is nearly impossible to avoid when what you expect to be familiar food is this good), are good ideas, too. They change regularly, but this time of year, make sure to taste the ice cream, whose deep home-style creaminess buttresses the already dense, intense flavors. The peanut butter is a tongue-coating standout. Enjoy it outside on the peaceful patio out back.
Avalon, then, is proof that the old Thomas Wolfe line is wrong, at least when it comes to a style of food you assumed to have exhausted its excitement long ago: You can go home again—at least when there's this much care and attention to detail paid to everything that comes out of the kitchen. There's joy, too, as well as a sense of comfort. In flavor and philosophy, that's as Italian as a meal gets.

Avalon
312 South High St., West Chester
610-436-4100
AvalonRestaurant.net

Brian Freedman is a food and wine writer based in Philadelphia. (BrianFreedmanPhiladelphia.com)