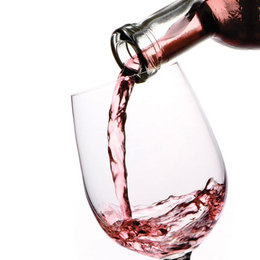 Cheers: Pretty in Pink
A good rosé complements any summer dish
With the summer season in full swing and meals consisting of their typically wide range of options—grilled meats, steamed seafood, pasta salads, veggies prepared any number of ways—choosing a wine can be a daunting task.
Unless, of course, you're comfortable with rosé.
For a long time in America, pink-colored wine was pretty much synonymous with white zinfandel, and the majority of consumers assumed that all rosé was sweet, cheap and about as complex as a mid-career Michael Bolton.
In the past several years, however, many of us on this side of the ocean have discovered the real stuff—dry, produced from red grape varieties all over the world, and thoroughly gulpable.
I brought an Italian rosé, produced by Feudi di San Gregorio, to Avalon recently, and its combination of cherry and strawberry fruit and hint of caramel-inflected earthiness worked with nearly everything. For something a bit more rustic, look for rosé from the Côtes du Rhône—Guigal makes an excellent one. Fruitier, often richer bottlings are also easy to find from Australia and California.
Of course, as with all wine, generalizing styles is a fool's game, and often inaccurate to boot. Let's just say that in terms of pairing a wine with the foods of the season, rosé is almost always a sure-fire winner. This time of year, it's among the smartest $10 to $15 you can spend on wine.