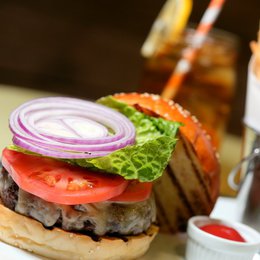 Turn Up the Heat
STARR Events chef Mark Gagnon shows how to add flavor to any backyard barbecue
Given its geography, the Philadelphia area is blessed to enjoy spring, summer, fall and winter. Even so, Philadelphians seem to have embraced a fifth season: grilling, which tends to begin in early May, when the weather has just begun to turn, and extends into late fall, with the most loyal of barbecue enthusiasts refusing to bow to winter's chill.

Hot dogs and hamburgers remain time-tested favorites, but to stick solely to tradition would be to miss out. So suggests Mark Gagnon, divisional chef of Stephen STARR Events, the highly acclaimed Philadelphia restaurateur's Fairmount-based catering division, which operates restaurants and eateries at the Philadelphia Museum of Art, Grounds for Sculpture and the New York Botanical Garden, among others. With outdoor cooking season having gotten underway, Chef Gagnon shares three winning recipes—cider-brined barbecue chicken, Berkshire pork belly and the STARR signature burger—sure to add some flavor to even the most adventurous griller's repertoire.

Cider-Brined BBQ Chicken (Serves 10)
Brine:
Apple cider, 1/2 gallon
Water, 1/2 gallon
Kosher salt, 1 cup
Peppercorns (cracked), 1/4 cup
Bay leaves, 4
Mustard seed, 1 tablespoon
Honey, 1 cup
Garlic, 6 cloves
* Bring all ingredients of the brine to a simmer for five minutes. Remove from heat and cool down.

Chicken:
1/8 cut, 2 each
* Place cut up chickens in brine for eight to 12 hours, dry on paper towels before grilling. Cook on a gas grill with apple wood chips on a low flame. Serve with a spicy barbecue sauce on the side.

Berkshire Pork Belly (Serves 10)
Dry Rub:
Coffee (ground), 1 pound
Sugar (dark brown), 3 pound
Kosher salt, 1.5 pounds
Cumin (ground), 2 ounces
Garlic powder, 2 ounces
Pepper (black ground), 4 ounces
Cayenne, 1.5 ounces
Cinnamon (ground), 2 ounces
* Mix all ingredients

Pork Belly:
Skin removed, 10 pounds
* Coat pork belly evenly and marinate for 48 hours
* Brush off excess dry rub and wrap pork belly in foil. Make sure to wrap the belly with several layers of foil.
* Set grill on a low flame and cook for two to three hours until tender.
* Once the pork belly is tender, remove it from the foil and cook directly over the flames to get a deeper char, if necessary.
* Serve with your choice of barbecue sauce.

STARR Signature Burger (Serves 10)
Ground beef, 4 pounds
Brioche sandwich rolls, 10 each
Heirloom tomatoes, 3
Bibb lettuce, 1 each
Onion (red shaved), 1
Gruyere cheese, 10 slices
Ketchup, 1 cup
Dijon mustard, 1/2 cup
Salt and pepper to taste
* Divide ground beef into 10 even balls and form into thick patties.
* Season with salt and pepper.
* Grill over medium-high flames and cook until medium rare. Cook for approximately three to four minutes per side.
* Top each burger with a slice of gruyere cheese and cook until melted.
* Lightly toast the sliced brioche rolls until golden brown.
* Serve with sliced tomatoes, caramelized onions and lettuce, with ketchup and mustard.

For those interested in first-hand cooking lessons from a STARR Events chef, attend the STARR Events Chef Demonstration Series at the Philadelphia Museum of Art on July 10, featuring Grilling and Smoking techniques. Visit philamuseum.org/dining for details.