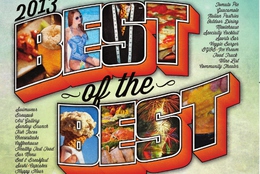 Best of the Best
The best of everything the Philadelphia suburbs have to offer
What is best in life? In the process of researching this year's installment of our annual Best of the Best feature, we put in the hours to find out. On the following pages are some of the best reasons to live in a part of the world that has much to offer. We don't want to take all the credit, however, because we had plenty of help. Hundreds of readers logged onto our website, SuburbanLifeMagazine.com, to cast their votes for the best dishes, services and other gems found throughout Bucks, Chester, Delaware and Montgomery counties. (Thank you, dear reader, as always.) Without any further ado, we give you this year's Best of the Best winners. We hope you enjoy "researching" them as much as we did.

FOOD & DRINK
BAKERY
Danish Bakers. The Philadelphia area has always been known for its neighborhood bakeries, and this place is the real deal. Danish Bakers serves up baked goods based on recipes perfected over generations. For delectable doughnuts, airy cream puffs, old-fashioned breads and other freshly baked comforts, head to this gem in Rockledge … now. 107 Huntingdon Pike, Rockledge, 215-663-9900, danishbakers.com.

BAR MENU
Jarrettown Hotel Italian Restaurant and Bar. Not to diminish the quality of the food served in the dining room—because that, too, is excellent—but the Jarrettown serves up a diverse, intensely flavorful bar menu that makes any visit special. It's hard to not fill up on the bruschetta, which is perhaps the region's best, but don't miss out on the likes of crispy Margherita pizza, peppery arugula salad and asparagus with prosciutto. 1425 Limekiln Pike, Dresher, 215-654-6880, jarrettownrestaurant.com.

BREAKFAST
Pat's Colonial Kitchen. Pull into the lot on a Sunday and you might see people sitting on the porch or wandering the sidewalk. Reason is, people are willing to wait for a table at Pat's. Omelets, pancakes, breakfast sandwiches—the menu has all the standards, but there's something special about Pat's. It's homey, comfortable, maybe even a little cramped at times, but it recalls weekend mornings with Mom and Dad, starring unforgettable fare that's both filling and delicious. 127 S. State Street, Newtown, 215-860-0570, patscolonialkitchen.com.

SUNDAY BRUNCH
Generations Restaurant. It's Sunday morning and you're hauling yourself out of bed, yearning to satisfy the cravings only an immense, award-winning brunch can satisfy. If you're smart you'll make a beeline for Generations in Media, where you'll uncover an extensive buffet selection ranging from the standard fruits, salads and cheeses, plus smoked fish and an array of breakfast and lunch entrées, including carving stations for roast beef and roasted pork. If you've managed to save room, head for the more than 20 linear feet of table designated for desserts, designed to satisfy any sweet tooth. All this is presented within a newly renovated space you won't soon forget. 9 State Road, Media, 610-565-8212, generationsmediapa.com.

BREWPUB
Tired Hands Brewing Co. Although it's still in its infancy, this small-batch brewer has become the place to go for distinctive locally made beers. Batches made with love, which is apparent with every sip. Tired Hands' remarkable beers are inspired by the farmhouse ales of Belgium, France and elsewhere, including the recent Guillemot (a dark, complex Saison) and HopHands (an aromatic pale ale). The food menu may be small—local cheeses, breads and charcuterie, mostly—but it's memorable. Oh, and don't miss out on the house-made pickles. 16 Ardmore Ave., Ardmore, 610-896-7621, tiredhands.com.

CHEESESTEAKS
Jim's Steaks. When people outside of our area think of Philly, they tend to think of one thing: the almighty cheesesteak. And when locals think of cheesesteaks, some of them choose Jim's over the likes of the equally revered Pat's, Geno's and Steve's. If you're within driving distance of Springfield, the good news is you can partake in the greasy, gooey goodness heaped into a roll—a formula that has made Jim's a much-deserved destination for the region's signature food. 469 Baltimore Pike, Springfield, 610-544-8400, jimssteaks.com.

COFFEEHOUSE
Steel City Coffeehouse. When in or around Phoenixville, get your expertly made Joe at this coffeehouse, which concocts its brews from beans by Carolina-based Carrboro Coffee Roasters. Stay for lunch—great menu—or come back for the activities, as Steel City runs a regular rotation of singer-songwriters, comedians and open-mike entertainers to keep you smiling while sipping from your steaming mug. 203 Bridge Street, Phoenixville, 610-933-4043, steelcitycoffeehouse.com.

FISH TACOS
The StoneRose Restaurant. The rich and inventive menu for this Conshy hot spot changes regularly, and if you're lucky enough to spot the fish tacos—seasoned white fish coated with perfectly crunchy panko, graced with avocado, slaw and a tangy Cajun-style remoulade, all served with crispy fries—you know what to do. 822 Fayette Street, Conshohocken, 484-532-7300, thestoneroserestaurant.com.

HEALTHY FAST FOOD
Bryn & Dane's. Ever since Bryn & Dane's first and opened its doors just a few years ago, Horsham has been swooning over its delicious, more healthful alternatives to the fare cooked up by the Golden Arches set. B&D serves up salads, wraps, fruit-stuffed smoothies, etc. Good news: Word has it this plucky powerhouse is expanding to Plymouth Meeting. 400 Privet Road, Horsham, 215-675-1599.

MARGARITAS
Los Sarapes Mexican Restaurant. If you're feeling down or just not as spritely as you'd like, then a Top Shelf margarita—grade-A tequila and lemon juice, on the rocks, either with salt or without—from this Mexican-cuisine institution will put you in the right frame of mind. Combine it with a little ceviche and some of the suburbs' best guacamole to push it to the next level. Visit lossarapes.com for locations in Chalfont and Horsham.

CUPCAKES
Gina's Amazing Gourmet Cupcakes. Found within Costa Deli in Ambler, and hand-crafted by Gina Costa, these palm-sized sweet treats are, in fact, amazing. Although banana is among the most popular, there are flavors to tempt any palate: hazelnut crème brulee, marbled amaretto, creamy coconut, red velvet, etc. We could go on, but do we really have to? 901 E. Butler Pike, Ambler, 215-646-6173, ginasamazingcupcakes.com.

UNIQUE DESSERTS
White Dog Café. The Wayne-based satellite of the University City original offers an ambitious menu, capped off by some unexpected desserts. This is especially true for the flourless chocolate torte, which comes with a fun and wildly inventive "cherry on top" of chocolate-Sriracha ice cream. Don't like chocolate for some strange reason? Opt for the house-churned sorbet. 200 W. Lancaster Ave., Wayne, 610-225-3700, whitedog.com.

FILET MIGNON
From the Boot. This unpretentious gem, which has three suburban locations, offers some of the most inspired pasta, seafood and meat dishes outside of Philadelphia. One signature in particular is the filet mignon: cooked to perfection and served with Portobello, red-wine reduction and roasted potatoes. It's not the least expensive menu item, of course, but it's worth every penny. Visit fromtheboot.com for details on locations in Ambler, Blue Bell and Lafayette Hill.

FOOD TRUCK
Blue Route Taco. This is perhaps the suburbs' most popular food truck, though not in the traditional sense. It's parked on top of a building—the Whole Foods in Plymouth Meeting—so customers come to it rather than the other way around. Offering flavorful tacos custom made for carnivores and vegetarians alike, as well as an assortment of canned beers from local microbrewers, it's perfect for a sunny afternoon siesta. 498 W. Germantown Pike, Plymouth Meeting.

PASTICCERIA (ITALIAN PASTRIES)
Sam's Italian Market. This Willow Grove institution has made a name for itself with its excellent tomato pie, among many other things … including, since 2006, its handmade pastries, cakes and other baked goods. Specialties include cannoli, Italian rum cake and sfogliatelle, as well as cookies, cream puffs and cupcakes. 3504 W. Moreland Road, Willow Grove, 215-657-3666, samsitalianmarket.net.

INTERPRETATION OF FRENCH FRIES
Mad Mex. The Jersey Chips at this relatively recent addition to the eastern Montco dining scene put a unique spin on a classic side dish. Rather than the long-cut version, these waffle fries are served with a zesty cheese dip or, if you prefer, a side of ranch. They're a perfect cure for a hangover or, really, for any occasion. 2862 W. Moreland Road, Willow Grove, 267-495-5000, madmex.com.

GUACAMOLE
The Blue Tortilla. Lumps of juicy avocado meat spiced with onion, cilantro and other essentials, this BYOB's guacamole—simple, flavorful and, in a word, heavenly—is the perfect preamble for whatever follows. In fact, a second helping as your entrée might not be the worst decision ever. 18-20 N. Main Street, New Hope, 215-862-5859, thebluetortillarestaurant.com.

GOURMET HOAGIE
Primo Hoagies. Philadelphia is the uncontested capital of the hoagie, and aptly named Primo has quietly risen to the top of the heap. The chain has dozens of franchises throughout the suburbs and city, as well as New Jersey and Delaware (and, apparently, points farther south). Built on a base of crusty sesame-seed torpedoes, its gourmet hoagies have become perennial award winners, including multiple Best of the Best nods from Suburban Life. Our favorites (still) are the Diablos—whether meat or vegetable based—all of which let Primo's fresh ingredients and proprietary blend of spices take center stage. Visit primohoagies.com for area locations.

MEXICAN-LATIN FUSION
El Tule. Authentic Peruvian specialties such as ceviche mixto and papas rellenas, as well as Mexican dishes such as mole Oaxaca and "El Tule lasagna," await diners to this Lambertville BYOB. During times of nice weather—like, you know, right now—take a seat on the outdoor, dog-friendly patio. 49 N. Main Street, Lambertville, N.J., 609-773-0007, eltulerestaurant.com.

CASUAL DINING
Bowman's Tavern. This is the kind of place that encourages lingering, with a comfortable bar area and an inspired menu of bar-food staples, salads and some surprises, as well as an unexpected wine list. It also offers a roster of entertainers sure to turn any meal into an event. 1600 River Road, New Hope, 215-862-2972, bowmanstavernrestaurant.com.

BURGERS
Plumsteadville Inn. "The Usual" is anything but: a thick, 8-ounce patty of Angus beef, topped with the trio of lettuce, tomato and red onion on a toasted brioche bun. Simple? Perhaps, but sometimes complicating a good thing doesn't make it better, just unnecessarily complicated. If you're jonesing for a starter instead, try the juicy Kobe beef sliders, paired with a pint of Dogfish Head, Guinness or Goose Island. Either option is the perfect antidote for a long day in the salt mines. 5902 Easton Road, Plumsteadville, 215-766-7500, plumsteadvilleinn.com.

OUTDOOR DINING
Coyote Crossing. Tucked away in a quiet residential Conshy neighborhood, Coyote Crossing maintains an outdoor patio ideal for alfresco dining in fair weather. It's surrounded by lush greenery and the tinkle of a working fountain, creating the idyllic backdrop for enjoying the authentic Mexican goodness. The margaritas help, too. 800 Spring Mill Ave, Conshohocken, 610-825-3000, coyotecrossing.com.

SPECIALTY PIZZA
Bacco Bistro. Crafted with Italian plum tomatoes, basil, olive oil and disks of fresh mozzarella, Bacco's "Brooklyn Style" thin-crust pizza is a coal-fired, crispy crowd favorite. The menu offers nearly a dozen specialty pizzas to choose from, or customize your own with the "Original" and heap on the toppings, ranging from broccoli to prosciutto. 478 N. Main Street, Doylestown, 215-348-9882, baccobacco.com.

BRICK-OVEN PIZZA
Café Alessio. The formula is perfect: hand-tossed dough, its surface loaded with freshly made toppings, placed gently in the oven to make its underside smoky and charred, while rich cheese topside bubbles to perfection. It's no wonder residents of Bucks County and beyond have made Café Alessio's pizza part of their everyday diet. 24 N. Main Street, Doylestown, 215-340-1101, cafealessiodoylestown.com.

TOMATO PIE
Corropolese Bakery and Deli. Restaurants don't get "famous" for a particular food item without reason. This might explain why, on the Corropolese website, "Tomato Pie" owns the first tab. Whether you opt for the regular, vegetable, sweet pepper or another variety, the tomato pie here is guaranteed to be fresh, moist and swimming with flavor. Visit corropolesebakery.com for locations in Norristown, Douglasville, Lansdale and Limerick.

THIN-CRUST PIZZA
Jules Thin Crust. "Thin crust" is in its name so you know it's going to be a game changer. Find some of the most inventive—and, of course, delicious—pies found anywhere in the suburbs, topped with everything from organic edamame with locally made goat cheese to a BLT variety, for a menu sure to make the taste buds happy. Visit julesthincrust.com for details on locations in Doylestown, Jenkintown and Newtown.

MARGHERITA PIZZA
The Drawing Room Pizza Pub. Come for the atmosphere and selection of beers and stay longer than expected for one of the best pies in Delaware County. Cultivated over the years by the Karasavas family, the artisanal thin-crust pizza on the menu here has a secret ingredient: overwhelming freshness, with the hand-stretched dough and tomato sauce both made daily for a perfect pie every time. 9 State Road, Media, 610-565-4000, drpizzapub.com.

SALAD
Sweetgreen. OK, so technically it's a chain, but this is no Saladworks. Sweetgreen, in Ardmore's Suburban Square, presents some of the most inventive salads found anywhere in the Philadelphia area. And if off-the-menu selections are somehow not inventive enough, make your own, choosing from ingredients such as organic quinoa and farro, shredded kale, baked falafel and locally sourced goat cheese. 68 Coulter Ave., Ardmore, 610-642-9400, sweetgreen.com.

SUSHI
August Moon. Something of a hidden gem that has become a "go to" for the weekly courthouse crowd, August Moon serves up some fantastic contemporary Japanese and Korean specialties. The fresh sushi and sashimi offerings are especially vibrant, from the salmon and tuna to the Ume Shizo vegetarian roll. ("Extra wasabi, please.") Our advice: Sit at the bar and enjoy the view, along with an ample menu of libations—everything from cold Sapporo (Japan's oldest beer brand) to hot sake. 300 E. Main Street, Norristown, 610-277-4008, augustmoonpa.com.

SPECIALTY COCKTAIL
Teikoku. Not only does this contemporary Asian restaurant offer some of the freshest, most beautifully prepared sushi and sashimi outside of Philadelphia, and not only is it one of the Main Line's most breathtakingly designed restaurants (along with fellow Win Signature Restaurants Azie on Main in Villanova and Mikado in Ardmore), but it also has some serious signature cocktails, including a "bangin'" sake martini. Go for the food and stay for the cocktails, or vice versa. Just make sure you go. 5492 West Chester Pike, Newtown Square, 610-644-8270, teikokurestaurant.com.

SPORTS BAR
Chickie's & Pete's. North America's best sports bar—a designation bestowed upon Chickie's & Pete's by ESPN, an organization that knows a thing or two about sports—is, of course, Philadelphia go-to place for watching the game when not at the game. From the mementos that adorn the walls to the Crabfries that have become part of the fabric of the city's culinary history, Chickie's & Pete's is distinctly, and lovingly, Philly. Visit chickiesandpetes.com for information on suburban locations in Bensalem, Audubon and Warrington, among others.

VEGGIE BURGER
The Village Tavern. This joint has something for everyone, especially in summer, when seating swells to include an outdoor patio. Vegetarians in particular will delight, thanks to a hearty veggie burger topped with fried eggplant and hummus, and a tangy gherkin as the proverbial cherry on top. Pull up a seat at the bar or, in nicer weather, enjoy your meatless slice of heaven alfresco style. 511 Stump Road, North Wales, 215-393-7953, villagetavernpa.com.

WINGS
The General Davis House. The wings here have the stuff to tempt even the most faithful vegetarian back to the dark side. You'll find several varieties that hit the target; the aptly described hot wings have a deliciously fiery glaze, and if you like garlic, "The General" offers a garlicky version that will keep even the most diligent vampire in the shadows. 76 Street Road, Southampton, 215-322-1000.

ICE CREAM
O Wow Cow Creamery. It's just not summer without an ice-cream cone, and it's just not ice cream if it's not from O Wow Cow. This Ottsville parlor serves up such rich, nontraditional soon-to-be favorites such as blueberry lemon, banana caramel and chocolate jalapeño—traditional ones, too—sure to make an experience here … well, an experience. It also serves up some distinctive floats far beyond standard root beer, though it does make a mean root-beer float. 4105 Durham Road, Ottsville, 610-847-7070.

ITALIAN
Piccolo Trattoria Italian Restaurant. From the copious Italian salads to the gourmet pasta-and-pizza offerings (including gluten-free pies) to the succulent seafood and veal options, Piccolo Trattoria does Italian cuisine perfetto. Our recommendation: Try the risotto, which changes daily. Visit piccolotrattoria.com for details on locations in Langhorne and Newtown, as well as Pennington, N.J.

NEIGHBORHOOD TAVERN
The Temperance House. In historic Newtown, the Temperance House is much more than a tavern—fine-dining destination, inn, jazz hot spot, etc.—though the tavern provides a comfortable nook for enjoying a craft (or two) from the tap. It also boasts an excellent food menu a step or two above traditional tavern fare. Stop in for generous happy-hour specials, such as $3 draughts and $5 house wines, for a fitting end to any day. 5 S. State Street, Newtown, 215-860-9975, temperancehouse.com.

BYOB
19 Bella. Just south of Skippack Village, 19 Bella offers Mediterranean-inspired small plates that are simple in design yet big on flavor and creativity. Tapas highlights include chunky guacamole, ricotta gnocchi and charred Brussels sprouts, as well as a mouthwatering seafood selection such as paella, Portuguese scallops and Brazilian jumbo shrimp. You'll stay a while to enjoy all the fruits of the menu, so those who imbibe—tempranillo, anyone?—should plan accordingly. 3401 Skippack Pike, Cedars, 610-222-8119, 19bella.com.

ASIAN FUSION
Susanna Foo. Susanna Foo has been changing the face of Chinese food on the Main Line for more than three decades. Born in Mongolia, raised in Taiwan and trained at the Culinary Institute of America, Foo deftly blends East with West for a menu that is inimitably delicious. Don't have time to enjoy a full sit-down meal? Take a seat at the wonderfully named Foo Bar and wash down an order of pot stickers or lettuce wraps with a specialty martini, bottle of Tsingtao or carafe of sake. 555 E. Lancaster Ave., Radnor, 610-688-8808, susannafoo.com.

WINE LIST
Buona Via Italian Seafood and Grill. This A-plus ristorante has some of the region's finest Mediterranean-inspired seafood, courtesy of a chef with Portuguese roots—be sure check out the raw bar—as well as a wine list that is second to none, thanks to owner Salvatore Carratta, a wine lover with a particular fondness for Italian and California reds. The by-the-glass selections are ample, while the bottle list is seemingly (and thankfully) endless. 426 Horsham Road, Horsham, 215-672-5595, buonavia.com.

HEALTHFUL FARE
Ron's Original Bar & Grille. Ron's mission is simple: to serve healthy food made only with the freshest ingredients of the highest quality. The chicken and beef found throughout the extensive menu are free of hormones and antibiotics, for example, and the bacon contains no nitrites. While such an approach is admirable, the fare's greatest strengths are their flavor and presentation. Ron's ensures that its patrons always leave happy … and even a little bit healthier. 74 Uwchlan Ave., Exton, 610-594-9900, ronsoriginal.com.

HAPPY HOUR
L'Angolo Blue. Weekdays, from 5 p.m. to 7 p.m., the gloriously designed bar here is ideal for enjoying good food and conversation, as well as bending elbows at its sleek marble slab. As part of the happy-hour festivities, L'Angolo Blue offers a free mini-buffet of bruschetta varieties and other bite-size appetizers, and the "cast of characters" of all ages make this relatively new addition to the local dining scene ideal for people watching. 602 Skippack Pike, Blue Bell, 215-641-6789.

FRESH SEAFOOD
Heller's Seafood Market. Since 1978, this establishment has been providing fish and crustaceans so fresh that one might think the fishery was right out the back door. Specializing in East Coast seafood from Newfoundland to Key West, with an emphasis on quality and sustainability, Heller's fillets nearly all of its fish—dozens of varieties are available—on site. Heller's also has a surprising takeout menu, starring chowders and shrimp trays, plus just-plucked fresh oysters and clams. 1380 Easton Road, Suite 6, Warrington, 215-343-9600, hellersseafood.com.

LIFESTYLE
FRIDAY NIGHT LIGHTS
New Hope. Every Friday through Labor Day, weather permitting, New Hope hosts a fireworks display worthy of a Fourth of July celebration, visible on either side of the Delaware River. The show kicks off promptly at 9:30 p.m. and lasts about eight to 10 minutes. Although the attraction costs nothing, its value is priceless to anyone who appreciates life's "ooh" and "ah" moments. Go to visitnewhope.com for more information.

CINEMA/MOVIEHOUSE
Movie Tavern. This place has redefined the phrase "dinner and a movie." Here cinephiles enjoy first-run films (as well as the occasional classic, such as "Raiders of the Lost Ark" and "The Goonies," coming soon) in lap-of-luxury Barcaloungers, with leg room aplenty, while nimble servers bring food and libations (soft drinks or alcohol) chair side to enjoy as the lights dim and continuing throughout the show. 140 Market Street, Collegeville, 610-831-9500, movietavern.com.

COMMUNITY THEATER
People's Light and Theatre Co. Hosting seven to nine plays (including many world premieres, such as this season's "Stargirl," based on the book from acclaimed local children's author, Jerry Spinelli) per season in two separate theaters, People's Light is one of Pennsylvania's largest professional nonprofit theater companies. Its productions are polished and affecting, proving that suburbanites don't need to go into the city to satisfy their performing-arts fix. 39 Conestoga Road, Malvern, 610-644-3500, peopleslight.org.

BED & BREAKFAST
Golden Pheasant Inn. This family-owned and operated B&B, within an 1850s-era stone fieldhouse, has earned a spot on the National Registry of Historic Places. The recently renovated Golden Pheasant includes a restaurant serving fresh, locally sourced dishes imagined by world-class chefs, as well as a towpath terrace perfect for enjoying a meal or just a cocktail or two. The rooms brim with antique furnishings, the grounds are glorious, and guests have access to beautiful views of the water. It's the definition of "getaway." 763 River Road, Erwinna, 610-294-9595, goldenpheasant.com.

WINERY
Chaddsford Winery. In a part of the world not known for its winemaking abilities, Chaddsford has staked its claim firmly in Delaware County soil. For more than 30 years, the winery has been cultivating vineyards and sourcing grapes from trusted growers to make award-winning reds, whites and sweet wines. Our favorites: the Pinot Noir and Proprietors Reserve. The winery grounds are beautiful in fair weather, so check out the tours and tastings—and do stay for lunch. 632 Baltimore Pike, Chadds Ford, 610-388-6221, chaddsford.com.

ART GALLERY
Burchtree Fine Art Gallery. This three-level gallery and custom-framing destination specializes in North American original oil paintings and sculptures. Nestled within Eagle Village Shops, Burchtree represents as many as 15 gifted artists, many of whom are native to the Philadelphia area. 503 W. Lancaster Ave., Wayne, 610-293-4080, burchtreefineart.com.

CUSTOM FRAMING
M & H Custom Framing & Gallery. Owner Karen Lentz has created a gem of a shop in Warminster, offering expert custom-framing services to preserve and beautify customers' most treasured works of art. Also, check out the stunning gallery on site, featuring works from local artists such as Karen Eckelmeyer, Tom McKinney and Patrick Walsh. 373 York Road, Warminster, 215-443-0968, mhcustomframing.com.

MUSIC INSTRUMENT STORE
Cunningham Piano Co. This Philadelphia institution offers a diverse piano inventory of the highest quality, featuring the industry's most respected brands—including vintage Steinway, Bosendorfer and Mason & Hamlin instruments. Given the sterling reputation it has been earning since its inception in the late 1800s, it's easy to see why Cunningham has become the go-to source for carefully rebuilt, restored and refinished Steinway Pianos in not only Philadelphia but also New York, Washington, D.C., and elsewhere. 5427 Germantown Ave., Philadelphia, 215-438-3200, cunninghampiano.com.

SPORTS WEAR
Bedazzled Boutique. Whether you're seeking a playful sleeveless dress, form-fitting tank top or the latest Stuart Weitzman sandal, you'll find exactly what you're looking for at Bedazzled. This chic boutique offers an array of apparel, shoes and accessories, as well as evening wear, from fashion's leading designers—perfect for mother and daughter alike. 218 S. Newtown Street Road, Newtown Square, 610-359-1707, bedazzledboutique.com.

SWIMWEAR
Shirley & Co. Twenty-six years is a long time to perfect one's craft, which Shirley & Co. has accomplished in fine form. With three suburban locations, third-generation Shirley & Co. offers a massive selection of designer swimwear and resort wear, excelling at assisting customers to make sure the experience is enjoyable. Whether customers will be by the pool, on a cruise or near a Caribbean cabana, Shirley & Co. makes sure each customer looks and feels her very best. Visit shirleyandco.com for information on locations in Ardmore, Elkins Park and Langhorne.

MEN'S SHAVE
MENtality. Nucky and his cronies from "Boardwalk Empire" have done wonders to revive the straight-razor shave. We couldn't be happier, because every man should experience such pampering at least once in his life. At newly opened MENtality in Frazer, sit back and enjoy a haircut and hot-lather shave from a deft craftsman who knows his way around a blade. 480 Lancaster Ave., Frazer, 610-296-5900, mentalityfrazer.com.

SAT PREPARATION
MJ Test Prep. When high school students (or, let's be honest, their parents) wish to achieve the highest score possible on the SAT and ACT, they routinely turn to Dr. Matthew Joseph and his team at MJ Test Prep. Through imaginative and well-structured programs, MJ Test Prep students improve their success academically as well as become better prepared for the next phase of their lives—in the Ivy League schools into which they earn placement and thereafter. 756 E. Haverford Road, Bryn Mawr, 610-525-2840, mjtestprep.com.