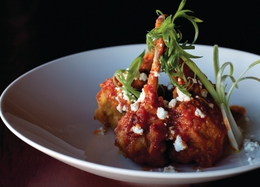 Gold Standard
From Center City to suburban Main Streets, chefs dazzle with inspired cuisine
There are few things more exciting than a road trip, especially when there is food involved. For this year's Golden Fork Awards, we canvassed the Philadelphia area in search of the best dishes in town. On the following pages we present what we found: the can't-miss appetizers, entrées and desserts offered by some of our favorite restaurants. We tried to cover every conceivable base, so to speak, from traditional Italian to classic French, Indian to Peruvian, kosher to Vietnamese. At the same time, we asked our readers to share their thoughts on the region's top restaurants, from Center City to the suburbs' idyllic Main Streets. We also explored developing culinary trends that may very well influence your dining experience in the near future. We've put in the hours of "research." Now it's your turn. Enjoy.


Avenue Kitchen in Villanova
Owner Dana Farrell and chef Gregory Smith have teamed to create this sparkling new addition to the Main Line's dining scene. The space is sophisticated yet comfortable, with artful cuisine to match. avekitchen.com

Charcuterie Board
Ideal for sharing over drinks at the well-appointed bar or as the preamble to dinner in the main dining room, you can't go wrong with this selection of cured meats and trimmings.

Short Rib
Accompanied by mushroom risotto, roasted baby root vegetables and a glorious jus reduction, it's easy to see why this succulent entrée is among Chef Smith's personal favorites.

Carrot Cake
The recipe for this subtly sweet winner's includes candied walnuts, topped with a drizzle of cream-cheese icing and a pyramid of carrot shavings.


Citron + Rose in Merion
Under the stewardship of chef Karen Nicolas, this kosher restaurant strives to strike a balance between respect for tradition and a willingness to buck convention. The results are, in a word, remarkable. citronandrose.com

House Pastrami
This signature dish takes more than a week to craft—a labor of love worth every second—and it's head and shoulders above any version you might find in even the best neighborhood delicatessen.

Red Snapper
Exotic and well executed, this fish presentation is brightened with fennel and lemon vinaigrette. The accompanying spaghetti squash kugel is a more than worthy complement.

Frozen Honey Mousse
Do your best to save room for dessert here. Our favorite is this delight, served with apple cake and passion fruit curd.


Edgewood Café in Havertown
Since May 2012, this welcoming BYOB has been turning out seasonally inspired dishes made with locally sourced ingredients. Like the rest of us, chef Phil Ferro can't wait for spring, when he intends to expand with outdoor seating. edgewoodrestaurant.com

Short Rib Flatbread
With caramelized onion, gorgonzola and black truffle aioli, the Cabernet-braised short rib shows off Chef Ferro's mastery of comfort food.

Applewood Bacon-Wrapped Filet
Chef Ferro calls this entrée "a crowd pleaser," served up with cheddar-chive mashed potatoes, asparagus and micro horseradish. It's easy to see why it has been on the menu since day one.

Tiramisu
The desserts from the hand of Kristen Ferro (Chef Ferro's wife) are exceptional, and we're partial to her tiramisu. Dusted with cocoa, this creamy work of art puts a fitting exclamation point on a memorable meal.


El Tule in Lambertville, N.J.
A stone's throw from New Hope, El Tule serves up memorable dishes of its owners' countries of origin, Mexico and Peru. The families behind El Tule have since exported their cuisine to a second location, named Quinoa, in Doylestown. eltulerestaurant.com

Peruvian Sampler
Wide ranging and colorful, this assortment—fried yucca, papas rellenas, causa (chicken, pork or vegetables), etc.—embodies the uniqueness of Peruvian cuisine in bite-size doses.

Picante de Camarones
This wildly flavorful shrimp dish, served over rice with slices of baked yucca, gets its kick from hot sauce crafted from Peruvian peppers.

Flan
Whether you choose the traditional style or the quinoa-infused special, the caramel-soaked flan is exquisite.


The Farm and Fisherman in Philadelphia
Chef Josh Lawler and his team have quietly shaped this 30-seat Pine Street BYOB into one of the city's best restaurants. Sustainably and, when possibly, locally sourced ingredients abound throughout the menu, which changes with the seasons. thefarmandfishermanbyob.com

Cucumber Buttermilk Soup
Tangy, fresh, bright and satisfying are among the many adjectives to describe this soup. A lone shrimp, poached in espelette pepper oil, serves as a rather deserving cherry on top.

Wild Striped Bass
When a restaurant has the word "fish" as part of its name, it had better do seafood right. This fennel-tinted dish, served with turnips and puffed potatoes, proves that Chef Lawler is hitting the mark.

Chocolate Custard Napoleon
Served with salted caramel phyllo, the end-of-meal delight balances the yin and yang of savory and sweet with aplomb.


Golden Pheasant Inn in Erwinna
The inn's new owners—the three daughters of the inn's longtime proprietors—have invested heavily to preserve and expand this historic property along the Delaware River. Their commitment has extended to a menu rife with classic French cuisine, artfully tended by the husband-and-wife team of Jon Ramsay and Blake Faure. The co-executive chefs utilize ingredients from local farmers and purveyors whenever possible. goldenpheasant.com

Oysters
Succulent and amazingly fresh, this plating of mollusks is classically simple: lemon, mignonette sauce and sinus-clearing Kelchner's horseradish.

Roasted Duck Breast
A flavorful reduction brings the best of this perfectly roasted breast of Pennsylvania-raised duck, which lies delicately on a bed of wild rice.

Artisanal Cheese Plate
Choose from an array of sheep, cow and goat cheeses—many of them locally made—served with honey, salted almonds and artisanal bread points.


Indeblue in Philadelphia
The Midtown Village restaurant and bar is chef Rakesh Ramola's second location, the first being a BYOB in Collingswood, N.J. Here he aims to challenge guests' views on Indian cuisine, and he succeeds in fine fashion with creative dishes that also keep true his Indian heritage. indebluerestaurant.com

Drums of Heaven
These aptly named appetizers put a remarkably good spin on an American favorite: battered chicken wings, prepared with ample spiciness, balanced with a sprinkling of bleu cheese crumbles.

Lamb Rogan Josh
All the ingredients are here, beginning with grass-fed New Zealand lamb, freshly butchered in house. The meat is incredibly tender and seasoned with house-blended spices and caramelized onions.

Kashmiri Naan
Although Indeblue does offer housemade desserts, we suggest loading up on naan. We're partial to the faintly sweet kashmiri variety, made with coconut, raisins and pistachios.


Mica Restaurant in Philadelphia
Mica is chef Chip Roman's Chestnut Hill encore to his Conshohocken stunner, Blackfish. Mica's a la carte menu changes regularly, even daily, but guests can always expect one thing: to have their expectations met, if not boldly exceeded. micarestaurant.com

Lamb Loin
This dish is a character study in balance. Cooked sous vide, the succulent lamb loin is accompanied by lamb belly that's rich without being decadent.

Blue Crab Agnolotti
Each delicate envelope of housemade pasta contains a gift of sweet blue crab. The flavors pair perfectly with a Pernod-based broth, with green pea tendrils providing vivid contrast.

Ricotta Doughnuts
The desserts here show remarkable technique, which is no surprise given Chef Roman's deft hand. Our favorite is this trio of playfully plated orbs, flavored with vanilla and passion fruit.


Pho Ha in Philadelphia
Located in a rather nondescript shopping plaza, Pho Ha serves up some of the region's most authentic Vietnamese dishes. We know of at least two local chefs who swear by it. Based on the lines on Saturdays, they're not the only ones. phohaonline.com

Summer Rolls
We imagine these immensely flavorful tubes of shrimp, julienne pork and vermicelli noodles, wrapped neatly in a sheath of rice paper, are among the best outside of Hanoi.

Pho Chin Nam Gau
This beef noodle soup uses tender strips of flank, brisket and tripe to incredibly flavorful ends, all balanced by the bitingly fresh accompaniment of jalapenos and sprouts.

Wonton and Roast Pork Noodle Soup
Dessert is not a specialty here, so we suggest indulging in another serving of savory soup to ward off the wintertime blues.


Restaurant Cerise in Bryn Mawr
This Main Line BYOB has been making quite a stir since late last year, when chef Ben Thomas started serving his brand of contemporary European cuisine. The 46-seat charmer offers two dining options—three courses or four—and either option will leave guests knowing they made a good decision. ceriserestaurant.com

Red Pepper Soup
Perfect for colder days, this stunning bowlful is made better with a dash of za'atar, all brought together with an accompaniment of housemade farmers' cheese.

Lancaster Pork Belly
With an accompaniment of excellent gremolata, the pork's immensely flavorful braised underside rests on a bed a creamed celery root.

Croissant Bread Pudding
The Thai-like combination of coconut milk and caramelized banana make this the perfect ending to a meal that lives up to the hype.
Extra Plates

19 Bella in Cedars
Paella Barcelona
This diminutive Montgomery County BYOB offers some of the region's most eclectic tapas from countries throughout the Mediterranean. Although the menu is designed for sharing, though you might want to keep this oceanic melting pot—shrimp, scallops, mussels and clams, with chorizo tossed in for good measure—all to yourself. 19bella.com

Amada in Philadelphia
Piquillos Rellenos
In Amada, uber-chef José Garces has created something truly special. The tapas menu is rife with the treasures of Spain, from the artisanal Spanish olives to the patatas bravas. The crab-stuffed peppers, however, are a joy. philadelphia.amadarestaurant.com

Colonial Quy-Bau in Willow Grove
Quy-Bau Golden Bags
These crisp little packages packed with shrimp and lump crabmeat, floating in a shallow pond of sweet chili sauce, are a notable highlight at this French-Thai-Vietnamese-fusion BYOB. tastecolonialqb.com

Coyote Crossing in Conshohocken
Housemade Guacamole
Once the weather turns, Coyote Crossing's garden patio offers perhaps the region's best backdrop for alfresco dining. Whether you're meeting friends for a quick bite or looking for a great way to begin an intimate meal for two, start with house-recipe guacamole … made better with an offering (or two) from the excellent selection of margaritas and mojitos. coyotecrossing.com

Devil's Den in Philadelphia
Diablo Mussels
This haven for the discerning devotee of craft and import beers boasts a revamped food menu. These aptly named bivalves go down great with something from the exhaustive beer list. devilsdenphilly.com

Jarrettown Hotel in Dresher
Diver Scallops
These juicy delights arrive perfectly plated, drizzled with aged balsamic and served on a cushion of vegetable risotto. Our advice: Start with a glass of your favorite red (or white), and plan on staying a while. Also, the amply portioned bruschetta and the lemony bright arugula salad make great starters. jarrettownrestaurant.com

Sbraga in Philadelphia
Key Lime Pie
Enjoy "Top Chef" Kevin Sbraga's artistic interpretations of modern American cuisine at this intimate 60-seater on the Avenue of the Arts. Save room for this seminal dessert, best enjoyed with a glass of Sauvignon blanc from the ample beverage list. sbragadining.com

Ristorante San Marco in Ambler
Ravioli di Aragosta
Doused in a delightfully creamy tomato sauce, each of these lobster-laden ravioli erupts with flavor. The dish is a fine example of why this Montgomery County institution has become famous for its seafood preparations. sanmarcopa.com

Vedge in Philadelphia
Fresh Hearts of Palm
Since opening in 2011, chef Rich Landau's kitchen has been crafting some of the world's finest vegan cuisine. This favorite of ours rings with the subtleties of fennel and saffron. vedgerestaurant.com

Zahav in Philadelphia
Fried Cauliflower
Although Michael Solomonov's name is hitched to some of Philadelphia's best restaurants, it's no surprise that Zahav has a special place in his heart. This brilliant starter—hints of garlic, chives, mint—served on a base of dill-spiked labneh, will make anyone an instant fan of this modern Israeli hot spot. zahavrestaurant.com