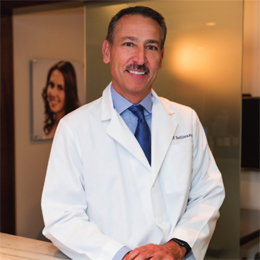 Aesthetically Pleasing
In the words of Dr. Bellisario, D.D.S and owner of The Office of Doctor Bellisario in Ardmore: "the more you practice, the better you'll get."
This philosophy is in part why he has remained successful in cosmetic dentistry for more than 30 years. A graduate of Temple University's School of Dentistry, Dr. Bellisario homed in on his passion for cosmetic dentistry early on, after discovering the lifechanging effects it can have on oneself and one's life.
"I realized I received more satisfaction from cosmetic dentistry," he states. "Patients get to feel great about themselves when the procedure is finished. You don't realize how important the smile is and how it can impact a person's life. My job is very rewarding."
Since 1981, Dr. Bellisario and his team have built a reputation throughout the Main Line of outstanding quality in achieving natural and exceptional cosmetic results. Suburban Life/Philadelphia Life sat down with Dr. Bellisario to learn more about his services and the latest advancements in cosmetic dentistry.
What are some of the services your practice offers to patients?
Our services range from minor services such as small bondings all the way to full mouth reconstruction. I get patients who may have a small space between their front teeth and want it closed. We can do that through bonding and can change the entire look of that person. Maybe a patient has worn down their dentition over the years and now their face is collapsing and getting small wrinkles around the mouth. This obviously requires a much more extensive rehabilitation process. People primarily think of veneers when they hear cosmetic dentistry, but there's a lot more than veneering teeth. In my practice, I've always tried to make all results look as natural as possible, whether it's a filling I'm placing in someone's mouth, or a metal-free, ceramic crown. I'm always trying to make my work look almost invisible, as if the patient were born with that beautiful smile.
You mention some procedures requiring a lengthier rehabilitation process. Can you explain this?
Some procedures can be multidisciplinary. In some instances, surgeons may need to place implants. The situation I'm referring to is someone who has either neglected their dental care or has severe wear from grinding their teeth over the years and has damaged the surfaces of their teeth to the point where their bite is not what it was 20 years ago. When someone loses the surfaces of their teeth, it can correlate with the face and how the corners of your lips and mouth look. In such cases, we may need to rehabilitate the person to get their bite back to where it was prior to all of the damage.
Is there one service in particular you see more patients coming to you for?
One of the simplest services is bleaching through our Zoom! whitening system, or through at-home bleaching. This service is probably our most popular and easiest way to improve a smile. Another one we offer is called "instant orthodontics" for patients who don't want to go through the time needed for traditional orthodontics. For this, we create an illusion that teeth are straight through veneering.
For those unfamiliar with Zoom Whitening or those considering it, what can you tell us about it?
Zoom! is an in-office whitening procedure that takes no more than an hour. It's one of the quickest and most effective ways to whiten teeth.
With all whitening processes, including Zoom!, it's really important for patients to know that they will need to do the necessary follow up. If you don't, your teeth will go back to the original color. Those who do Zoom! Whitening will have bleaching trays made as part of the cost, and once every several months place a gel in the tray to help maintain the color of the teeth. This only takes about 15 minutes per touch up.
I've often heard of some dentists discouraging patients from teeth whitening. Why is this?
There are certain people who will go overboard with it—like you can with almost anything. I've seen some patients in the past who almost became addicted to it and in return, turned their teeth almost opalescent or translucent. Bleaching, however, has been proven to be safe and effective—as long as you do it correctly and follow proper directions. If you don't overdo it, you won't harm the enamel. If you whiten too frequently, you can harm the nerve in the tooth. There are millions of people who have bleached their teeth over the years and have had perfectly safe outcomes.
Aside from safety, are there any other myths out there about teeth whitening that patients should know about?
A common myth has to do with how well someone's teeth are going to whiten. You can't necessarily predict how well someone's teeth are going to whiten. I'll never tell a patient that they'll get ten shades whiter. Those who have yellow and brown tones in their teeth will whiten extremely well. Those who have grey and blue tones to their teeth, however, don't white as effectively. There's a bit of a chance you're taking that the result may not meet your expectations. Veneers and crowns are more predictable on color, since the dentist is in control of the shade. Veneers and crowns don't change color with bleaching.
For those who would rather opt for veneers, are these made in-house using CERAC technology?
We do not use one of these machines—instead, we have a lab technician in Utah that completes all cosmetic restorations. I've worked with this person for the past ten years and he is a true artist. I like to look at lab technicians as artists. As good as a CERAC machine is, I don't personally believe it will be able to create the same look my lab technician does.
What are the differences in appearance between a hand-crafted veneer and a CEREAC generated veneer?
Our lab technician is able to create all of the fine details and subtleties that you can't quite create with a machine. The advantage the machine has, is that patients don't have to wear temporaries. This technique may be of advantage to someone who's very busy, travels a lot or is pressed for time.
That said, what is the typical turnaround time for veneers in your practice?
We pre-schedule our veneer cases. If I know a patient is coming in for veneers, I'll call our lab and let them know when the patient is being scheduled. The lab will then block out time and be able to know the date of when the veneers will be ready. It's two-and-a-half weeks from the time they're prepared and when they are inserted.
Besides your attention to detail and commitment to the most natural looking results, are there any other notable aspects of your practice?
When we're doing comprehensive cosmetic work—such as veneering—we do a review of the patient's temporaries to make sure they're completely happy with the way the temporaries look. If there are any questions or concerns, we can address these. It's also important for any practice to have good communication between the patient, dentist and the lab technician. As long as we're all communicating and on the same page, we can make almost anything possible.
The Office of Doctor Bellisario
DrBellisario.com
636 Wynnewood Road
Ardmore, Pa 19003 | (610) 642-7024
Published (and copyrighted) in Suburban Life Magazine, April, 2017.