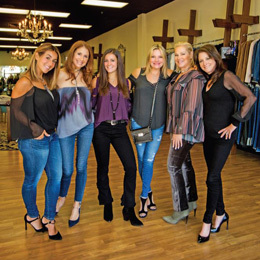 All in the Family
August 2017
The saying goes, "some things simply run in the family"—for Amy Kabinoff, it was acquiring ownership over her family's 75-year-old boutique, Chickie's Daughter, which originated in the hands of her grandmother, eventually passing down the line to her mother, and now to Amy herself.
Three generations and three locations later, Chickie's Daughter is flourishing better than Kabinoff initially envisioned. A store once 900 square feet turned 3,000 square feet, continues to provide its fashion-savvy customers only the highest quality—now with a fresher, casual and every-day vibe—featuring cult-favorite brands such as Hudson, Milly, Michael Stars, Splendid and Nanette Lepore. In fact, these popular brands keep pouring in, as Kabinoff notes shipments are arriving at a steady influx of roughly 20 boxes per day.
"Honestly, I believe that in order for businesses to survive, they need to be generational or someone with a fresh perspective has to buy into the business," says Kabinoff, with an unwavering tone of confidence, likely attributed to her longtime experience with the business. "[In this industry] styles are constantly changing."
With crisper fall temperatures peering on the proverbial horizon in a few short months, Chickie's is the quintessential one-stop shop for all of your seasonal needs—and well worth the trip.
Suburban Life/Philadelphia Life sat down with Kabinoff to learn more about her integration into the family-owned business, how her ownership has impacted the business and of course, what's in the fall 2017 fashion forecast.
Considering you've been with the business for quite some time, how has the boutique's style evolved since its origin?
When I first got involved with the store, they weren't even carrying jeans—the apparel was dressy and formal. When I took over, I sort of went crazy. I began ordering jeans, leggings and tried to transition the style into a more casual feel. My mom was a little more elegant, whereas I'm along the lines of edgy and contemporary. Even though our style has evolved, I've made it so that a customer won't purchase something here and hate it within a week.
That said, who is your store ideal for?
I don't try to intimidate anybody, any price range or any age range. There's really something for everybody. If someone walks in and has a budget, there's generally something they can find here. It's not a store filled with all clothing and accessories $300 and over. There's clothing for nearly every budget.
Has your clientele evolved since you've revamped the store's overall aesthetic and merchandise?
We see customers anywhere from high school and college, all the way to a 75- year-old woman. The age really doesn't matter because we have something for everyone—wide leg pants, skinny jeans— no one will ever walk out feeling uncomfortable. I don't let that 75-year-old woman walk out looking like a teenager, either—we're extremely age appropriate, so no one says our store is "too young" for them. I actually have a mother, a daughter and a grandmother [who] all come shopping here together.
Have there been any exciting or recent additions to the store?
I recently expanded the store to have a full shoe department. Fall merchandise is also beginning to arrive.
You're the fashion expert—what's been selling well or expected to be trending for the upcoming fall season right around the corner?
We have amazing handbags with guitar straps right now that are really on trend—we sold about six of them in an hour. Velvet is expected to be huge for the fall. Army green and military jackets, even stars are now trending. We just received a style of Hudson jeans with little black stars on the black jeans—it's tasteful, not tacky. The uneven bottom frayed jeans are also becoming more popular—in fact, they're quite huge because they look amazing with heels, so you can dress them up or down.
How did you learn to pick out tasteful, fashionable merchandise? Did you study fashion at Philadelphia University?
I actually did not—I studied marketing and finance. Honestly, I didn't major in fashion because I really didn't see myself liking the business down the road, but I always worked at other stores while I was in college. When I originally started helping my mom out with the store, I found it to be quite boring. But when I started doing the buying end of it all and changing the store, everything took off, including my interest. I also attend tradeshows as often as possible—I can walk into a showroom and someone will try to sell me something because everyone's buying it, but I can look at it and say "no thanks," because I know it won't sell well. I think it's just the fact that I've been involved with the business so long, and maybe my own personal style.
Would you say your marketing and finance background prepared you on the business aspect of handling Chickie's?
Of course. It definitely helped me on the business end and dealing with all of the finances associated with running a store. But I grew up in this industry. My grandfather owned Burlington Coat Factory, and my grandmother and mom ran this store.
I understand you offer appointments for customers—what does a typical appointment entail?
Customers who make appointments live typically a little farther away in distance or just short on time. I have a few customers that live in Atlantic City and even up in North Jersey. They'll call ahead, and my staff and I figure out what to show them ahead of time. I also have a dressmaker on Saturdays that can accommodate any alterations necessary and from there we can ship it back to the customer. I get a lot done in an hour with a person—I don't waste time, because I know people are busy. If someone walks in, I'll instantly know what the right fit of jeans are for them, without having to try on 20 pairs of jeans until you find a pair that finally fit well. I had a girl come in once and she was amazed how we nailed her style. I explained to her that's what we do here. I'm really, really fast.
Would you say your eye for style and decisiveness allows your boutique to remain one of the best in the area?
Yes, but I also really care about how people feel. It's so important to me that someone leaves this boutique with a few whole outfits— even just one—and goes out and someone says to them, "Wow you look amazing." If that doesn't happen, who's to say that customer is going to come back and shop here? It's really about buying the right merchandise—that is key. It's crazy how I can sell someone an outfit and hardly think about it. They'll walk out happy and confident—and maybe even kissing me. I promise you'll purchase clothes you'll love for years to come.
CHICKIE'S DAUGHTER
901 N. Bethlehem Pike
Ambler, Pa.
(215) 628-2277
ChickiesDaughter.com
Published (and copyrighted) in Suburban Life Magazine, August, 2017.
.
.
.