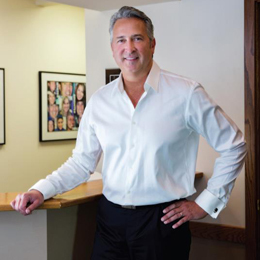 A Lasting Impression
Main Line Smile
photography by JODY ROBINSON
When some people hear the word dentist, another word often comes to mind: fear. Some dread the dentist's chair so much, they put off appointments for months, even years, putting their health at risk.
Dr. Peter Flaherty of Main Line Smile is here to put those fears to rest. In fact, he believes he can provide an experience that will make even a hardcore dental phobic actually look forward to going to the dentist.
"There's a huge population of dental phobia," says Dr. Flaherty. "Getting patients in the office is the hardest part. Maybe a spouse forced them to come here or they are having a problem that's been getting worse, but once they get through the front door, we comfort them and address whatever concerns they have."
Dr. Flaherty calls his office "a patientcentered kind of practice," beginning with a free consultation to discuss each individual's needs. Every patient is taken care of, from the initial phone call setting up the appointment, to the moment they are greeted at the office by the friendly staff, to the time they leave. Such consistency, he says, is what sets his practice apart from the rest.
"People remark about that all the time," Dr. Flaherty says. "We get a tremendous amount of five-star online reviews from our patients, and they remark on our staff being so friendly and competent. We have had a very low turnover rate over the years because we have great people working with us. Many have worked here for at least 15 years, and we all love working together. It's a very friendly environment."
Changing the Game
Dr. Flaherty opened his first Main Line office in 1993, meaning he has been a staple of the area for more than 20 years. Today, his facility is only two miles up the road from the original in Wayne, having relocated to a larger, modern facility in Devon, with more parking and easy access from Lancaster Avenue.
"Our patients are very happy with the new facility, which is much more state-ofthe- art," Dr. Flaherty says. "We also merged with an existing practice so we got to meet a whole population of new patients as well."
Each initial examination at Main Line Smile includes a full-mouth examination, checking the general condition of the gums and each tooth, and a set of X-rays. Dr. Flaherty offers a full range of general dentistry services, including routine preventative care, basic restorative procedures and cosmetic dentistry, as well as teeth whitening and dental implants to replace missing or failing teeth.
"If you lose a tooth for whatever reason, the best way to replace it is with an implant," Dr. Flaherty says. "Implants have one of the highest success rates of any dental procedure. It's so strong; once the implant is integrated into the bone, there's very little that can go wrong."
Invisalign is another popular and effective way to change a patient's smile without having to deal with the headaches of braces, and because they are clear aligners, no one can tell you are wearing them.
"It's really a great way for adults to straighten their teeth," Dr. Flaherty says. "Who wants to have brackets and wires as an adult? With Invisalign, you can straighten and whiten your teeth, and you can remove them when you brush, floss and eat. It's a game-changer for adult orthodontics."
Care and Comfort
Dr. Flaherty goes above and beyond for his patients, providing massage units inside each chair and Bose noisecanceling headphones for patients to wear during each dental procedure.
"I recently had a patient who pulled his back out and used the massage feature with a little heat during his procedure, and by the time he got up, not only was his mouth back to health, but so was his back," Dr. Flaherty says with a laugh.
In addition to providing his patients with comforting care, his office is equipped with the latest technology. The equipment list includes a 3-D digital scanner, which captures images of the mouth without the use of gag-inducing impression materials.
"We have the ability to get faster and more accurate images of the teeth," Dr. Flaherty says. "It's amazing because before we took physical impressions, which were uncomfortable for patients and would make some gag. We'd send the impression to the lab, maybe in a 100 degree truck, and when we got the crown back, we'd have to do a lot of adjusting to make it fit the patient's mouth. With the scanner, there's no distortion. It goes to a file in an email and is designed on a computer, and by the time I get the dental work back, there's almost no adjusting. It's like night and day—it's faster, more accurate and there's less gagging. The patients love it; they are really impressed and amazed at the technology."
Likewise, Dr. Flaherty has been amazed by the gratifying experiences he has had since moving from his native city, Boston, to Philadelphia in pursuit of a top-flight education—first, at St. Joseph's University, followed by Temple University's Kornberg School of Dentistry.
"After eight years in Philadelphia, I lost my Boston accent, met a girl and here I am," he says. "It's been very rewarding to see patients over the years, and now I'm taking care of their families, the next generation and sometimes even the generation after that. It's kind of neat to see kids you used to see coming in with their kids. … It's not only a great career to be in; it's a great time to be in this career. I feel really fortunate that I chose this career path."
Peter Flaherty, DMD
12 Arlington Road, Suite 102
Devon, Pa.
(610) 687-5360
MainLineSmile.com