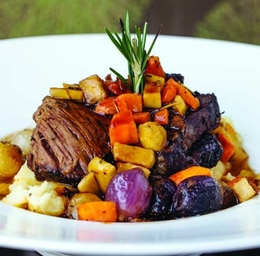 Taste Test: Golden Forks 2018
We scoured the Philadelphia suburbs' fine-dining scene for the dishes you're going to want to try right now.
THE PHILADELPHIA SUBURBS' DINING SCENE abounds with an astounding number of noteworthy restaurants, so how do you determine which are "the best"? For this year's Gol den Fork Awards, w e went looking for the dishes you just can't afford to go without. From meat and seafood to pasta and plant-based fare, y ou're in store for some exceptional dishes. Your calendar is about to fill up.
ALESSIO'S SEAFOOD GRILLE
Warrington
AlessioSeafoodGrille. com
WHY TO GO: The Mannino family has roots in Sicily, so dishes such as woodired pizza, homemade ravioli and other Mediterranean del ights feature prominently on the menu. Even so, owner Joe Mannino has a particular fondness for resh seafood—and the dishes he's offer ng here go far beyond what you would consider "the usual suspects."
WHAT TO ORDER: If time and appetite allow, sign up for the Cape Co d clam bake. It's a massive dish (if "dish" is he correct term), served in a metal tub, overflowing with lobster, steamed musels, clam s, peel-and-eat shrimp, king crab and snow crab, plus potatoes and corn, all sprinkled with Old Bay. It's worth every penny.
BLUE SAGE VEGETARIAN GRILLE
Southampton
BlueSageVegetarianGrille.com
WHY TO GO: We've spent years singing the praises of this vegetarian gem. Even if y ou consider yourself an omnivore, you won't miss out. The food is flavorful, he presentation masterful and the overall experience one yo u'll want to replicate. In other words, you just might become a egular.
WHAT TO GET: Start with the blue corn tacos, starring asparagus, jack cheese and peppery tomato-almond Romesco, topped with greens. From here, opt for the falafel, the faux BLT know as the "blue LT") or the "chicken" and savory waffles, where mushrooms hen-of-the-woods, oyster and shiitake) sub for the poultry, with fig-maple jam.
BOWMAN' S TAVERN
New Hope
BowmansTavernRestaurant.com
WHY TO GO: Go just once and you'll find out. Bowman's stands apart rom its peers in New Hope, both literally and figuratively. It's pretty well removed rom New Hope's "downtown," and the distance makes it something of a des tination. Once inside, you'll find it warm and nviting—the live music certainly helps—and the food (much of it made using locally sourc ed ingredients) is sophisticated without being pretentious.
WHAT TO GET: We feel a little guilty recommending one of the burgers, each made with hormone-free, grass-fed beef (or opt for the house-made vegetarian version), but not that guilty, because they're excell ent. Also, you can't go wrong with one of the butcher-cut steaks.
BUTCHER & BARKEEP
Harleysville
TheButcherAndBarkeep.com
WHY TO GO: Talk to anyone who lives, works or has ever been to Harleysville, and chances are they'll ask, "Have you been to Butcher & Barkeep yet?" Why, yes. Yes, we have. We love it here because it's cozy and intimate, because the bartenders know what they're doing, and … well, because we just feel like we belong. Besides, the food is amazing.
WHAT TO GET: It depends on whether you'd rather indulge in some of the more form al small plates (pork belly and braised wild boar risotto, for example, or the shrimp and grits) or tavern-style sandwiches. We just love the falafel, but we hear great things about the "smacko," an upscale sandwich featuring ribeye, fried salami and plenty of cheese. No ma tter what you get, you'll appreciate the artful presentation and the taste. Oh, and before you go, commit the following two words to m emory: sexy fries.
FIREPOINT GRILL
Newtown Square
FirepointGrill.com
WHY TO GO: Firepoint Grill has made quite a stir since opening in late 2016, and it's easy to see why. The space is simply gorgeous—take a seat at the bar, with a vantage point into the bustling open kitc hen—and the menu abounds with New American classics. Also, next time you find yourself in Center Valley (north of Quakertown on 309), be sure to point your GPS toward Torre, one of Firepoint Grill's sister restaurants. Like Firepoint, this contemporary Mexican restaura nt has an eye-popping design, with cuisine to match the stunning décor.
WHAT TO GET: If you like woodfired steaks, you've come to t he right place. Also, if you're there for Sunday brunch, be sure to indulge in one of the Bloody Marys.
GENERAL WARREN
Malvern
GeneralWarren.com
WHY TO GO: Because it's the Gen eral Warren. The historic GW, whose history dates back to the 1740s, has earned its status as something of an institution in Malvern—a destination for holiday parties, special events and romantic dinners for two. But it's much more than just a "special occasion" kind of place. Chef Joshua Smith has created a menu of classic dishes that are big on flavor and short on pretense.
WHAT TO GET: The GW is known for its tableside Caesar salad, snapper soup and beef Wellington. Also, prepare to spend some time reviewing the ample wine list.
GOLDEN PHEASANT INN
Erwinna
GoldenPheasant.com
WHY TO GO: There are so many reasons why the Golden Pheasant has become a perennial favorite. T here's a wonderful charm to this place, and it begins with the drive down the winding seam of River Road, along the Delaware River. The fe eling grows once you step inside and take a seat. If you're there during a weekend brunch, for example, the dining room overflows with na tural light, and the service is always spectacular. Co-chefs Blake Faure and Jon Ramsay have devised a rich menu built using key ingredie nts (produce, mushrooms, coffee, honey, etc.) from local purveyors, both in Bucks County and across the river in New Jersey.
WHAT TO GET: Start with the seasonal cheese platter, starring cow, goat and cow cheeses made from the likes of Bobolink Dairy in nearby Milford, N.J. No matter where you go from there, you're in store for a memorable meal.
HARVEST SEASONAL GRILL AND WINE BAR
Newtown, Glen Mills, North Wales and Radnor
HarvestSeasonalGrill.com
WHY TO GO: Restaurateur Dave Magrogan built Harvest Seasonal Grill and Wine Bar on the prem ise that farm fresh, locally sourced and sustainable should be more than just buzz words. Harvest works with dozens of locally based farmer s to ensure that guests' dishes are made only with the freshest, highest-quality ingredients. Great news: With Magrogan's company havi ng recently opened a new location in Newtown, chances are quite good that there's a Harvest Seasonal Grill and Wine Bar within a few mi nutes of your front door.
WHAT TO ORDER: This time of year, the winter bouillabaisse—a hearty mix of shrimp, clams, potatoes and other d elicacies, in a fennel-saffron broth—or the vegetable pho. Of course, you can't go wrong with the filet mignon, braised short ribs or cof fee-rubbed Wagyu sirloin. No matter which appetizers and entrées you order, one of the shot glass-style "minidesserts" will provide a f itting exclamation point to the meal.
THE INN AT BARLEY SHEAF FARM
Lahaska
BarleySheaf.com
WHY TO GO: This sprawling 30acre estate—pre served farmland, woodlands and wildflower meadows—is home to a delightful B&B that, for obvious reasons, has become a destination for we ddings and other special events. The breathtaking atmosphere extends to the restaurant, too, where guests may discover a dining experie nce "that will rival the best meals in the world," according to co-owner Mark Frank. Executive Chef Joshua Homacki, a Johnson & Wales alu m who cut his teeth in the kitchens of some of Philly's best restaurants, is doing something extraordinary here. He even makes his own i ce cream.
WHAT TO ORDER: High marks go to the tender Atlantic octopus—one of Frank's personal favorites—and the Rohan duck breast. That said, the menu changes seasonally, so whatever Chef Homacki has on the menu is sure to delight.
SAFFRON INDIAN KITCHEN
Ambler , Bala Cynwyd and Wayne
SaffronofPhilly.com
WHY TO GO: Go because wellprepared Indian food can be some of the freshest and most flavorful around, an d because Saffron's style of cuisine suits every palate, whether you're a vegetarian or carnivore, and whether you're new to Indian food o r a connoisseur. Having long been a staple of the community in both Bala and Ambler, Saffron recently exported its riches to Wayne.
WHAT TO ORDER: Saffron spices its dishes in a way that offers all of the flavor but without the heat that some people might find off-puttin g. If you like your dishes on the spicy side, opt for one of the vindaloos (lamb, chicken or vegetable) and pair it with a mango lassi to tame the heat. And be sure to save some room for the kheer, a dessert that puts a delightfully light spin on traditional rice pudding.
SUBURBAN RESTAURANT AND BEER
Exton
SuburbanBG.com
WHY TO GO: Chef Eric Yost has created something truly unique with the Suburban, from the design to the menus of food and craft cocktails. (Yost recently announced he's opening a brewery in Honey Brook, calle d, fittingly, Suburban Brewery.) His goal: to introduce his guests to well-made products—be it craft beer, spirits or fresh pork—that we re born and bred in the Keystone State.
WHAT TO ORDER: You could easily fill up on items from the quite interesting "bites" menu—fried deviled eggs, anyone?—but fight the urge, because the entrées are a study in heartiness (pork schnitzel and chicken potpie, for example ). There's just no bad decision here, but if you twisted our arm, we'd pick the mushroom curry or the lobster mac-and-cheese.
TAQUERIA FELIZ
Horsham and Manayunk
TaqueriaFeliz.com
WHY TO GO: Considering the fairly recent additions of Farm & Fisherman and MaGerk's, not t o mention stalwarts like Buona Via, Iron Abbey and Café Lombardi (plus Brick & Barrel in neighboring Maple Glen), Horsham's dining sc ene is muy caliente right now. Add in Taqueria Feliz, and the circle is complete. Brought to you by the same folks behind the excellent Ca ntina Feliz in Fort Washington and La Calaca Feliz in Philly (two guys named Sirhal and Spinner), Taqueria Feliz offers a festive, flavor ful take on traditional Mexican cuisine.
WHAT TO ORDER: The tacos— but you have some decisions to make, as the restaurant offers seve ral options, ranging from Baja fish to pulled pork to shrimp and chorizo to Brussels sprouts. Can't decide? Just get the taco flight. Whil e you're waiting for dinner to hit the table, be sure to sip from one of the 10 or so margaritas on the menu.
PANACHE WOOD FIRED GRILL
Blue Bell
PanacheWoodFireGrill.com
WHY TO GO: This fairly recent addition to the Blue Bell dining scene is an absolute knockout. The stunni ng interior includes two elegant bars, one of which offers a prime-time view of the woodfired oven that's crisping up some superla tive Neapolitan pies. Night in and night out, Panache rolls out a menu full of "stars": pasta and veal dishes, chophouse steaks, just-plucked -from-the-ocean seafood and then some.
WHAT TO ORDER: It's a tossup between the Scottish salmon and the wild-boar pappardelle. Call us sim ple, but we're suckers for a perfectly made pizza—and that's exactly what you'll find here.
VIDA AND COMIDA
Ambler
VidaAndComida.com
WHY TO GO: This elegant Spanish BYOB packs a lot of punch in a small space. The newcomer to Ambler's vibrant dining scene has earned high prais e from guests, and for good reason. The family-owned spot gives so much attention to detail, from the elegant white-tablecloth décor to th e attentive service. You can also see the care in the seafood-heavy menu, which features a host of authentic Mediterranean dishes: paella , veal osso bucco, pulpo (octopus) a la Gallega, etc.
WHAT TO ORDER: The seafood paella—Vida and Comida's signature dish—which brims wit h shrimp, mussels, squid and other treasures of the sea. Guests also swear by the seared corvina with crab meat, but be sure to check out the daily whiteboard specials.
Photograph courtesy of Dave Magrogan Group.
Published (and copyrighted) in Suburban Life Magazine, February 2018.
.
.
.