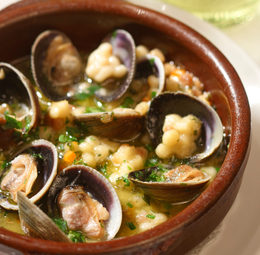 A Look Ahead
Suburban restaurant trends to keep an eye on in the months head
What can you expect from area restaurants in the months to come? More dishes whose ingredients were born and raised in our back yard, for starters. Locally sourced meats, seafood and produce—and even locally sourced beer and wine—represent the top culinary themes gaining traction in restaurants nationwide, according to a recent survey of more than 1,500 chefs conducted by Chicago-based National Restaurant Association.
"Local has gotten more important than organic for most people," says Abbie Westra, executive editor of Oak Brook, Ill.-based FARE Magazine, a national trade publication that tracks U.S. dining trends. "We're also seeing more of a renewed interest in wholesome, back-to-our-roots eating. … Some of it was recession driven, because people want the creature comforts, but there's also a greater interest in regional American foods," such as fare with a distinctly Southern heritage and other "wholesome indulgences."
In addition, trends such as sustainability and "hyper-local"—restaurant gardens, do-your-own butchering, etc.—also ranked high among the nation's chefs, thereby creating a more intimate dining experience for patrons, according to Philadelphia-based food and wine writer (and Suburban Life restaurant critic) Brian Freedman: "There's going to be a continuation of interest in farm to table and also the [food's] pedigree—not only what farm it came from but even what's the farmer's name."
As a result, suburbanites can expect restaurant menus to become increasingly complex, and also have more seasonality and artisanal elements—not just cheeses and charcuterie plates but adult beverages as well—than ever before.
"The options have really grown," says Freedman. "It used to be that if you wanted tequila, for example, your options would be limited to maybe a margarita or a shot of Citron, but now you can also choose from some nice sipping tequilas. If you're in the mood for Italian wine, there's not just Chianti anymore. … [Restaurateurs] are mining the playing the field for more options and a broader selection."
Also, high-end specialized cocktails "like the ones your grandpa drinks" are gaining traction, according to Westra. Likewise, drinks implementing fruit purees, produce purees and "funky liquors," are on the rise, while bourbon, gin and rye whiskey have gained a "cult following." Craft beers—not to be left out—will only continue to grow in popularity, thanks in part to the evolution of the American beer palate.
Such diversification among restaurants' beverage programs is essential in order to keep up with rapidly changing food menus, according to Freedman: "If I'm spending $30 to $40 on a steak, I don't want to be limited to a glass of Yellowtail or Gallo Chardonnay."