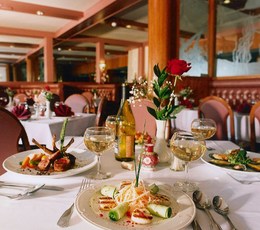 Local Treasure
Bryn Mawr's Yangming: America's No. 1 Chinese restaurant
It's a special occasion when one of our local restaurants is named the best in the land. If you're in Bryn Mawr, heading toward the intersection of Conestoga and Haverford, one is almost duty-bound to stop and enjoy the fruits of Yangming, which was recently spotlighted as the nation's best Chinese restaurant.
On the coattails of having been ranked by USA Today as one of America's "Ten Great Places to dine on fine Chinese food," Yangming received "Best Chinese Restaurant in America" honors at the 7th Annual Top 100 Awards Show in January, hosted by national publication Chinese Restaurant News. The event also honored Yangming owner Michael Wei as one of the most "Influential Personalities in the Restaurant Industry," alongside celebrated TV stars Martin Yan ("Yan Can Cook") and Ming Tsai ("Simply Ming").
Wei is "humbled" at his restaurant being named tops among an estimated 45,000 U.S. Chinese restaurants. The award would not have been possible, he says, without the dedication and creativity of his employees, many of whom have been with him for the duration of the restaurant's two decades in business.
"I think, to be No. 1, it represents 20 years of hard work," he says. "This award proves that hard work is rewarding. … Everyone who works at Yangming feels that Yangming is part of their family, so they all work together and help each other. Our employees are happy, and it takes a happy employee to make a customer happy."
Coincidentally, the award comes as Yangming is hosting its Chinese New Year Banquet, a multi-course feast available through February 26.