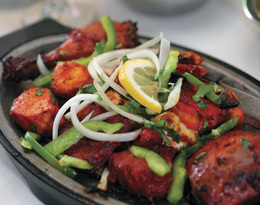 Cross Culture
This Doylestown Indian-food standout sates the appetites of carnivores and vegetarians alike
It's not an easy trick to make an avowed carnivore long for another bite—and another, and another—of a strictly vegetarian dish. But that's exactly what Cross Culture accomplished with its navaratan korma, a melange of peas, cauliflower, broccoli, cashews, golden raisins and more, all luxuriating in a coconut-tinged cream sauce that, in all the best ways, embodied the huge benefits of a well-conceived and executed vegetarian preparation.
If I had to choose one national culinary tradition from around the world to lean on for my occasional craving for more vegetables in my life, it would have to be India's. Over the past year, I've enjoyed more meatless food from India than I have from anywhere else. It has something to do with the fact that there's a long, elaborate vegetarian tradition in the subcontinent's foods, and the seasonings brought to the various ones are often so complex themselves, so deeply savory and layered, that the lack of animal protein is typically relegated to a minor facet of each forkful.
Cross Culture, the barely six-year-old BYOB whose first location opened in Peddler's Village in 2005 and whose fourth, in Lambertville, N.J., may swing open its doors by the time this review runs, excels at the kind of food that both rewards the more dedicated while still providing enough familiarity to appeal to Indian-food novices.
The navaratan korma is a handy example; so, too, is the tandoori special, a mixed-grill plateful that, from wildly tender yogurt-marinated chicken to earthier lamb to more toothsome beef, clearly demonstrated the many benefits of cooking in the tandoor clay oven: Despite the differences in each meat's inherent flavor and texture, as well as their marinades, all were imbued with the telltale sweet smokiness of the oven. And the chicken, dipped into a side dish of sweet tamarind sauce, was transformed into a dead ringer for perfectly done American cookout food, only better.
Lamb achari was a touch more idiosyncratic, and therefore not necessarily for first-timers. Its main flavor component, the pickled spices of its burnished-umber sauce the color of a deep Cajun roux, lent the meat—tender, gently pink at the center—a high-toned savory quality that, though I personally found it addictive, may prove to be a touch too salty for some. If you fall into the latter camp, drizzle it with a bit of raita; the yogurt-based condiment's cool cucumber notes provide a perfect foil.
This is also a kitchen with a real facility at the fryer. Aloo tikki, a fluffier, coriander-kissed fried potato-and-pea pancake, had enough spicy lift on its own to require no additional sauces or chutneys. But some of the fried treats in the mixed appetizer sampler did. And while I didn't want anything interfering with the delicate sweetness of the cauliflower pakora, or the fresh springtime spark of the spinach one, others, like the surprisingly underwhelming samosa, benefited from a trip through the mint-cilantro chutney.
Papadams, however, were perfect: Snappy and thin and speckled with cross sections of remarkably floral black peppercorns, they were lively and bright on their own and provided a spectacular backdrop for the kachumber, a tomato-onion-and-chili condiment that reminded me of nothing so much as a sort of Indian pico de gallo. Breads, all done in-house, succeeded, too, especially the naan with its pizza-like leoparding of crisp blackened sections alternating with doughier, fluffier spots.
Gulab jamun, a favorite of so many fans of Indian restaurants, was spot on here: The homemade cheese doughnuts were fluffy and sparked with cinnamon and cardamom, the warm sugar syrup perfumed with rose water upon request.
Cross Culture has seen remarkable growth since its first outpost opened in 2005, and it's no wonder that this particular concept has seen so much success. Service is friendly and enthusiastic, the space itself leans on its natural architecture (brick walls, wood floors) and tasteful Indian art, and the food is approachable without pandering.
Cross Culture, then, is more than the sum of its very appealing parts, and represents exactly the sort of restaurant that should continue to both satisfy Indian-food devotees and convert new ones. Its continued expansion is a great thing for the region's most discerning food lovers—both carnivore and vegetarian alike.
Cross Culture Fine Indian Cuisine
62 W. State Street, Doylestown
CrossCultureIndianCuisine.net
215-489-9101
Brian Freedman is a food and wine writer based in Philadelphia.