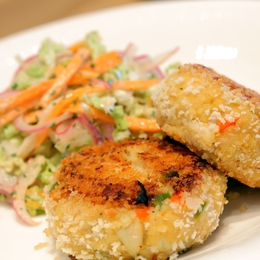 Avenue Kitchen
Incredibly fresh farm-to-table fare plays a starring role at this Villanova newcomer
Sometimes, when a new restaurant opens its doors, you want it to succeed because of the people involved in bringing it to life, or because of the ambitiousness of the menu, or simply because a certain area needs another good place to enjoy a meal worth recommending to a friend. Or, in the case of the recently opened Avenue Kitchen (789 E. Lancaster Ave., Villanova, 610-525-3950, avekitchen.com), sometimes it's all three.

Avenue Kitchen is the brainchild of Dana Farrell, co-owner of Harvest Seasonal Grill and Wine Bar, with locations in Glen Mills, North Wales and University City, and chef Greg Smith (Farrell's brother), who honed his craft under the likes of Jean-Marie Lacroix, Georges Perrier and Chris Scarduzio. The sophisticated yet comfortable space has an urban/industrial feel and features an open ceiling with lots of exposed white brick, as well as tabletops made of century-old recycled wood. This is a place that makes you want to spend time indoors, even on a beautiful late-summer night, whether it's for a full meal in the dining room, a charcuterie board and a glass of La Forge Pinot Noir at one of the high tops near the energetic bar area, or a craft cocktail or two with friends at the sleekly designed bar itself.

Although the décor and atmosphere combine to make this a sure winner, the real star here is the menu of farm-to-table cuisine, from the casual (pizza and sandwiches) to the exquisite (entrées such as short rib and jumbo lump crab cakes). Chef Smith has a gift, as he displayed with a recently enjoyed serving of mushroom risotto—rich, creamy and infused with Kennett Square mushrooms, topped gently with onion crisps. My dining companion said it best: "I love risotto, and this is some fabulous risotto." Likewise, the tricolored pizza was a well-executed treat, the blistered base providing the perfect palette for the lightly tangy goat cheese and Basquise peppers, the latter of which were cooked in sherry wine vinegar with a sprinkling of capers and saffron.

Nearly everything coming out of the kitchen more than pleased, from beginning (the garlicky and smoky hummus, supplied with just the right abundance of pita bread, for example, or the artisanal cheese board, starring the masterful combination of rich blue cheese, honey and blackberry coulis) to end (carrot cake, accompanied by candied walnuts, the subtly sweet drizzle of cream cheese icing and a pyramid of carrot shavings). With ingredients that are not only locally sourced but also exceedingly fresh, guests will taste the thoughtfulness that goes into each dish. If you want Chef Smith's favorite, try the achiote-marinated chicken sandwich, Italian sausage pizza or short rib entrée.

So, yes, guests will definitely want Avenue Kitchen to succeed. If it continues to recreate the same experience this reviewer enjoyed on a Tuesday evening in early August, there is very little chance that it will not.
Photography by Rob Hall