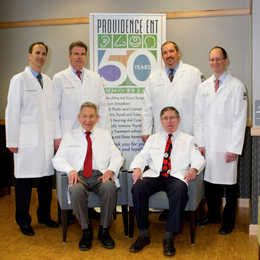 Breathing Easier
For 50 years and counting, the team of specialists at Providence ENT has been solving issues pertaining to the ear, nose and throat
If you are a chronic snorer, have terrible allergies or experience daily sinus headaches, you may feel as though you're alone in your suffering. Enduring these and other ear, nose and throat conditions can be debilitating, and can cause you to become frustrated at not being able to find the answers you need to feel better. The good news is you're not alone, and there are others out there like you. Even more importantly, the top-rated doctors at Providence ENT can provide you with the solutions to feel better.

By definition, one would expect an ENT practice to focus solely on ear, nose and throat conditions. Providence ENT, on the other hand, provides a wide array of services beyond the traditional ENT spectrum, including the assessment of conditions such as headache, allergy, hearing loss, snoring and sleep apnea. The practice also has a facial plastic/cosmetic surgeon on staff, focusing on additional patient concerns such as skin cancer and Moh's defect reconstruction, scar revision, torn earlobe repair and cosmetic facial sculpting."

"Providence ENT has allowed me to use all of my skills while working with partners who strive to give the highest-quality care to their patients," says Kenneth Briskin, M.D., FACS, who trained at UCLA. Dr. Briskin utilizes his surgical expertise to treat disease such as tumors of the thyroid gland or larynx. He also treats children with ear or tonsil issues. "We have the services to fully treat our patients and keep them close to home," he says.

This emphasis on patient-centered care has been a goal of Providence ENT since it first opened in 1963. What started more than 50 years ago as a practice with one doctor and one location has grown into a three-office practice featuring six doctors and one nurse practitioner, all of whom strive to "give patients the best individual treatment options for each specific medical problem," says John Feehery, M.D. This goal is achieved by continuously looking for new and improved ways to treat patients, he adds. "We're always trying to advance our patients' comfort and outcomes with surgery. We want to get our patients back to their daily routine quicker."

One of the more advanced, minimally invasive procedures offered by Providence ENT is a complete sinus surgery, which is performed in the office via balloon sinuplasty. Dr. Feehery, who studied at Jefferson Medical School, suggests that Providence ENT is among the less than 20 percent of ENT offices nationally that currently utilizes the balloon sinuplasty procedure. In addition to his work in endoscopic nasal surgery, Dr. Feehery focuses his practice on minimally invasive thyroid and parathyroid surgery, pediatric tube and tonsil surgery and hearing and balance evaluation. "The balloon sinuplasty allows us to open the patient's sinuses with less intervention," he explains. "It allows the patient quicker healing time, getting them back to work sooner, and with less discomfort."

The ability to perform this and other advanced procedures differentiates Providence ENT from other practices, according to Joel Perloff, M.D., a University of Pennsylvania School of Medicine alumnus. "Our access to new and innovative techniques, such as balloon sinuplasty and image-guided sinus surgery, has allowed us to stay at the cutting edge of technology as we provide care to our patients," says Dr. Perloff, whose special interests include microscopic laryngeal and voice surgery, minimally invasive thyroid surgery and pediatric head and neck surgery. "I think our practice has succeeded as long as it has because of our ability to partner with the hospitals and the community to provide the best service possible."

So agrees Steven Fisher, M.D., a graduate of Jefferson Medical College who has been with the practice 40 of its 50 years. "I'm amazed at the way the practice has progressed," says Dr. Fisher, a headache specialist. "The specialties that we've added give tremendous range in the nature of the practice. Our audiology department, for instance, focuses on the complex spectrum of hearing loss in addition to fitting our patients with the most sophisticated hearing devices."

Another of these new additions came with the creation of Providence Facial Plastic and Cosmetic Surgery. Mark Ginsburg, D.O., FAACS, who studied at the Philadelphia College of Osteopathic Medicine, has led this division since 2009. Patients coming from as far as New York benefit from Dr. Ginsburg's high level of specialized skills in a wide range of cosmetic and plastic surgical procedures such as rhinoplasty, facelift, eyelid lift and facial resurfacing, as well as nonsurgical procedures including Botox and facial fillers to help patients attain a more youthful appearance.

William Gartner, M.D., FACS, a graduate of the Temple University School of Medicine has been at the practice for nearly all of its 50 years. Dr. Gartner says he is impressed by how much the practice has grown over the years and how much it now has to offer. That's not to say he's surprised by the success—he says they've always focused on personalized, individualized attention to the patient, as well as being ahead of the game in terms of treatment options—but he never imagined Providence ENT would grow to offer so many specialties. "We have a number of divisions, including allergy headed by Susan Keeley, MSN, CRNP, that we never had in the early years." Also, allergy treatment has changed dramatically with the introduction of sublingual (by mouth, via drops) administration of immunotherapy—a welcome relief from allergy shots for little ones and senior patients alike.

Along with its breadth of services, Providence ENT treats patients of all ages. In most cases, new patients can be scheduled within 24 hours. The practice has extended evening hours at its Brinton Lake, Glen Mills and Riddle Hospital offices, which demonstrates their understanding and concern for patients' demanding schedules.

So, for the husband who snores, the child with a recurring sore throat, the grandmother with hearing loss or anyone in your family contending with a persistent ENT issue that seems to defy remedy, now is the time to consult with a physician from Providence ENT. With 50 years of experience, dedication and caring behind them, the practice stands ready, willing and more than able to provide the solution.

Providence ENT
Visit www.providenceent.com or call 610-874-5366 for more information on Providence ENT's three locations in Glen Mills, Media and Chester.