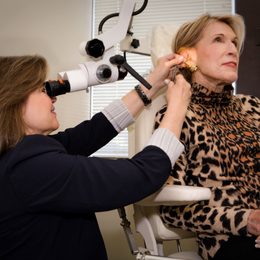 Sound Affects
Dr. Kathy Landau Goodman and her team at Main Line Audiology Consultants improve patients' hearing and, in the process, their overall quality of life
Kathy Landau Goodman, Au.D., of Main Line Audiology Consultants, learned the importance of communication at a young age.

"The reason I became an audiologist is because my father was born with profound sensorineural hearing loss," she says. "He was my inspiration because he never let his hearing loss interfere with anything he wanted to accomplish in life. I learned, first hand, strategies I can now share with my patients, and it gives me empathy for those who are having difficulty hearing."

Inspired by her father to help open up the world of sound to people with hearing difficulties, Dr. Landau Goodman earned a dual master's degree in audiology and speech-language pathology from Hahnemann Medical College, then a doctorate in audiology from Central Michigan University. In addition to these degrees, her credentials include board certification by the American Academy of Audiology and certification by the American Speech-Language-Hearing Association.

She served six years on the board of directors of the Academy of Doctors of Audiology. She was also co-founder of the Pennsylvania Academy of Audiology. In addition, she has served as chairperson of the National Audiology Awareness Campaign, a foundation formed by five national audiology organizations to educate the public at-large about hearing care, for the last 20 years.

Perhaps most impressively, Dr. Landau Goodman is a pioneer. When she started her career, Dr. Landau Goodman was one of the few audiologists in private practice in the country, and the only private practitioner in the Philadelphia suburbs. Now she is celebrating her 30th year in practice at Main Line Audiology Consultants.

"Our goal [at Main Line Audiology Consultants] is to give people the best hearing possible," she says. "We discuss communication strategies and work with individuals throughout the process to enhance their hearing and understanding of speech, whatever their degree of hearing loss and specific communication needs may be."

As these needs vary greatly, Dr. Landau Goodman's practice provides a gamut of services, from baseline hearing exams to complex fittings and fine-tuning of hearing devices.

One very special technology, which Dr. Landau Goodman has been utilizing for the past six years, is the Lyric hearing device. She notes, Main Line Audiology Consultants is one of the top five Lyric providers in the country—"actually, in the world at this point." Dr. Goodman has given lectures and trained audiologists nationally and internationally on proper fitting and programming of the Lyric hearing device.

The Lyric devices, all of which are made by hand, offer a number of life-changing benefits for patients. As the device is positioned within the ear canal, it is invisible to others and allows patients the freedom to wear the Lyric 24 hours a day, even when showering or sleeping. Of particular note, implantation of this device requires no sedation or surgery and can provide patients with better hearing for eight to 10 weeks at a time.

"The latest hearing devices today are digital and wireless, so hearing aids can communicate with each other and can communicate with an iPad, iPhone, computer—anything that's Bluetooth compatible," says the doctor, explaining that we can even program their hearing aids to pick up sound from their television or telephone and send directly to their hearing device. "We are the area's experts at programming and personalized fitting of hearing instruments. That's one thing that's different about our practice: We're constantly going for training on all the newest advancements so that we're up to speed on all the latest programming techniques. How well you hear with a particular device has everything to do with the person programming it."

To date, Main Line Audiology has helped more than 35,000 individuals hear more clearly, including Sally Richards, a businesswoman who credits Dr. Landau Goodman with her ability to not only continue with her job, but thrive there. Richards says, "I really think that it is due to Dr. Goodman's work with me that I still am actually able to work."

Richards continues, saying, "The thing, for me, that keeps me coming to Dr. Landau Goodman is that she's an artist and she listens. And that might seem like a funny thing to say about an audiologist—of course, don't they all listen?—but what I mean by that is that when I share what is going on and the difficulties that I'm having, what's working or what's not working, she listens acutely and translates it very rapidly into a specific customized solution."

When considering how dedicated Dr. Landau Goodman is to her work, such a high level of care is not surprising. "I love what I do and there's nothing I'd rather be doing," she says. "I feel blessed, because every day I get to improve people's lives by helping them hear better. And I have a wonderful team, and that's what's it's all about."

For more information on Main Line Audiology Consultants' office locations in Narberth, Jenkintown, Center City, Ridley Park and Audubon, visit mainlineaudiology.com or call 610-667-EARS (3277).