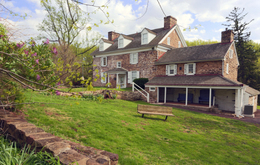 Welcome Home
Highlighting the Philadelphia area's best places to live, work and play
American writer Laura Ingalls Wilder was onto something when she said, "Home is the nicest word there is." For most of us, there is no greater feeling than returning from a long trip—even a long day at work—and pulling into the driveway. That's especially true for many of us living in the Philadelphia area.

From the city's most tightly knit neighborhoods to the river towns of Bucks County to the palatial estates of the Main Line, each point on a map of the Philadelphia area has its own distinct personality, its own reasons for people wanting to build a life there. With this in mind, we once again set to our annual Top Towns feature, in which we explore the region's most loved townships, boroughs and other places to live, work and play.

Using a statistical method to review data compiled and researched over the course of several weeks, we assigned weights to each criterion—median home costs, property tax rates, median household incomes, high school performance (SAT scores and the percentage of college-bound seniors) and crime risk—to determine the characteristics of individual towns in Bucks, Chester, Delaware and Montgomery counties. We used this create an index of "best valued" communities based on housing affordability, low taxes relative to household incomes and access to fine public schools. Of course, we also considered "intangibles," such as the proximity to quality health care and access to recreation, shopping destinations and entertainment.

These results, though unbiased, should be used purely as a guide, because the best way to understand a town's personality is to live there. Read on to see where your hometown ranks.

Overall Rankings: The Top 25
Audubon
Chesterbrook
Thorndale
West Goshen Township
Pottsgrove
Malvern
Trappe
Phoenixville
Downingtown
Paoli
Exton
Kennett Square
Dresher
North Wales
Eagleville
Swarthmore
Montgomeryville
Harleysville
Collegeville
Churchville
Abington
West Conshohocken
Glenside
Trooper
Richboro


Bucks County
Churchville
Idyllic Churchville has a reputation for being among the region's quaintest and most unspoiled places to call home. The homes are gorgeous, and the town itself is central to just about anything one might need to enjoy a high quality of life. Among the most tranquil places to spend time here is the Churchville Nature Center, which boasts miles of serene trails perfect for a walk in the woods, a wildflower garden and a natural children's area. It's also within a stone's throw of Tyler State Park. Northampton Township Municipal Park on Churchville's outskirts spans more than 100 acres of athletic fields, picnic pavilions and playgrounds, as well as an inline skating rink for pickup hockey games. Growing up in Churchville practically ensures students of a good education, considering Council Rock High School's famously competitive academic and athletic programs. More than 95 percent of "Rock" seniors head off to the nation's best colleges upon commencement. The neighboring towns of Richboro and Newtown, not to mention fellow Bucks County hot spots such as Doylestown and New Hope, are remarkably close. When locals seek more excitement than the suburbs can offer, Philadelphia's cultural and entertainment riches can be reached within a 45-minute car ride.

Churchville by the Numbers
Overall Ranking: 21st
Median Home Cost: $339,500
Average School District SAT Score: 1637
Population: 4,128
Commute to Center City: 39 minutes

Bucks County Top 10
Churchville
Richboro
New Britain
Warrington
Chalfont
Yardley
Doylestown
Warminster
Perkasie
Ottsville

Chester County
Chesterbrook
Chesterbrook has made its way into in the top three of our Top Towns listings for the past three years—and for very good reason. Straddling the line dividing Montgomery and Chester counties, communal Chesterbrook offers small-town charm and affordable housing, mixed with accessibility to culture, history and all the modern conveniences of suburban living. Nestled in the heart of the Main Line, Chesterbrook is within close proximity to some of the region's best restaurants, as well as other cultural, historic and entertainment attractions, such as Valley Forge National Historical Park, King of Prussia Mall and Valley Forge Casino Resort. Just down the road from Chesterbrook's quaint shopping district is the Duportail House, a historic stone farmhouse that now available for special events and educational field trips. Also nearby is Wilson Farm Park, which is a gathering spot for athletic pursuits, outdoor concerts and other community events. In addition to ball fields and courts for soccer, baseball, volleyball, lacrosse, etc., the park boasts miles of walking trails, as well as playgrounds and open grassy areas for enjoying activities ranging from a casual game of catch to lazing and absorbing the rays of the sun. Students lucky enough to get their schooling at Tredyffrin-Easttown School District are well prepared for whatever happens next; Tredyffrin-Easttown students generate some of the best SAT scores in the region, and nearly 100 percent of graduating seniors matriculate to college.

Chesterbrook by the Numbers
Overall Ranking: 2nd
Median Home Cost: $255,800
Average School District SAT Score: 1809
Population: 4,589
Commute to Center City: 31 minutes

Chester County Top 10
Chesterbrook
Thorndale
West Goshen Township
Malvern
Phoenixville
Downingtown
Paoli
Exton
Kennett Square
Devon-Berwyn


Delaware County
Swarthmore
Although it's anchored by Swarthmore College, Swarthmore is anything but a typical college town. Its tree-lined residential community boasts an abundance of distinctive homes and quiet neighborhoods, and the Scott Arboretum at Swarthmore College has grown into one of the region's most beautiful places to bask in nature's splendor. At the center of the borough is a corps of independent businesses, including jewelry stores, gift shops and restaurants, thanks in part to Swarthmore Town Center Inc., a nonprofit whose purpose is to stimulate economic development in Swarthmore's town center, stage community events and otherwise enhance the business district. It's also a great place to grow up, as evidenced by next month's celebration of music by and for children, the Swarthmore Children's Music Festival and Kids' Sidewalk Sale. Although Swarthmore seems to offer anything a resident might want out of life, Swarthmore Station is right in the heart of downtown Swarthmore, meaning a route to just about anywhere is a quick train ride away.

Swarthmore by the Numbers
Overall Ranking: 16th
Median Home Cost: $230,100
Average School District SAT score: 1709
Population: 6,194
Commute to Center City: 28 minutes

Delaware County Top 10
Swarthmore
Chester Heights
Boothwyn
Wallingford
Rutledge
Folsom
Chadds Ford
Springfield
Havertown
Drexel Hill
Montgomery County
Audubon
The name "Audubon" has long been associated with birds, so it's no surprise that this Montgomery County town is soaring above its neighbors. Housing, overall, is affordable and attractive, and the Methacton School District is responsible for turning out students who are well prepared for life at the university level. Considering the town's history and most famous native, the late artist and naturalist John James Audubon, it's no surprise that the wonders of the outdoors are enjoyed to the hilt here. Audubon offers easy access to the Perkiomen Creek, as well as the Perkiomen Trail and the Schuylkill River Trail, both of which are ideal for use by joggers, bikers, equestrians and other fitness enthusiasts. Audubon is also home to Mill Grove, which was built in 1762 and is now on the National Register of Historic Places. It was once the home of the man to which this town owes its name, its fields and woodlands largely credited for first inspiring Audubon to create the paintings and drawings of birds for which he became famous. Audubon's former home now serves as an educational center of the National Audubon Society and its grounds are a sanctuary for birds and other forms of wildlife. What's more, opportunities to indulge in culture, history and entertainment abound, as, just like Chesterbrook, it is within a stone's throw of King of Prussia Mall, Valley Forge National Historical Park and Valley Forge Casino Resort.

Audubon by the Numbers
Overall Ranking: 1st
Median Home Cost: $167,500
Average School District SAT score: 1709
Population: 8,433
Commute to Center City: 33 minutes

Montgomery County Top 10
Audubon
Pottsgrove
Trappe
Dresher
North Wales
Eagleville
Montgomeryville
Harleysville
Collegeville
Abington


True Value
A home's value is tough to define by simple ones and zeros. Based on median home cost, however, the following 20 towns have the most valuable real estate.

Gladwyne $805,300
Upper Makefield $656,600
Radnor/Wayne $540,200
Haverford $525,500
Lower Merion Township $479,500
Buckingham $449,200
Rose Valley $443,300
Newtown $437,000
Edgmont $422,300
Fort Washington $417,500
Bryn Mawr $411,300
Devon-Berwyn $410,200
Bryn Athyn/Huntingdon Valley $406,200
Spring House $384,900
Blue Bell $371,000
Doylestown $366,000
Maple Glen $364,600
Richboro $362,600
Churchville $361,500
Newtown Square $357,100


Neighborhood Spotlight: Chestnut Hill
Sitting right on the dividing line between city and suburbs, Chestnut Hill has become one of the most cherished neighborhoods in Philadelphia. The walkability and diversity of its central artery (Germantown Avenue), combined with its proximity to attractions such as the Woodmere Museum of Art, Morris Arboretum of the University of Pennsylvania and the 1,800-acre Wissahickon Valley Park make it extremely livable, as well as a popular destination for those from surrounding suburbs. Chestnut Hill's abundance of restaurants and shops (many of which are dog friendly), exceptional private schools and well-organized community events—free summer concerts at Pastorius Park, for example, with this year's lineup including such notable acts as Hezekiah Jones and Mutlu—offer the perfect combination of city living and suburban convenience.
Photograph by Rob Hall