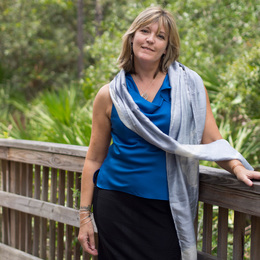 No Ordinary Joy
Through the nonprofit she cofounded, Made By Survivors, UPenn grad Sarah Symons helps victims of human trafficking attain a better life
Sarah Symons' voice has always been a powerful tool.

First, she used it to launch a career in the music business, releasing albums and touring with a bandmate under the name The Syrens in the mid-1990s. This talent for song led Symons, an alumna of the University of Pennsylvania, to embark on a career as a composer. In this capacity, she created music for television and film, eventually, serendipitously, composing a song actress Emmy Rossum performed in the film "Nola."

Symons' song proved a tool of fate in an unexpected way. "Nola" screened at the 2002 Tribeca Film Festival in Lower Manhattan, an event Symons had the good fortune to attend. Yet, it was another film showing at the festival that would inspire Symons to use her voice in a new way—speaking out as an advocate.

The film that changed Symons life is a documentary titled "The Day My God Died," which relays stories of lives blighted by the sex-slave trade in India and Nepal.

"I was very moved by the movie, the survivors," she says. "I just really wanted to help."

Shortly after returning from the festival, Symons began work as a volunteer, helping survivors of human trafficking, the illegal trade in which human beings are recruited, transported and/or utilized for purposes of sex, involuntary servitude, debt bondage or slavery. Her newfound commitment to helping the survivors of human trafficking took her to Nepal, where she learned of a pressing need for employment among members of this oft-ostracized group.

"When I went over to Nepal the first time, different people in shelter homes said, 'It's just so hard to get survivors employment after they're rescued because there are so many stigmas,'" she recalls. "I really wanted to help [the survivors] earn a higher income and change their lives more completely."

This is when Symons' most profound inspiration struck: She would start an organization for this populace, one focused on employment and education and with the mission of uplifting survivors so that they could accrue the tools and life skills needed to move forward into a future offering more options, less poverty and, ultimately, greater independence and self-sufficiency than their past lives could have ever afforded them.

This epiphany led Symons to leap with daring gusto. She and her husband, former banker John Berger, made the decision to use their life savings to cofound such a nonprofit, which they named Made By Survivors (MBS), in 2005. They founded this "social-purpose business," wholly owned by The Emancipation Network (TEN) Charities, to address the plague of human trafficking as it affects individuals in India, Nepal, Cambodia and Thailand—four countries with particularly active criminal elements operating in these exploitative dealings.

MBS helps these survivors, most of whom are female, pursue employment in a field of their choosing. Symons noticed during her first visit to Nepal that many of the survivors showed dexterity with crafts. She thought cultivating and enhancing these natural talents for craftsmanship would be an ideal first step on the road to a better life for rescued individuals. Following this instinct, Symons and the organization began training girls in a variety of disciplines and programs, the most successful of which turned out to be jewelry making. This pursuit seemed ideal, too, as many trafficked individuals never had a chance to learn to read or write and, as a result, have few job options available to them.

"It's a skill they can keep working on their whole life," says Symons, noting this particular craft is just one of many with which the organization offers guidance. "Our goal is for them to have choices."

Indeed, MBS has succeeded in accomplishing this goal. Over the last few years, MBS has helped roughly 1,000 people by providing assets such as life skills, employment and housing to survivors and their children. MBS also provides an education to approximately 250 children each year.

"We work with [the survivor] in the place where they're rescued, then we try to help them get the life skills and tools it takes to return home. About one third, or maybe half, can return home, but many can never return home or it's not safe for them," says Symons, explaining often it is a relative or neighbor that sold them into servitude in the first place.

"For those [individuals] that can return home, it's an amazing, incredible moment, but it's also very challenging," she continues. "If they do return home they have a very high salary, know about human rights, have an education; this will protect them."

Symons notes that all MBS proceeds go to the nonprofit activities of TEN Charities. Projects undertaken by MBS include school sponsorship, shelter construction and other nonbusiness activities, while sales of jewelry and crafts, as well as the associated training programs, are conducted within the MBS program.

"It has been absolutely fantastic," Symons says of starting MBS. "There have been a good number of challenges. … There are certainly some stressful moments. It's challenging financially. But just the joy we see in survivors' lives when they start to recover, have positive futures, [makes it] completely worth it."

The women and children that come to be a part of MBS are often rescued through clandestine operations and raids in the countries that the victims have been trafficked to—no small feat in countries wherein government corruption and gang activity are prevalent.

"Sometimes women are not necessarily kept under lock and key, but they are extremely impoverished and were probably trafficked at a young age," she says. "Sometimes they are older and can't see other futures for themselves."

This is why there is great importance, Symons explains, in "reaching out to them and helping them understand there is a place they can be accepted and be able to support their children."

The future of MBS itself looks promising, just like the futures of the people the nonprofit has helped.

"We'd love to be employing thousands of survivors, grow the business side … so we have more jobs for more survivors, more training, more opportunities for more people," says Symons. "The women who are already in the program, I would really like to see them develop professionally."

As one might expect, Symons has collected and experienced a great number of stories in this line of work. She has compiled these experiences into a memoir, "This is No Ordinary Joy: How the Courage of Survivors Transformed My Life," which includes survivors' tales, as well as stories from her own life.

Symons, who currently resides in St. Augustine, Fla., with her husband and two children, says the group is looking to branch out to Bangladesh next year.

Meanwhile, a shelter for 125 girls in Jalpaiguri, India, is being built as part of the Free Forever Campaign, a project of MBS and the Women's Interlink Foundation. The project will provide permanent housing for survivors, temporary housing for those who can later return home, informal education, vocational training and employment. It broke ground in the autumn of 2013 and is set to be completed sometime this year.