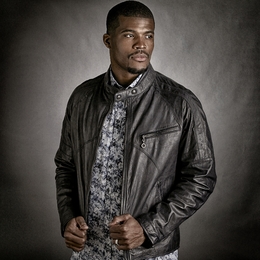 Man in Motion
Although "winning it all" is job No. 1, fashion-minded Eagle Brad Smith has his sights set on another goal
One might say that change and adaptability have become standard operating procedure for NFLer Brad Smith. After a late-season transaction ahead of last year's playoff push, the former New York Jet and Buffalo Bill became a Philadelphia Eagle. His successes on National Football League turf aside, this versatile wide receiver appears to be making forward progress by moonlighting in a second career—one less about running routes and more about the walking the runway.

Last year Smith dipped his toes into the waters of the fashion world. Although he does not have a line of his own—yet—he's already helping other talented people find their way. After completing a Fashion Week internship with Men's Health in 2013, Smith devoted himself to helping emerging designers by partnering with the magazine to create a contest called Design for Brad Smith. He announced the contest's winner, Kassie Haji from Columbus, Ohio, in early February during Mercedes-Benz Fashion Week in New York.

"As part of [Haji] winning the contest, she has made a lot of great connections," says Smith, who lives in Deptford, N.J. "She's very creative; her designs are awesome—not 'normal' but not too over the top. Even though she just graduated from Columbus College of Art and Design, she has a vision for an entire line of clothes; she's the whole package."

Helping others find their footing is nothing new to Smith. He and his wife, Rosalynn, together run Brad Smith's True Foundation (truefoundation16.org) to uplift underprivileged children in his hometown of Youngstown, Ohio, and elsewhere. True Foundation promotes education, discipline and organized activity for boys and girls in need through football camps, workshops and community activities.

Smith's interest in fashion flourished once he got to the NFL, when dressing "to the nines" on game days became essential. And although the fashion world has caught his eye, Smith assures Eagles fans that his attention has not wandered away from the gridiron: "I always hope to win it all. It's the only point of playing for me. It's my one and only goal."

Q&A
How did your arrangement with Men's Health come about?
I got in touch with them and let them know my interests, and they were very accommodating. First it was me going into the office and helping them out with office things, helping them put stuff together, helping at photo shoots. It was very behind the scenes, talking to designers, talking to the buyers at Nordstrom and Macy's. I got to see how the whole process works, from putting together a magazine to seeing the way people buy [designs]. It's been awesome, and most people don't get that opportunity.

Tell me about Design for Brad Smith.
I've been involved in every aspect, from the design of the website to picking the winner, to helping the winner get situated and helping her grow her brand. Through the foundation that my wife and I run, we help people and find ways to give back, and I've always had an interest in fashion, so it felt like a natural fit to put the two together. I don't have a line yet. This will be completely [Haji's]. Hopefully we can continue to get out there to help people … and people will see what she can do. At the same time I can learn myself, so it's great for everybody.

Right now I'm taking it all in, learning and figuring it all out. With fashion and design and art, you get to meet a lot of people, and that networking is a major part of what I'm doing now. … There are so many different aspects, and I'm looking forward to keeping things going in the direction where they have been going.

What do you like so much about fashion?
It's the art of it. My interest is in the design and the creativity, where people can come up with interesting stuff and set a new style. The art part of it carries over into different things—whether it's a design or a watch or clothes or a car. Those are types of things I'm interested in.

How does Philly's fashion scene compared to the other cities in which you've played?
I haven't really had an opportunity to see it. It's my first the season, and when I got here it was already late in the season. With the weather being as crazy as it's been [throughout the winter], it's been tough to get out and see as much as I would like. From what I've seen, everybody has a functional style—trying to look good while staying warm.

Former NHL player Sean Avery was very much into fashion and modeling, and he caught some good-natured flak from his teammates because of it. Do you get the same?
Not at all. Most guys, they want to know how they can look good, how I was able to get the internship—things like that. In Philadelphia, you can look nice and there's not a stigma of fashion as not being tough or not being manly. It's just not true. A man has to take care of himself and his family, and that extends to the way he looks. People respect you when you look good.

Photograph by Gary Mattie

On Brad: leather jacket by Denim & Leathers Andrew Marc ($595); floral shirt by Sand ($198); and pants by Hugo Boss ($155), all available at Saks Fifth Avenue in Bala Cynwyd.