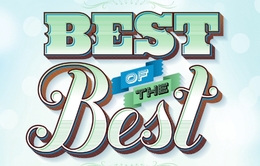 Best of the Best
Dining, libations, boutiques, entertainment—perfect things we love in the Philadelphia area
People born in and around Philadelphia tend to stay here for a lifetime. Or, if they do move away, many wind up eventually returning. For us, it is the center of the universe.
We get it. There are almost too many reasons to stay put—the parks and open spaces to quiet your mind and calm your soul, the cultural institutions, the proximity to just about anything one might possibly need in a lifetime, etc. Then, of course, there are the creature comforts, the ways we spend our time when we are not at the office, out running errands or otherwise fulfilling the demands of life—namely, the can't-miss restaurants and watering holes; the best shops at which to engage in retail therapy; the most soothing salons and spas at which to help you look and feel your best.
The 2014 Best of the Best list was compiled with help from our readers, who cast votes for their favorites through our websites, SuburbanLifeMagazine.com and PhiladelphiaLifeMag.com. Of course, we also chose some of our top picks to eat, shop, play and relax, distilled from research throughout Philadelphia and its suburbs (Bucks, Chester, Delaware and Montgomery counties, as well as across the river in New Jersey).
We certainly didn't mind finding out for ourselves. And we know you won't either.

FOOD & DRINK
Alfresco Dining
Coyote Crossing
This Conshohocken hotspot offers the best of surprises, a beautiful restaurant that open into an expansive, shaded patio complete with greenery and a working fountain. Whether for a lunchtime siesta with friends or an intimate dinner for two, Coyote Crossing offers an oasis with an excellent menu of authentic Mexican cuisine (and a captivating margarita list) well worth exploring. 800 Spring Mill Ave., Conshohocken, 610-825-3000, coyotecrossing.com.

Appetizer for Herbivores
Vault Brewing Co.
It doesn't matter why you go to Vault—the live jazz, the killer draught list, etc.—but once you're in the door, be sure to order this vegetarian-friendly starter: florets of cauliflower, baked in buttermilk, topped with housemade hot sauce and crumbled bleu cheese, served with sour cream infused with garlic and chives. It's proof that the sum truly is greater than the parts. 10 S. Main Street, Yardley, 267-573-4291, vaultbrewing.com.

Bar-based Entertainment
Barcade
Craft beers and old-school arcade games? Yes, please. Bring your thirst for local brews and a stack of quarters for 25-cent doses of "Rampage," "Spy Hunter," "Ms. Pac-Man" and other video games from your youth. 1114 Frankford Ave., Philadelphia, 215-634-4400, barcadephiladelphia.com.

"BLT"
Memphis Taproom
Nothing's better than a crisp cut of bacon, right? With the smoked coconut club at this Kensington tavern, the smoked coconut "meat" tries and, by all accounts, succeeds as a stand-in for its porcine counterpart in this creative interpretation of a traditional BLT. Guy Fieri, the heavily tattooed host of the Food Network's "Diners, Drive-Ins & Dives," certainly didn't complain when he tried it. 2331 E. Cumberland Street, Philadelphia, 215-425-4460, memphistaproom.com.

Brewery and Café
Tired Hands Brewing Co.
Looking for a place that serves small-batch farmhouse-style brews reminiscent of those from France and Belgium, paired with a compact menu of artisan breads, cheeses and pickles, in a cool, kitschy atmosphere with lots of exposed brick and rich wood? If you're nodding yes, then you'll find a home at this Ardmore brewery and café. The care that goes into crafting each brew, each loaf of bread and each serving of charcuterie is more than apparent. 16 Ardmore Ave., Ardmore, 610-896-7621, tiredhands.com.

Caterer
Eatible Delights
Need an event catered—anything from an intimate two-person Valentine's Day to a 200-person family reunion or a 1,000-person corporate event? Turn to David Simms and his Philadelphia-based company, which specializes in classic American cuisine, from slow-roasted beef brisket and prime rib to crab cakes and Southern barbecue. 267-360-0330, eatibledelights.com.

Cheese and Charcuterie
Amada
This Jose Garces gem does so much right that it's almost impossible to single out just one thing … but that won't stop us from trying. Start any meal with a mixto of cured meats and Spanish cheeses served with thoughtful—and flavorful—accompaniments. From the Pamplona chorizo to the garrotxa, a cheese made from Catalonian goat's milk, Amada delivers an experience worth savoring. 217 Chestnut Street, Philadelphia, 215-625-2450, philadelphia.amadarestaurant.com.

Cheesesteak
Jim's Steaks
We live in the Land of the Cheesesteak, ruled by the likes of Pat's, Geno's, Steve's and Tony Luke's. Our money is on Jim's, which has mastered the subtle formula of skirt steak, crusty bread, "wiz" and fried onions. Check out the walls of its South Street location and you'll see the mug shots of folks who have swallowed as many as 10 steaks in one sitting. We understand. Visit jimssteaks.com for details on locations in Philadelphia and Springfield.

Cozy Tavern
Plumsteadville Inn
Known for its "Burgers, Beer, Lobster and Cheer," the place known locally as "the Plum" offers one of the most comfortable taverns around, complete with plenty of flat-screen TVs, richly wooded bar and a gorgeous stone fireplace. It's the kind of place you where wouldn't mind earning the label "regular." 5902 Easton Road, Pipersville, 215-766-7500, plumsteadvilleinn.com.

Cuisine for the Health Conscious
Ron's Original Grille
Ron Inverso opened his eponymous restaurant in the early 1980s, with mission of providing high-quality, healthful food that doesn't sacrifice flavor. His business plan has served him well for more than 30 years. In crafting dishes, he strives to use healthful ingredients such as all-organic produce and eggs, as well as hormone- and antibiotic-free meats. Also, the restaurant itself is festive and ornately designed, with an elegant bar area that makes you want to linger. 74 Uwchlan Ave., Exton, 610-594-9900, ronsoriginal.com.

Doughnuts
Federal Donuts
Now with five locations, including a kiosk at Citizens Bank Park, Federal Donuts has become Philadelphia's shrine to the goodness of fried dough (and fried chicken). They're all good, though we prefer the deliciously simple chocolate sea salt variety. What do you expect when someone as skilled as Michael Solomonov, the chef behind Zahav and other beloved Philly restaurants, has his name attached to it? federaldonuts.com.

Dining Entertainment
Bowman's Tavern
Every weeknight, Bowman's offers live jazz and other entertainment from some of the area's most gifted musicians. Having benefited from a recent remodel, Bowman's provides an ideal setting for enjoying well-crafted menu items made with locally sourced ingredients, including produce harvested from the onsite vegetable garden. 1600 River Road, New Hope, 215-862-2972, bowmanstavernrestaurant.com.

Cocktails
The Franklin Mortgage & Investment Co.
It's dark. It's cool. It's subterranean. Franklin Mortgage is an entity unto itself, purveying some of the most inventive—and inventively named—cocktails in the city. It's clear the mixologists and servers on the payroll here love what they do, doling out drinks ranging in complexity from the "Easygoing" to the "Rebellious" to "She Brought Me Gasoline." Our favorites: "The Space Between Us" and "A Walking Study in Demonology." 112 S. 18th Street, Philadelphia, 267-467-3277, thefranklinbar.com.

Ethnic Cuisine
El Tule and Quinoa
Lambertville, N.J., and Doylestown
The region boasts more than its share of excellent cuisine from faraway lands—India, Israel, Korea, etc.—but none is quite like that of Peru. Both El Tule, a BYOB right across the river from New Hope, and its sister restaurant Quinoa, not far from Doylestown's main drag, offer inventive dishes from this coastal South American country. Our suggestion: Start with the Peruvian sampler. 40 N. Main Street, Lambertville, N.J., 609-773-0007, eltulerestaurant.com | 762 N. Easton Road, Doylestown, 215-348-2826, quinoarestaurantbyo.com.

Fish Preparation
Ristorante San Marco is an Ambler institution, renowned for its pasta dishes and succulent seafood. Although daily specials always offer a few surprises, you can't go wrong with the whole Dover sole. It's deboned tableside and simply dressed with olive oil, capers and lemon juice to let the flavor of the fish rise to the top. 504 Bethlehem Pike, Ambler, 215-654-5000, sanmarcopa.com.

Gourmet Cupcakes
Gina's Amazing Gourmet Cupcakes
Nothing beats a good cupcake, and for our money no one does it better than Gina Costa. These aptly named, seductively sweet gems are merchandised out of Costa Deli in Ambler. She offers something to suit any palate, from Boston cream to banana, cherry almond to lemon chiffon, and each one is an artful little treasure, just begging to be unearthed. 901 E. Butler Pike, Ambler, ginasamazingcupcakes.com.

Happy Hour
L'Angolo Blue
The bar here is a beauty, and weekdays from 5 p.m. to 7 p.m., it becomes even livelier, with generous specials on wine, beer and well drinks. In addition, patrons can enjoy complementary Italian appetizers stationed nearby, as well as live blues and other entertainment. The barkeeps are friendly and interesting, as are the regulars, meaning you'll want to become one, too. 602 Skippack Pike, Blue Bell, 215-641-6789, angoloblue.com.

Happy Hour Appetizer
Boot & Saddle
The "octopus on a stick" gets points for its name alone, but its texture and flavor are what define it. Skewered with a sliced pickle and a cut of homemade bacon, made better by the accompanying paprika-spiked aioli, this tender little app is one of the most satisfying we've had all year. It's perfect when paired with something from Boot & Saddle's excellent draught list. 1131 S. Broad Street, Philadelphia, 267-639-4528, bootandsaddlephilly.com.

Hearty Breakfast
Roots Café
Based on its look and feel, you might think Roots belongs in a place like Northern Liberties or Brooklyn. The homey space, with its wood tones and unselfconscious casualness, sets the tone for the type of food you'll find here: a menu rooted in carefully sourced, impeccably pedigreed produce, eggs, meat and other ingredients from Chester and Lancaster counties. An ever-changing menu means you might try the duck leg hash one day, bread pudding French toast with crème fraiche the next. 133 E. Gay Street, West Chester, 610-455-0100, rootscafewc.com.

Hoagies
Silvio's Deli & Bakery
From the outside (and even the inside), Silvio's doesn't look like anything special. But there's a good reason the smallish parking lot is always full. Once you unfurl the butcher paper and take a bite of whichever hoagie you've ordered, you realize just how special this Hatboro institution is. Customers swear by the tuna hoagie in particular. 100 N. York Road, Hatboro, 215-674-8843.

Ice Cream
Franklin Fountain
You'll be smiling ear to ear at this Old City landmark, run by the Berley brothers. There's no greater joy than sitting down to a serving of Franklin Fountain's vanilla bean ice cream on a hot summer day. When you're done, be sure to take a walk … straight to the Berleys' old-time candy store, Shane Confectionery, which is right next door. 116 Market Street, Philadelphia, 215-627-1899, franklinfountain.com.

Italian Pastries
Sam's Italian Market & Bakery
Sam's has been baking its own bread since the 1980s, and its own pastries and cakes since 2006. Specialties include cannoli, Italian rum cake, cream puffs and cupcakes, as well as the shell-shaped sfogliatelle, all lovingly crafted by Sam's resident pastry chef. Also, although it's not a pastry, Sam's tomato pie is tough to beat. 3504 W. Moreland Road, Willow Grove, 215-657-3666, samsitalianmarket.net.

Italian Specialties
Jarrettown Hotel
Wildly fresh seafood, wonderfully flavorful pasta, excellent risotto, perfectly cooked Margherita pizza, some of the best appetizers in the region—the Jarrettown has it all. Whether you're in the main dining room or in the bar area, this esteemed restaurant excels at delivering Italian cuisine you're sure to remember. Our advice: If the weather is cooperating, sit outside on the well-covered patio … and always start with the bruschetta. 1425 Limekiln Pike, Dresher, 215-654-6880, jarrettownrestaurant.com.

Margherita Pizza
Osteria
Philadelphia food personality Marc Summers swears by the Margherita pie at this Marc Vetri standout. We get it. A simple preparation of tomato, mozzarella and fresh basil, this pie proves that the combination of pure ingredients and flawless technique can yield something truly remarkable. 640 N. Broad Street, Philadelphia, 215-763-0920, osteriaphilly.com.

Meatless Cheesesteak
Govinda's Gourmet Vegetarian
Being a vegetarian in Philly means going without the city's signature food, right? Wrong. Govinda's serves up some excellent meatless options, using "meats" such as seitan and tofu as a stand-in for the real thing. This includes a fabulous "chicken" cheesesteak. To many carnivores' surprise, Govinda's proves that vegetarians don't have to suffer. 1400 South Street, Philadelphia, 215-985-9303.

Milkshake
Costa Deli
This family-run luncheonette is a throwback to the days of soda jerks and malteds, so it only makes sense that it serves up one of the region's best milkshakes. Whether you order the so-called Best Milkshake in Town or the extra-thick version, the recipe begins with hand-dipped Breyers ice cream and it only gets better from there. 901 E. Butler Pike, Ambler, 215-646-6173, costadeli.com.

Brooklyn-style Pizza
Bacco Bistro
Made with only with Italian plum tomatoes, virgin olive oil and other fine imported ingredients, the Old World "Original" and Brooklyn-style pizzas bake to a satisfying crisp in this Doylestown BYOB's coal-fired oven. It's more than rewarding on its own, but you can amp up the flavor by adding hot peppers, meatballs or any of the more than 20 fresh toppings available. 478 N. Main Street, Doylestown, 215-348-9882, baccobacco.com.

Outdoor Deck
Sunset Grille at The Desmond
From June through September in Malvern, you will discover one of the most gorgeous alfresco-dining settings on the grounds of a truly one-of-a-kind hotel, The Desmond. Whether you crave a whole Maine lobster or an order of pulled-pork nachos, the hotel's Sunset Grille serves it up by way of a very attentive wait staff. The joy of being outside is entertaining enough, but the restaurant also offers live entertainment on most evenings. One Liberty Blvd., Malvern, 610-296-9800, desmondgv.com.

Pasta Dishes
Piccolo Trattoria
Few things are more satisfying than freshly cooked pasta, and it doesn't get much better than Piccolo Trattoria. We vote for the pasta Arrabbiata or the fusilli Faraj, the latter starring a medley of porcini, portobello, oyster and shiitake mushrooms in a mascarpone cream sauce spiked with truffle oil and reggiano parmesan cheese. Visit piccolotrattoria.com for details on locations in Newtown and Pennington, N.J.

Pizza by the Slice
Jules Thin Crust
OK, so technically Jules' pizza comes in rectangles rather than pie-shaped slices, but we're not here to quibble. Jules manufactures some of the most unique pies around, such as the one with fig jam, gorgonzola, prosciutto, rosemary, arugula and mozzarella, or another with chili-lime black bean spread, mozzarella, sweet corn, organic tomatoes, red onions, scallions, cilantro and spicy sour cream. Visit julesthincrust.com for more on locations in Doylestown, Jenkintown and Newtown.

Restaurant Remodel
Blue Bell Inn
Having closed its doors for dramatic renovations in 2013, this historic restaurant reopened earlier this year—and locals couldn't be happier. The central dining room is breathtaking, with exposed rock restored from the building's 18th century construction, antique glass and other architectural changes. The food's pretty darned good, too. 601 Skippack Pike, Blue Bell, 215-646-2010, bluebellinn.com.

Specialty Pizza
Nomad Pizza Co.
Our money is on the "Arugula," a Margherita pizza made with imported Buffalo mozzarella, topped—hence the name—leaves of peppery arugula. It's fresh, light and intensely flavorful. You might be tempted to share, but do yourself a favor and fight the temptation. 611 S. 7th Street, Philadelphia, 215-238-0900, nomadpizzaco.com.

Sports Bar
XFINITY Live!
When there's a Flyers, Eagles, Phillies or Sixers game in town—or even when they're on the road—there's no livelier place to be than at XFINITY Live!, in the heart of the Sports Complex: legions of fans enjoying multiple oversized high-def TVs, plenty of flowing taps, even a mechanical bull. Clearly, this place was built for Philly sports fans, whether before, during or after the game. 1100 Pattison Ave., Philadelphia, xfinitylive.com.

Suburban Biergarten
Otto's Brauhaus
This beacon of Bavarian culture offers a serious biergarten. Although it's a stone's throw from the heavily trafficked artery of Route 611, you wouldn't know it. The atmosphere is tranquil and, thanks to regular appearances from entertainers such as the Philadelphia German Brass Band, quite festive. With a draught of Paulaner or mug of Warsteiner in hand, Otto's is a blast right up through Oktoberfest. 233 Easton Road, Horsham, 215-675-1864, ottosbrauhauspa.com.

Summertime Indulgence
Dilly's Corner
If you live in eastern Bucks County or travel the winding stretch of River Road with any regularity, you know summer is on the way when Dilly's opens its doors. This roadside destination serves up all the staples of summer—burgers, hot dogs and ice cream, not to mention some of the best fries you'll ever have—in an atmosphere that reminds us of simpler times. 2998 River Road, New Hope, 215-862-5333.

Sunday Brunch
Lambertville Station Restaurant and Inn
Brunch in the Riverside Ballroom at Lambertville Station is nothing short of an event. You'll find everything from made-to-order eggs Benedict and a roast-beef carving station to Belgian waffles and house-smoked Atlantic salmon—and, of course, assorted pastries, muffins, bagels, salads, fresh fruit, omelets, entrées, etc. So next time you're in or near Lambertville on a Sunday, you know what to do. 11 Bridge Street, Lambertville, N.J., 609-397-8300, lambertvillestation.com.

Wood-burning Style Pizza
Café Alessio
The Brooklyn Pie at this Doylestown institution is topped with sauce distilled from plum tomatoes, as well as fresh mozzarella and sprigs of basil. Although quite awesome as is, we like ours with the additions of roasted garlic and artichoke hearts. 24 N. Main Street, Doylestown, 215-340-1101, cafealessiodoylestown.com.

Urban Biergarten
Frankford Hall
Frankford Hall's open-air courtyard is the place to be, whether it's mid-summer or the throes of January, when heat lamps and fire pits eliminate the chill in the air. Filled with communal tables perfect for socializing, imbibing and losing hours playing Jenga, the biergarten of this Stephen Starr restaurant almost makes you forget you're in the middle of Fishtown. An exceptional draught and bottle list assures that you'll find a perfect pairing for the sausages, strudel and other authentic Bavarian cuisine. 1210 Frankford Ave., Philadelphia, 215-634-3338, frankfordhall.com.

Waterfront Dining
The Landing Restaurant
You're never far from the water in New Hope, but few places have a better view of the Delaware River than the Landing. Besides the gorgeous view, the restaurant has a terrific menu of American classics—fish tacos!—complemented by nice wine and beer lists. Once you're done at the table, sidling over to the cozy open-air bar for one more wouldn't be the worst idea. 22 N. Main Street, New Hope, 215-862-5711, landingrestaurant.com.

Wine List
Buona Via Italian Seafood & Grill
Based on the wine list, it's apparent that the owners of this Horsham trattoria appreciate the grape. Whether you prefer it by the bottle or by the glass, Buona Via offers an excellent selection of Italian and California reds, though the selection of Italian whites, American whites and Champagnes is quite nice, too. It's only fitting considering Buona Via's menu of Mediterranean classics, artfully crafted by chef David Marques. 426 Horsham Road, Horsham, 215-672-5595, buonavia.com.

LIFESTYLE
Bookstore
Farley's Bookshop
Whether you're seeking a bestselling thriller or the latest horror collection from a local author, you're likely to find it at Farley's. In an era where an increasing number of readers buy books through Amazon.com, likely for use on their Kindle, Farley's offers an old-time experience that will make you revel in the discovery of wandering the narrow aisles and finding something new. 44 S. Main Street, New Hope, 215-862-2452, farleysbookshop.com.

Custom Hair Pieces
Jude Plum Co.
If you're in need of an expert cut and styling, this Bryn Mawr salon delivers in spades, yet Jude Plum has earned a reputation for another distinctive service: providing natural European wigs and hair pieces for women coping with transitional hair loss during treatment for cancer. Each piece is a work of art, handcrafted with the utmost care and compassion. 821 W. Lancaster Ave., Bryn Mawr, 610-527-1770, judeplumsalon.com.

Date Night
Movie Tavern
The phrase "dinner and a movie" takes on new meaning at Movie Tavern, which enables you to dine on a cheeseburger, pizza or salad in the comfort of a plush Barcalounger while, say, watching Godzilla destroy a cityscape on the big screen. Also, MT's "Breakfast and a Flick" program may very well redefine your weekend mornings. 140 Market Street, Collegeville, 610-831-9500, movietavern.com.

Gallery Featuring Local Artists
M&H Custom Framing & Gallery
You're in for a surprise when you walk in the door at M&H. This Warminster gallery, gift shop and frame specialist carries fine art and prints from local talents such as Patrick Walsh and Lynn Goldstein that add personality to any home. There's also a wide selection of handcrafted jewelry, antiques and home décor—and, of course, if you need to have something precious framed, there's no one better. 373 York Road, Warminster, 215-443-0968, mhcustomframing.com.

Gift Baskets
Bella Oliva Taproom
Its name might suggest an upscale establishment at which to get a drink, but this hotspot in historic Wayne is pouring premium varieties of extra virgin olive oil and aged balsamic vinegar from around the world, all on tap for customers to sample before making a purchase. Need a memorable and great-tasting gift for a special someone or event? The experts here are more than happy to help. 113 W. Lancaster Ave., Wayne, 610-688-6844, bellaolivataproom.com.

Gift Shop
Patricia Adams
Here, in Haverford Square, discover something unique for the person who has everything. Patricia Adams offers a wide range of women's clothing and home accessories, meaning everything from summer dresses, artistic jewelry and elegant handbags to painted window mirrors and colorful birdhouses. This could quickly become your new favorite place to shop. 379 W. Lancaster Ave., Haverford, 610-642-0585, haverfordsquare.com.

Intimates
Lace Silhouettes Lingerie
Indulgence, empowerment, inspiration—these are what Lace Silhouettes owner Karen Thompson aims to provide to each client who walks through the door. Whether a woman seeks a perfectly fitted bra, sleepwear, shapewear or something sexy for a special night (or any night), she will find it here. Visit lacesilhouetteslingerie.com for details on locations in Lahaska (Peddler's Village), Princeton, N.J., and Cape May, N.J.

Massage
Face & Body Spa
Unwind, cleanse, tone, release, renew, detoxify—do all these things and more at this Yardley oasis. You can indulge in everything from deep-tissue massage and raindrop therapy to holistic therapies such as reiki and acupuncture, as well as anti-aging skin care. If you're new to massage, we recommend starting with the Swedish massage from Kerry. 9 S. Main Street, Yardley, 215-369-0699, fbspa.com.

Men's Clothing
Distanté
In the Philadelphia area, discerning men who want to look their best have one man on speed dial: Charles F. Morrotta Jr., owner of Distanté. (Call him "Chalie.") His store is a shrine to style and elegance, with custom tailored shirts, suits and everything else a man needs to look and feel like he rules the world. 1510 Sansom Street, Philadelphia, 215-545-2850, distanteclothing.com.

Moviehouse
County Theater
There's something special about community theaters such as the County. Here you'll enjoy the latest independent and international films in a boutique environment, but that's just the beginning. Cinephiles can also rediscover the Golden Age of film through the theater's Hollywood Summer Nights program. On tap for later this summer: "Monty Python and the Holy Grail," "The Silence of the Lambs," and "North by Northwest." 20 E. State Street, Doylestown, 215-345-6789, countytheater.org.

Music Venue
Mann Music Center
The Mann lets you relax on the lawn with an adult beverage, eyeing the Philadelphia skyline while listening to A-list performers such as Jack Johnson, Phish and Sarah McLachlan. It's an inimitable experience, positioned perfectly between city and suburbs. 5201 Parkside Ave., Philadelphia, 800-745-3000, manncenter.org.

Oriental Rug Cleaning
Zakian
For nearly a century, Chestnut Hill's Zakian has been devoted to cleaning, restoring and protecting Oriental and heirloom area rugs. In other words, Zakian knows carpets, so yours is in good hands with them. In addition to cleaning rugs, Zakian also sells handmade treasures from China, India, Tibet and other Asian countries known for craftsmanship. 4930 W. Parkside Ave., Philadelphia, 215-877-9000, zakianrugs.com.

Shades
Artistic Eyewear
For stylish, elegant, perfect-fitting eyewear, head to Artistic Eyewear, which features a massive selection of designer frames and sunglasses from around the world. No matter your taste or budget, you'll find something to fit you here, with offerings from the likes of Barton Perreira and Maui Jim to Oliver Peoples and Paul Smith. Visit artisticeyewear.com for details on locations in Doylestown and West Chester.

Sweater Selection
The Sweater Mill
No matter what you're looking for, you will find it at the Sweater Mill. Women's, men's and children's styles abound here, but you'll be happy to discover much more than just sweaters on the elaborately designed displays here—namely, stylish hats, scarves and other apparel to accentuate any look, all at prices sure to agree with any budget. 115 S. York Road, Hatboro, 215-441-8966.

Toy Store
PucciManuli
This gift shop offers a collection of artisan-made toys, games and gifts that epitomize the phrase "quality over quantity." PucciManuli seeks to "educate and inspire" children (adults, too) with finely crafted items made from world-class toymakers. Whether it's a Stevenson Brothers rocking horse or soft-as-silk stuffed bunny, you will find nothing but the best at this remarkable shop. 35 Cricket Ave., Ardmore, 484-466-2067, puccimanuli.com.

Vintage
Marian's Attic
You'll discover a wide selection of clothing, jewelry and much more—something to suit every taste—at this upscale thrift shop in the Valley Forge Shopping Center. You're sure to leave with something unique. Even better, all proceeds benefit Laurel House, which supports victims of domestic violence and their children. 255 Town Center Road, King of Prussia, 610-337-3068, laurel-house.org.

Women's Clothing
Bedazzled Boutique
It's billed as a boutique "where mother and daughter can shop together," and it truly is. Find everything from casual dresses, sweaters and jackets to the latest shoe styles—Donald Pliner, Cole Haan, Stuart Weitzman, etc.—to evening wear to practically any accessory a woman of any age might need to accentuate the fabulousness within her. 218 S. Newtown Street Road, Newtown Square, 610-359-1707, bedazzledboutique.com.