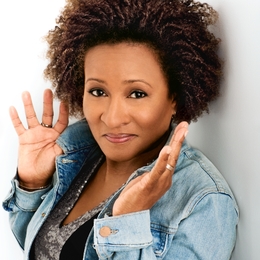 Humor Her
Comedian and actress Wanda Sykes shares her love for laughter
Wanda Sykes burst onto the standup comedy scene in the mid-1990s, earning the recognition from big name comedians such as Chris Rock and Larry David. Her biting, honest and easily relatable routine helped her land roles almost immediately, appearing on "The Chris Rock Show" and "Curb Your Enthusiasm," eventually leading to her own show, "Wanda at Large."

Sykes has since become a jack of all trades. Still performing on stage, the Media-area comedian continues to act, write and produce. She's currently one of the executive producers for NBC's "Last Comic Standing," a competition that pits up-and-coming comics against each other in the hopes of winning $250,000 and a chance at their own NBC show.

A mother of two, Sykes also expanded her reach into the children's market, using her instantly recognizable voice in animated projects such as "Rio," "Ice Age: Continental Drift" and Nickelodeon's "Back at the Barnyard." Her relationship with Nickelodeon spawned her next big role as a collaborator on their parent-driven site NickMom, which produces funny reality and nonreality content for parents to watch after the kids are asleep.

We spoke with Sykes about her hopes for her upcoming series, and found out just what famous comedians do when the mike's not in their hands.

As a mentor and EP on "Last Comic Standing," how excited are you for the show's return?
I'm very excited about it. I was excited from the jump when we went out to look for comics, and watching all these showcases and stuff. The last thing a comic wants to do is watch other comics, because I'm out touring myself, and when you're watching other comics you have to put this wall up and try not to rewrite their own act and just enjoy it as an audience member. But I enjoyed it. … It was so inspiring to see so many comics I had never heard of. They were so funny and surprising. And I'm really enjoying that process.

How have you seen standup change over the years, even since the start of "Last Comic Standing"?
You know what? I think it's not changing, to me. You're either funny or you're not funny, and that's what I see every day. I don't see any new style or anything, because a funny comic has their own style and their own point of view.

When working on different shows with fellow celebrities, is there competition? And how do you balance working in comedy with your comedic friendships?
My relationship with Larry David is totally different than with Chris Rock or another comedian, and when we work together our relationships are all different. So on a show, they give you a little bit with what's going on and you just rip or go. We all want a better show, the best product we can do, so we help each other or pitch ideas to each other, but that's writing and at the end of the day, that's the show. As a standup, you're doing your own material. Here's the thing: Comics hate it when you're having a conversation and they can see you try out material on them. … But from time to time I'll be talking to my friends and they'll say something funny so I say, "You've got to use that," but we really just like to have normal conversations.

Is it important for you to get back on stage every so often to knock the rust off?
My primary job is to give the audience a good time, and to do that I have to have something to talk about. I like to talk about what's going on in my life, and it may just be sharing something funny or complaining about something. And that keeps it fresh for me. As comics we're self-absorbed; we get up there and talk about ourselves and people are there to hear it. To me the key is to always find something new. If I come up with a new line or a new bit on stage, that's the best; that's what makes it fun. It's fun trying to keep going and going until you find something funny, and if you don't, it's fun to say, "Well, I don't know what the hell I was thinking" and just rip yourself sometimes.

You've also done a lot of work in the animated world. How different is the approach when you're using your voice and not actually appearing on camera?
The TV, the movies, the voiceover work—that's all so fun. Standup is how I started and how I got the other projects that have led me to this point in my career. But I will always love standup and will always continue to do standup. But the TV and the movies, that's just so much fun for me. I love it, and I don't take it for granted. You get to work with … and meet a lot of really great people I would never get to meet.

What can you tell us about your new venture with NickMom?
Being a mom I realized that you've got to have a sense of humor to get through this and not hurt anybody. It can be hard, and I realized that it would be fun to give moms and dads a break. They get to go off, exchange funny stories and learn some fun ways to deal with their kids. We'll find some funny ways to trick their kids into eating food that they can't get them to eat. I would love to bring in a detective to teach them how to interrogate their kids, get to the bottom of the real questions, like, "Who broke the lamp?" Teach the parents how to dust for fingerprints or something.