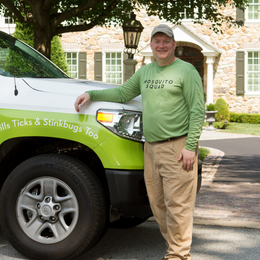 Once Bitten
The Mosquito Squad of Chester County helps homeowners reclaim their property from mosquitoes, ticks and other potentially harmful pests
Summer evenings used to have Laurel McDermott abuzz with frustration. As the sun began to set, she would eye the gazebo in the backyard of her Guthriesville home, wanting to experience the simple joys of the outdoors with her husband, Greg. She would then consider everything she would have to sacrifice—her comfort, her tranquility, and even the blood in her veins—to the cloud of mosquitoes that would be waiting.

She's happy to say that the tables have turned this summer, as the ravenous mosquitoes no longer roam her backyard freely. She owes the fortuitous transformation to the Mosquito Squad of Chester County, co-owned and operated by Doug Weber and his wife, Catherine. In June, McDermott hired the mosquito control company to "de-bug" her property in advance of the party she intends to host at her home following her youngest daughter's late-July wedding.

"We've been a little surprised, to be honest," she says. "The gazebo is at the far end of the property, and we hadn't thought about going up there at dusk because it was just too 'buggy.' Now we can sit out there and enjoy a nice adult beverage. In fact, we just put a new roof on the gazebo because we can spend more time out there. … Whatever Doug is doing, it seems to be working."

A growing number of homeowners in Chester County, Delaware County and surrounding areas have "taken back their yard" with help from Weber's Mosquito Squad. His business offers several different treatment options, led by what he calls "our bread and butter": barrier protection, which eliminates up to 90 percent of mosquitoes and ticks. Here, Mosquito Squad technicians equipped with leaf-blower-like applicators treat a homeowner's property with EPA-registered chemical protection, which is synthesized from chrysanthemum extract, that kills and/or repels mosquitoes and other pests. At a cost of $800 to $1,000 per year, each barrier-protection application lasts approximately 21 days. Mosquito Squad also offers an all-natural solution, made from essential oils, that is effective for 14 days at a time.

A client can also choose "ultimate coverage" by having an automatic misting system installed. The automatic system, which activates three times per day, offers the greatest effectiveness, eliminating up to 95 percent of pests in treated areas. The average installation requires a one-time expense of $3,000 to $5,000, with an additional $800 to $1,000 per year in product costs.

"Mosquitoes are pollinators and feed off plant nectar; they only go in search of a 'blood meal' when they're laying eggs, so it's only the females that bite," Weber says. "When they're not out flying around, they're on the undersides of leaves or fence rails or your deck outback, so we utilize the leaf blowers and misting systems to propel the treatment into areas where you can't get with a hand sprayer. These are very precise tools that we use to effectively apply the product with great success."

In fact, regardless of the treatment system a client chooses, each job promises a 100 percent satisfaction guarantee.

"As much as I would love to say that we can eliminate every tick and mosquito, you will occasionally see a mosquito in your yard," says Weber, adding that the treatment season in the Philadelphia area runs from May through October. "Within 21 days, if you don't feel like the system is living up to what you expected, I tell people to call me immediately and we will have someone out within a day or two and re-treat at no cost. If that treatment still does not do it, I will either refund the money or continue to treat till we resolve the issue. If I can't give you what you want, I won't charge you. I have that much faith in the product."

So do clients such as Rachel Pavis.

Pavis and her family bought a property in Exton tailor made for enjoying time outdoors: a big backyard complete with a nice patio, a trampoline for her two daughters and plenty of room for her two dogs to roam. A wooded area abutting the property provided a certain degree of privacy, but some unwanted and abundant residents—ticks and mosquitoes—did their best to spoil the family's enjoyment. Pavis called Weber after learning about the Mosquito Squad through social media.

"We're three weeks into our first treatment, and now we're always outside; it makes me not want to leave my home," she says. "I have not seen a single tick [since the treatment], and we literally used to be picking them off the kids and dogs. With the mosquitoes, we used to sit out on the patio and get eaten alive. … I can't believe how well it is working."

Mosquito Squad, which is part of Outdoor Living Brands, has franchises from Maine to California. Considering its expertise and array of resources, including access to resident entomologists, it's no surprise that the mosquito control company boasts an annual client-renewal rate of 72 percent. Some clients simply want to enjoy their properties without the nuisance of biting, buzzing pests. Others seek to remove the threat of potentially deadly pest-borne diseases.

Certain mosquitoes can spread commonly known infections such as West Nile virus and malaria, as well as relatively new threats such as chikungunya, a virus that causes severe joint pain lasting for several months. Although chikungunya outbreaks were once confined to Africa, Asia and Europe, they have since spread to the Caribbean and the continental United States, according to the U.S. Centers for Disease Control and Prevention. Tick-borne illnesses, meanwhile, include Lyme disease, which is prevalent in Chester County and surrounding areas, as well as anaplasmosis and Rocky Mountain spotted fever. Pets are at risk as well, especially from heartworm, a mosquito-borne parasite that can cause death if left untreated.

"Sure, there are people who are worried about diseases, but mostly they just want to be not bugged by bugs while they are enjoying their yard," says Weber, who has had several family members stricken with Lyme disease. "I have clients who have million-dollar homes and I have clients with much smaller homes, and the common thread is that they all have a yard that they want to spend more time in."

The Mosquito Squad can also treat properties for pests such as stinkbugs, fleas and gnats (for special events), as well as carpenter bees. At the same time, Weber's team is careful to protect non-nuisance insects, particularly pollinating honeybees, as well as fish in homeowners' ponds and other wildlife. In fact, one prospective client maintains a colony of honeybees on his property, which speaks highly of the precision and effectiveness of the treatment. It also speaks to the care with which the Mosquito Squad approaches each client's home or event, as many clients wish to have a property treated in advance of a wedding, graduation party or other special event.

Weber first discovered the Mosquito Squad while looking to solve a mosquito problem that prevented him from enjoying the pool and patio of his West Chester home. The former IT professional researched the company and its products diligently, coming away with not only a solution to his own mosquito problem but also a business opportunity in which he could build equity. In February, he signed the paperwork to join the fold as a franchisee, and he has been working nonstop ever since, meeting with prospective clients and working alongside his technicians to treat properties.

"I was talking with one client who wanted to 'just try it,' so we treated his property and a few weeks later I called him to let him know that the levels [of protection] would begin to drop off in about five days," says Weber. "I also asked if he would like us to keep the service going so we could keep him protected all through the summer. His response was very simple: 'Please keep it going.' It almost immediately becomes a necessity."

Mosquito Squad of Chester County
610-674-0799 | chestercounty@mosquitosquad.com
Visit www.mosquitosquad.com for more information.