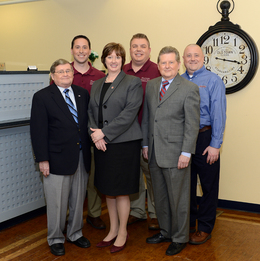 The People's Bank
At First Federal of Bucks County, clients and community come first
There isn't merely one reason why the owners of The Radcliffe Insurance Group chose First Federal of Bucks County as their financial institution when the company was founded nearly four years ago. In fact, Radcliffe co-owner and co-founder Dave Nemeth can quickly reel off the various reasons he and co-founder Scott Eddings placed their business in the capable hands of this particular community bank rather than in the care of a larger institution.

"As a new business owner, I messed some things up at first," says Nemeth, whose business is based in Bristol. "First Federal was there to help me straighten things out. They helped us set up all of our accounts, and helped me get through learning how to start and run a business. They explained everything to me until I was completely satisfied and understood. And if I had questions, they were happy to answer them. … There isn't anything our business has needed that they couldn't provide in terms of answers and solutions."

Although there isn't one reason Radcliffe chose First Federal of Bucks County as its bank, Nemeth can point to one trait that ranks extremely high on his list.

"They care about the community," Nemeth says. "First Federal knows that they succeed when small businesses succeed. They have a tremendous interest in making small businesses succeed and in making a small town succeed. They're more than eager to do their part in that cycle. We couldn't be happier we chose them."

For Jeane M. Coyle, First Federal of Bucks County's president and CEO, such a glowing testimonial is music to her ears. A veteran of more than 30 years in the financial industry, Coyle believes the satisfaction expressed by Nemeth and other small businesses in Bucks County represents the quintessential endorsement.

"Dealing the right way with people and small businesses is the culture that was here when I first joined the bank eight years ago," Coyle says. "We're connected, almost as business partners. I don't take credit for starting that. That culture comes from being a mutual savings association and the team members who have been here over the years. Its roots were in providing mortgages and savings accounts for local residents. That was the start of our relationship with the community and we continue to apply the same service attitude with our customers today."

First Federal of Bucks County is a federally chartered mutual savings bank that has been serving businesses and individuals in Bucks, Montgomery and Philadelphia counties since 1885. Customers enjoy the convenience of banking at any of its 11 branch offices that provide services to customers throughout the Delaware Valley.

First Federal of Bucks County offers a number of business and personal banking services, including checking and savings accounts, money market accounts and retirement accounts. The bank also has an extensive lending program, including commercial loans, residential mortgages, home equity loans, home equity lines of credit and student loans.

"We have a full menu," Coyle says. "We offer free business checking that some banks got away from. We also have more sophisticated checking products that some small businesses are interested in."

First Federal of Bucks County also possesses the level of banking technology the larger banks offer. For example, CheckRunner Remote Deposit utilizes a desktop scanner that connects to a business' personal computer and the Internet. This allows for the scanning of checks received from customers, as well as the issuance of deposits electronically, day or night.

"For a really small business with no scanner, they can take a picture of the front and back of a check and electronically deposit it in the bank through our mobile banking service," Coyle says. "We also offer merchant services where businesses can accept credit cards for payment of goods and services, through a terminal, iPhone or iPad.

"We don't suffer by being small," she continues. "We don't have to give up technological services because we're a community bank. It's now a level playing field."

She adds, "Being a mutual bank and not publicly traded is a benefit. When a bank is publicly traded, every quarter you have to make a number for your investors. When there's a room full of smart people with calculators trying to make a number for investors, they can make a number, but it's one that can result in poor decision making for their customers. We're not under that kind of pressure; therefore, we can have a long-term growth strategy that has our customers and our community in mind."

Among First Federal of Bucks County's satisfied business clients is Harris Comfort, a full-service air conditioning/home heating company based in Bristol that has been serving Bucks County for four generations. During the recent brutally cold winter, Harris Comfort needed additional funding to support their efforts to assist their customers, and First Federal of Bucks County was there.

"They were able to respond to our concerns quickly," says David Harris, co-owner of Harris Comfort. "We had to have more inventory for customers, and the bank was there for us. And I'm sure they weren't just doing it for us, but for other businesses."

He adds, "First Federal can better handle our concerns because they don't have the concerns of the stockholders beating them down for dividends. Their primary concern is about their customers."

First Federal of Bucks County views itself not as merely a financial institution in the county, but as a member of community. Coyle says the bank gives up to 5 percent of its net income annually to those in need in the county.

In December 2013, First Federal of Bucks County ended the year in a great financial position so it donated an additional $30,000 that was split equally between three organizations. Funds went to the United Way Bucks County "Bucks Knocks Out Hunger" project, which recently provided 100,000 meals and 30,000 pounds of local produce to the less fortunate in the county; Bucks County Opportunity Council, for their work with the food pantries; and the Family Service Association for their elder-care programs.

Also, First Federal of Bucks County recently donated a piece of land to Habitat for Humanity Bucks County in the Croydon area. In May, First Federal of Bucks County board members and their families assisted in the construction of the walls for a house that will become an affordable home for a family in lower Bucks County.

Finally, First Federal of Bucks County has worked with Network of Victim Assistance (NOVA), a nonprofit county organization that offers support and advocacy to victims of all types of crime, including sexual assault. First Federal of Bucks County was the presenting sponsor of NOVA's second annual "No BULLying Run," which was held in June at Doylestown Park.

First Federal of Bucks County
For more information call 215-788-3344 or visit www.firstfedbucks.com.