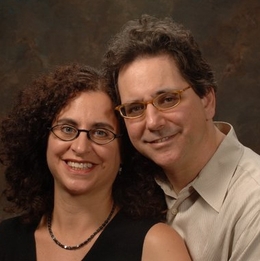 Life on the Edge
Cartoonist Terry LaBan imitates life through art with a nationally syndicated daily comic strip, "Edge City"
Newspaper comic strips such as "Peanuts," "Calvin and Hobbes" and "The Boondocks" have proven over the years that—to paraphrase Shakespeare—though they be but little, they can be fierce. This applies not only to the popularity of the strips' stories and characters but also to how they have reflected the American Zeitgeist for more than 100 years.

With help from his wife, Patty, cartoonist Terry LaBan has been doing his part to add to this noble and colorful legacy for more than a decade, with the comic strip "Edge City," syndicated by King Features. Soon several "Edge City" strips will appear in a collection, dubbed "Jewish Comix Anthology: Volume 1," published by Alternate History Comics Inc.

LaBan, who studied graphic design at the University of Michigan School of Art and Design in Ann Arbor, Mich., describes himself as a "cartoonist, etc." This title pertains to his work as not only a cartoonist but also as a writer, designer and consultant—"Hence the 'etc.'," he explains.

We spoke with LaBan about his many talents, what brought him to call the Philadelphia area—Wyncote, to be specific—home, his long-running strip and, of course, "etc."

Q&A
You're originally from Michigan. What prompted you to move to Philadelphia?
It was really actually a move from Chicago to Philly. [My wife and I] lived in Chicago for 13 years. We moved there in 1989 so my wife Patty, who helps write strip, could go to graduate school for social work. We stayed there and our kids were born there.

So what brought you to the Philly suburbs?
Patty's from New Jersey, and she kind of wanted to move back to the East Coast, and we really wanted to move out of the city, where we owned our own building. And the suburbs of Chicago are not really anything to cheer about. We had some family here … and I'm a big history buff. We wanted to live near a city; there are things my wife is interested in that are in the area, and there is a strong Jewish community here, which was important to me.

Tell me about collaborating with your wife to create "Edge City."
"Edge City" kind of developed over the years. Initially, when we sold it into syndication, it was sort of a lifestyle strip. We had really young kids at the time, and we were very involved in the parenting lifestyle at the turn of the millennium—juggling the responsibility of having children, having help sometimes, not having help sometimes—and all our friends were living the same way. … It's still a lifestyle strip, but it's really a lot more about ourselves, our observations and how those reflect in the characters.

Where can people go to read "Edge City"?
We're syndicated nationally, and we appear daily. We're in the Philadelphia Inquirer every day, and have been since the strip started; God bless them. [Editor's note: Aficionados can also visit edgecitycomics.com to read current and archived installations of "Edge City."]

Tell me about the process of creating a strip.
We're now in our 13th year, and Patty and I sit down for a meeting every Sunday. … Patty helps conceive a lot of the stories, as she's out and about more than I am, and her job [as a therapist] actually entails her talking to people so she's more aware of what's going on in contemporary people's minds. … I draw the strip. I've been a cartoonist for 30 years. I draw, letter and write most of the strips. … I do still draw the strip the "old way." A lot of art you see now in publications is not done in paper, with ink. You can buy [digital] tablets and draw on them and create a purely electronic image. I probably will draw [the strip] that way at some point, but I still do things the old-fashioned way, with ink and a brush and white-out. I still letter even with ink.

What do you think the future of cartooning and comics will be?
The cartooning business is changing very fast. Newspaper comics are not in a good way, because newspapers are not in a good way. Newspapers are closing, and newspaper comics have really lost their cultural cachet. … I think the Internet, that's where the action is. It's a much more complicated model than syndication, because when you got syndication, the syndicate took care of everything. Now to be a successful cartoonist, you've really got to be an entrepreneur: promote yourself on social media, get a following. You've really got to wear a lot of hats.