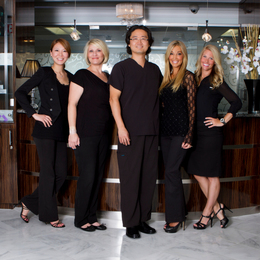 Fresh Perspective
From the surgical to the noninvasive, oculoplastic surgeon Dr. John J.W. Lee provides a variety of solutions to rejuvenate his patients' tired appearance
Most people, whether they are in their 20s or 60s, have looked in the mirror and asked, "Why do I look so tired?" or "Is there anything I can do to improve this?" Such questions are not a reflection of vanity; personal appearance is connected to one's overall sense of well-being. Looking younger and more vibrant, for example, can make a person feel more energetic and even more viable in the workplace.
Everyone wants the reflection they see in the mirror to reflect how they feel inside. Unfortunately, this is often not the case. A very common concern and issue that both men and women alike are interested in resolving is their tired appearance. Because the eyes are not just the window to the soul but also the focal point of the face, it is not uncommon that people wish to rejuvenate this area. However, many people are not aware of the treatment options that are available to them.
To shed some light on and provide solutions for these issues, Suburban Life turned to John J.W. Lee, M.D., FACS, a Wills Eye Hospital fellowship-trained oculoplastic surgeon practicing in the Bryn Mawr area.

Q: Can you tell us about some of the common issues that can transform the look of a person's eye area over time?
A: One common issue is dark circles, which can be due to pigment, shadowing or prominent vasculature under the skin. Another is herniated fat pads, which is usually hereditary, but also may be associated to allergies and thyroid disorder. Also, excess or wrinkled skin can worsen due to normal aging of the skin and sun exposure. The wrinkled skin above and below the fat pad is also a concern that many patients express to me.
Some individuals also see hollowing of the lower eyelid. There is often a void in the area under the fat pad and above the cheek. This is due to the normal descent of the cheek with age and the loss of subcutaneous fat in the lower lid skin.

What are some noninvasive or minimally invasive means by which individuals can address these issues?
Pigmentation and wrinkles can be improved with lotions, such as retinols and skin-lightening products such as Lytera, which contain retinol and licorice root extract. Chemical peels can also be used periodically to further tighten and lighten the lower lid and face. Lasers can be effective in improving the texture of the skin. However, great care must be exercised when using lasers around the eyes. All these are a great complement to surgery or filler injections.

Speaking of dermal fillers, how can they help rejuvenate the areas around the eyes?
Fillers can be used to greatly improve sunken or hollow lower lids. They are very effective in providing instant fullness to sunken areas around the eyes that create shadows that make someone look very tired. Some fillers can give a bluish hue in the lower lids area, especially for people with very thin skin. This can be minimized by reconstituting the filler to change how it reflects light. Lower lid injection, however, should only be performed by a very experienced injector with intimate knowledge of the anatomy around the eye. This injection site is considered one of the most difficult areas to treat.
That being said, lower lid injection is one of the most popular procedure in my practice and is one of my favorite injections since it's very satisfying to see the outcome and reactions from my patients when they see a dramatic improvement with just one syringe. There is really no downtime, results are instant, and bruising or swelling is very rare. I like to use Juvéderm products including Voluma in the lower lids area. Juvéderm is hydrophilic, which can cause swelling so I reconstitute it to minimize this effect. I determine which product to use based on the thickness of the patient's skin and also amount of improvement needed. Patients comment that they also like that their cheeks look a little uplifted and fuller afterwards, and the results typically last nine to 12 months.
If a person has prominent fat pads, it's difficult to achieve an optimal result with just fillers. For this reason, I avoid performing filler injections on these patients and recommend fat pad removal first and then fillers approximately two to three weeks after lower lids surgery for an optimal result.
There is also Botox, which is the most popular cosmetic procedure in the world because it's effective and safe to use. It is injected into the muscle to temporarily relax it, causing the skin to stretch and diminish wrinkles. I've been using Botox to treat the eyelid area for over a decade. The injections take just minutes and can easily be done during a lunch hour. It takes five to seven days for the effects to be visible, but the treatment lasts about three to four months. Typically, patients receive 20 to 24 units in this area. In our office, Botox treatment for the crows' feet area typically ranges in price from $200 to $240, since our price for Botox is $10 per unit.

What are some of the surgical options available, either in lieu of or in conjunction with minimally invasive procedures?
Hollowing of the lower lid can be improved by tightening the skin surgically and elevating the hollow area with a filler. There are several approaches to improving the lower lid. One is transconjunctival blepharoplasty, a procedure that will remove the fat pads that produce puffy and swollen lower lids. The surgery is performed from underneath the eyelid so there is no visible scar in the skin, and recovery is usually just one to two weeks. This procedure improves the puffiness of the lower lid and lessens the shadowing effect caused by the fat pads. When it comes to lower lids surgery, the motto is "the earlier, the better." The fat pads that are removed during the procedure will not return unless one experiences significant weight gain. Even in these cases, they will not be as prominent as they were before surgery.
Another option is transcutaneous blepharoplasty. Many people wait too long for surgery and the eyelid skin becomes stretched. That is when the lower lid skin needs to be tightened to remove the excess skin that has been stretched through the years. It takes years of training and experience to perform this procedure correctly. I have really evolved my method of performing this procedure through the years, and I use a different method than most other surgeons, who tighten the skin in a vertical manner by removing tissue from under the eyelids, a choice which can cause a serious condition later in life called ectropion, or eyelids that pull outward. I perform this procedure in a manner whereby the incision is made to minimize or eliminate this complication and also provides quicker recovery.

In conclusion, by taking advantage of advanced techniques and effective products, as well as the expertise offered by skilled medical professionals, patients now have a wider array of revitalizing options than ever before. One's tired eyes no longer need to define them; a more youthful appearance is now just a phone call away.

John J.W. Lee, M.D., FACS
1201 County Line Road
Bryn Mawr, PA 19010
610-789-6701 | www.drjohnleesurgery.com