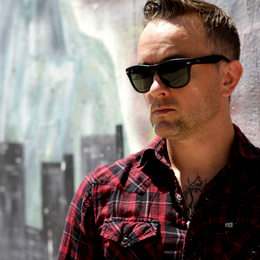 Back to the Grind
Killing time with Dave Hause, Philly punk rocker turned working-class troubadour
Dave Hause came of age playing in punk and hardcore bands such as The Curse, The Loved Ones and Step Ahead. A self-described "working-class musician," he has since branched out on his own to foster his reputation as "a punk-rock version of Bruce Springsteen." Last year Rise Records released his second solo album, "Devour," which rather eloquently outlined the struggles of pursuing the American dream in a post-9/11, post-Great Recession, end-of-innocence era.

A Roxborough native and former Ambler resident, Hause now resides in Santa Barbara, Calif., but he returns to the Philadelphia area frequently to headline venues such as World Café Live and Morgan's Pier. He's also a fixture at special events such as the WXPN XPoNential Music Festival, held in July at Wiggins Park on the Camden Waterfront.

We caught up with Hause to talk about his punk roots, what he's listening to on Pandora these days and the elusiveness of the American dream.

Listening to "Devour," there is a combination of hopefulness and sadness and even bitterness over recent world events. Is the album your idea of a "love letter" to the period between 2001 and 2008?
Yeah, but it's even later than that. I wrote it trying to figure out how I got here personally, specifically, and in general how many people of my generation got here, to this broken, lack-of-the-American-dream kind of place—broken in terms of where the country went economically and in terms of not having meaningful personal relationships. … It's about me personally reflecting on that time, being told one thing, that you can have everything, and then having the world turn a different way. I didn't want to make a record of "bummer" songs, so the last third [of the album] is about we're going to go next.

I heard someone describe you as an indie or punk-rock version of Bruce Springsteen. Do you think that description is accurate?
Springsteen is a big influence, and he's done a really good job of weaving a narrative about the working class, so any comparison to him is flattering. I grew up listening to tons of punk rock, but I also grew up listening to lots of singer-songwriters from the '70s and '80s—Jackson Browne, Elton John. My parents were music people, so I had a pretty involved musical upbringing. … You've got to be true to who you are; punk got me through being a teenager, so now I'm like an aging punk in some respects.

What do you think you'd be doing if you weren't making music?
I had a contracting business, and it did well until the crash of the Great Recession [in 2008]. My heart wasn't fully into it; it was a way to be on tour and have a business while I got the band going. Without music I would have stayed in college and found something to do. I love journalism, and I read a lot, so maybe I would have gone in the direction of literature or journalism. … After having to go through divorce and heartbreak and basically the rough parts of being a human being, I've put out two [solo] records and worked hard at this, and I'm happy as hell. Everyone can make more money, but the real commodity is time and happiness. Most of the time I've got I spend on my music. Music, to me, is why I get up in the morning.

Philly now has places like World Café Live and Boot & Saddle to shine a spotlight on indie musicians. How is the scene locally, now versus when you first started playing?
A lot has changed. You have places like Boot & Saddle, Johnny Brenda's, the Trocadero, and it goes all the way up. You could see live music at a corporate venue with popcorn and $17 beer or and well-curated show at a 200-person bar with craft beer, which probably costs $17 there, too. It's a crazy scene now; it's awesome, with tons of people making music, so it has really blossomed and grown.

What's on heavy rotation on your Pandora, Spotify or however else you listen to music these days? Do you have any "guilty pleasures" on that list?
I'm in my mid-30s now, so I try not to think about music that way anymore because music serves so many different purposes. I still love punk, but sometimes you just don't feel like listening to The Clash. I love a lot of pop music; I love the hook. I like Third Eye Blind. I love the Killers. "Guilty pleasures" is the wrong way to even approach it. You like what you like.

You're about to head overseas to play festivals in Germany, Poland, Austria, the U.K., etc. What happens after you get back from Europe?
I've got a couple of irons in the fire. I'm putting songs together for the next record and then head into the studio in the fall or spring and then wrap up "Devour" with one more tour. I'm very much a working-class musician. For me, I've got to stay busy or go do something else.
Photograph by Jen Maler