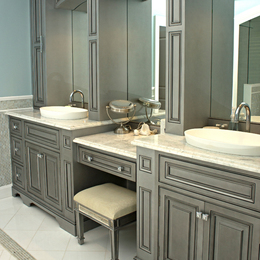 Expansion Plan
An ever-widening footprint helps Colonial Marble & Granite better serve clients seeking one-of-a-kind stone surfaces
Colonial Marble & Granite has come a long way in a short time. In 2007, when owners Angelo Bekas and Nikos Papadopoulos opened the doors to their expansive King of Prussia showroom and state-of-the-art production facility, even they could not have imagined their young business would take on a life of its own. It has been on a meteoric rise ever since.

Having earned its place as one of the region's premier suppliers, fabricators and installers of stone slabs—marble, granite, quartzite, limestone, onyx, etc.—for kitchens, bathrooms and other parts of the home, Colonial Marble has kept pace with rising demand by finding new ways—and new outlets—to help every homeowner beautify and increase the values of his or her home. Colonial Marble has also committed to adding more sales centers and "points of presence" throughout the region, according to James Freeman, COO of Colonial Marble.

From Center City Philadelphia to central Pennsylvania, and from Delaware to northern New Jersey, Colonial Marble has an ever-widening footprint. In January, for example, Colonial Marble entered into a partnership with a storied Philadelphia-based provider of marble and granite, CAVA International Marble & Granite, to better serve customers in Philadelphia and South Jersey. Other investments include: a new sales center and showroom in Harrisburg, which is now up and running; a 15,000-square-foot showroom and design center in New Castle, Del., at the intersection of routes 13 and 40, to serve customers in Delaware and the northeastern corner of Maryland, which Freeman says "is about 80 percent through construction"; and a new branch in Edison, N.J., close to Colonial Marble's largest distributor, to address the needs of clients in central and northern New Jersey, which is "about 60 percent through renovations."

"In Delaware, it's going to be along the same lines of what we have in our slab yard in King of Prussia, having slabs available for people to see every day so they can get a real visualization of what it's going to look like in their home," says Freeman, adding that the Edison and New Castle locations will be fully operational by the end of October. "People will also come in and see nice kitchen displays and specialties like fireplaces and all the different ways of utilizing stone in the home.

"We're already serving these markets," he continues, "so we're not really adding to the mix; we're really adding local points of presence so people from Smyrna, Del., don't have to come to King of Prussia to see us. That said, if they do want to come to our central hub [in King of Prussia] to see how everything goes through the design and production process, we always welcome them stopping by."

Speaking of King of Prussia, Colonial Marble is also improving upon the customer experience at its flagship location. The company's headquarters is in the midst of a 68,000-square-foot expansion, and Freeman suggests such outgrowth will give the company more elbow room to showcase its products in its sprawling slab yard, as well as provide a more efficient use of its production space.

"We are knee deep in our continued expansion," he says. "We have redesigned how our production facility is laid out here in King of Prussia, so we can continue to streamline our efficiency as we push over the 100-jobs-per-day mark. Customers have already seen the changes we're undergoing here; we now have 5,000 or 6,000 slabs as opposed to 4,100, in hundreds of colors, all displayed in the natural light of the slab yard. Everything we do here is about improving the experience for the customer."

Colonial Marble has built its business on the quality and diversity of its stone slabs, yet it also offers thousands of tile options for floors, backsplashes and other parts of the home. Colonial Marble can template any project and fabricate it in its entirety at its in-house production facility. No matter the need, customers rest assured knowing that Colonial Marble carries only top-of-the-line inventory, fabricated to the client's specifications. The company's signature CNC (computer numerically controlled) technology enables skilled technicians to machine-cut a client's chosen slab, assuring customers of a distinctive, perfectly fit installation.

As Colonial Marble expands, Freeman assures customers that the company will not sacrifice its commitment to variety, quality and service. An expert staff, from salespeople to professionally trained design specialists and technicians, will be there to help customers through every step of the process.

"We're constantly training our people to make sure they are doing all the right things on a daily basis," Freeman says. "We pride ourselves on our service; it's one of the things we're known for."

Beyond being a go-to resource for homeowners, Colonial Marble has also become a destination for locally based contractors, designers and architects. In addition, the company has a well-established track record in the commercial sector, as a number of local financial institutions, hotels, high-end restaurants and multi-dwelling residences have called on Colonial Marble for expert retrofits and redesigns.

Colonial Marble intends to maintain its role as a responsible and involved corporate citizen as it expands into new markets. The company partners with philanthropic and community organizations such as the Upper Merion Mothers Club and local youth athletic leagues, and it also ardent supporter of the area's professional sports teams, including the Philadelphia Flyers, Sixers, Soul and Union.

"We're going to continue to grow as an outlet for serving our customers," Freeman says, "but just because we're growing it doesn't mean we're going to forget who we are or that we're going to stop doing the things that have been important to us from the beginning: high quality, world-class service and making sure the customer has a good experience from the very beginning.

"It doesn't matter if it's one of our commercial clients or someone from the residential end of the business," he continues. "We're here to serve our clients, however and wherever they want to find us."

Colonial Marble & Granite
www.colonialmarble.net

475 South Henderson
King of Prussia, PA 19406
610-994-2222

2000 Washington Ave.
Philadelphia, PA 19146
215-732-7800

Coming Soon: Locations in Edison, N.J., and New Castle, Del.